Traffic Jam – 1975 Chevy Caprice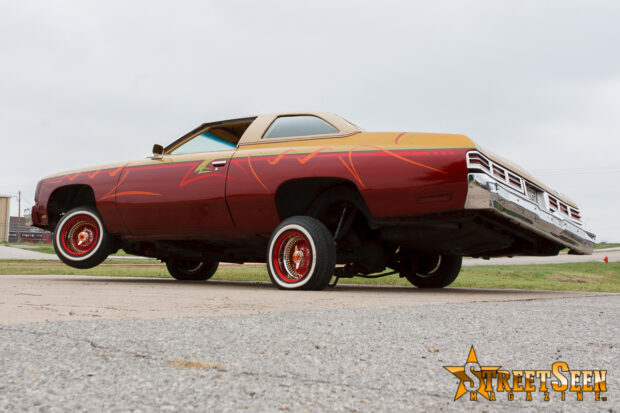 Story by John Urrey
Altus, Oklahoma, population 21,000, is not a city full of lowriders, but that makes Ramiro Ramirez' 1975 Chevrolet Caprice stand out when it rolls through town. Other drivers stop to admire the sleek rode, in fact, the car draws so much attention Ramirez named it Traffic Jam.
The classic auto features Candy Apple Red paint offset by California Gold as well as graphics in several colors by Julian's Customs of Altus. The tan vinyl roof matches the upholstery and a custom billet grille graces the front.
A friend named Poncho installed the tan interior with red accents. Also inside is a JVC CD player, four 6×9 thumpers in the rear dash and two 5x8s in the console. Ramirez said he couldn't fit a gang of subwoofers in the trunk because the space is taken by the hydraulic pumps and ten batteries. With the power coming from his sound system maybe the car should be called Traffic Jamz.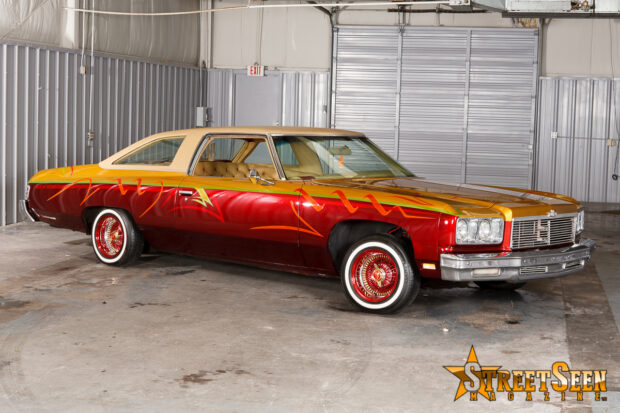 Hydro controls in a moveable switch box near the console manipulate movements in the front, rear and two corners for "three-wheels". Julian Customs also installed the hydraulics.
The original 1975 350 Caprice engine produced 145 to 155 horsepower. With its four-barrel carb and other mods, Ramirez' Caprice has plenty of muscle. Wear sunglasses if you pop the hood, because all the chrome may blind you.
What lowrider would be complete without spokes? Traffic Jam has 400 of them. The 13-inch wheels are multicolored, red, gold and chrome, to echo the car's paint. Hercules tires wrap the rainbows and add to the oh-so-smooth ride.
Ramirez, 27, has owned the car for nine years, purchasing it while still in high school. He saw the car in Altus and asked the previous owner, named Caspy, if he would sell the lowrider.
"I just saw it and I liked it."
Caspy made a casual offer, not expecting a high school student to actually raise the money.
"He didn't expect me to come back the next day with the money."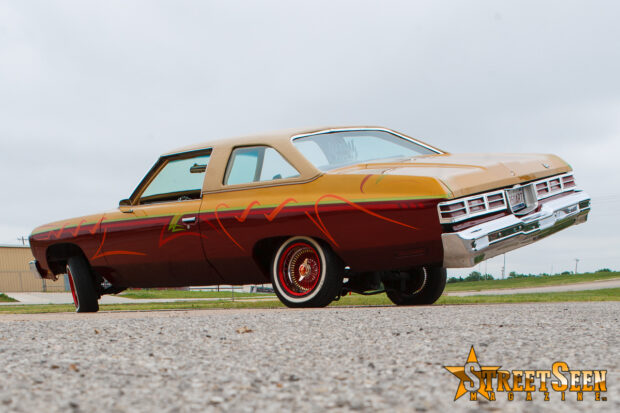 But that's what young Ramiro did and Caspy had to sell, but he took the opportunity to introduce Ramirez to the Illegal Toys car club. The young man joined and has been a member ever since. Caspy has since left and is now the president of the club's Oklahoma City chapter.
Traffic Jam's latest redux was done to get ready for Illegal Toys' sixth annual car show in OKC. Ramirez said he redid the vehicle's appearance after purchasing it, but after six years decided it was time to change again. He began the new work in January of 2009 and finished in time for the May show. Illegal Toys donates half the proceeds from the car show to various charities and raises money for Toys for Tots around Christmastime each year.
Chevrolet produced the Caprice from 1965 to 1996 and will resume production in 2011 as a police patrol vehicle (if you gotta go to the slammer you may as well go in style). The model was the most expensive in Chevy's full-size range. Street Seen readers probably know that the Chevrolet Impala began life as an option package for the famous Chevy Bel Air in 1958 but may not be aware that the Caprice was born as a trim package for the 1965 Impala. Traffic Jam, therefore, is a grand-child of one of the most well-known classic cars in American history.
The 1975 model Caprices were the first to feature General Motor's "High Energy" electronic ignition, touted as part of Chevrolet's new efficiency system. The grille and taillight trim were also redesigned for the '75 models. Ironically, because of the oil crisis of the 1970s, fuel economy was becoming important to American drivers, but it was during this time that the Caprice reached its greatest overall length. Caprices of that era were produced in; Texas, Ontario, California, New York and Venezuela, with engines ranging from 350 to 454 cubic inches.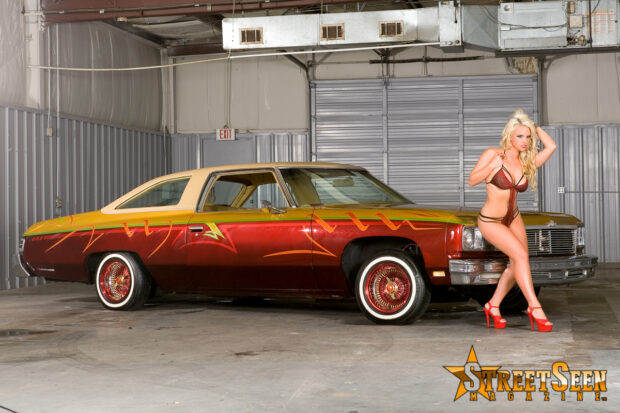 As readers of this magazine know, many car enthusiasts can't be true to just one vehicle, throwing their affection here and there at multiple cars and trucks, customizing all over the place. Not so with Mr. Ramirez, he loves his Caprice. Its nice to a car and driver with a nine-year monogamous relationship (ah, true love).
"I got a lot of friends who switch around each year but I stay with the same one year after year."
Ramiro's family love Traffic Jam as well, and often accompany him to shows. We asked if he might consider letting his daughter have the car when she's old enough to drive. He said for now she is interested in customizing a lowrider bicycle. Perhaps she'll work her way up to cars one day and appear in the pages of Street Seen.
Traffic Jam is taken out mainly for shows and the occasional role through Altus and is not an everyday driver. Ramirez said he has taken it to so many shows he can't remember them all but mostly tries to follow the Wego Tour. He plans to travel to two shows in Dallas in 2010.