Pura Canela – 1964 Chevy Impala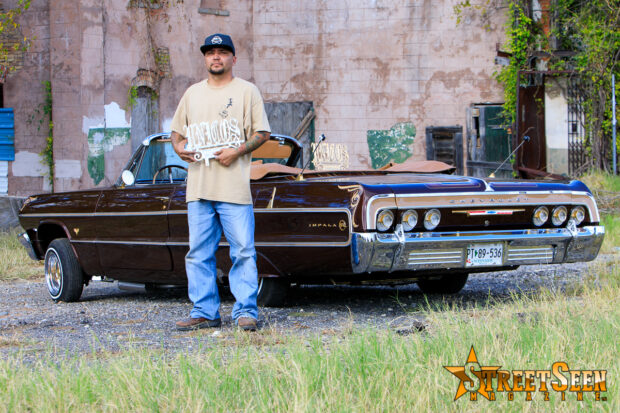 Ivan Alvarado of Tyler, Texas, was born into the custom car world. His father, Daniel, has been a paint and body man for many years before Ivan came along. So, it is no surprise that Ivan would eventually end up with his own custom ride at some point in time. As a kid, helping dad work on many rides over the years would give Ivan the necessary skills to work on his own personal creations when that time came. It wouldn't be long. His older brother Edgar was already into lowriding and forming a new club in Tyler; Unicos Car Club. The year was 1998.
At the tender age of 16, Ivan got his first lowrider; a 1979 Chevy Monte Carlo. "It was maroon with red flakes and a crushed velvet interior. It had some 14 inch Daytons," Ivan said. That first ride would not be around for long, however. "I had it for about a year," said Ivan, "We were going to a 15th to take the cars when another '79 Monte Carlo passed a stop sign and ran into my car. Pretty much totaled it." Wait, what? Yes you read that correctly. He got totaled by the same model of car he owned. "It broke the rear end and caught it on fire," said Ivan, "The car was actually moving while it was on fire because the accident broke the battery rack."
Fast forward 15 years and five lowriders and Ivan was in the market for his next low low. The year was 2013. "See the thing was my little brother had bought a '62 convertible and my older brother had bought a '63 convertible, so I was like, 'I need a convertible too; a '64 convertible,'" Ivan said. He would find one fairly quickly. "A friend of mine told be about this one and sent me a link to it. It was in Crumb, Texas," said Ivan. Two days later with cash in hand, Ivan, his brother, and a homeboy went to pick it up.
Once the Impala made it back to Tyler, it would sit for a week before Ivan began to tear it down. "The car had about 65 bullet holes from the pillar to the doors to the quarter panels; pretty much everything was shot up," said Ivan. The story goes like this: the guy Ivan purchased the Impala from had originally purchased the bullet ridden ride from a car lot. A buyer went in to purchase the Impala from the car lot and when they couldn't agree on the price, the buyer retaliated by shooting up the dealership and the Impala that night. Needless to say, this Impala was going to be an undertaking.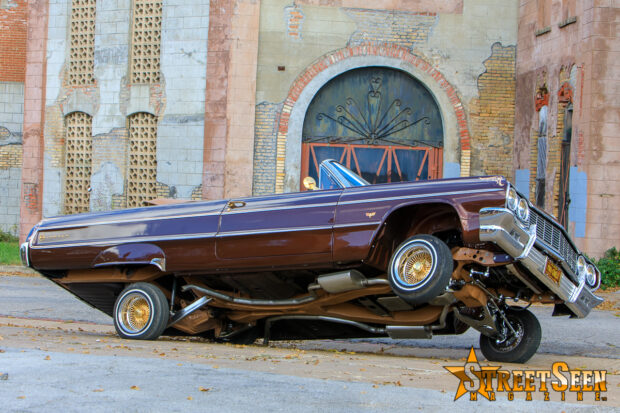 "After a week, I put it inside the shop and my brothers were still working on theirs. So there were three projects in there at the same time; the '62, '63, and my '64," said Ivan. With the help of his brothers, Joel and Edgar, his father, Daniel, and several of his club members, it was time to start. Ivan had to evaluate what was salvageable and what wasn't. Working out of Daniel's Paint and Body, his father's shop in Tyler, he removed the whole front clip, took the interior out, and removed all of the rust from the floor panels before replacing them. He also welded over as many bullet holes as he could on the quarter panels to save as much of the original car as possible. Several parts would have to be replaced including one door, one fender, trunk lid, and hood. These new parts were purchased from Classic Industries in Huntington Beach, California.
With the '64's body on the rotisserie, Ivan would replace the rusted out engine with a 327 engine and 350 transmission he purchased from a local seller he found online. At this time, Ivan also ordered a complete tan interior kit from Ciadella Interiors in Tempe, Arizona which included all of the seat covers, door panels, and convertible boot cover. To complete the interior, Ivan called on his good buddy Tobias Adams in Sulphur Springs, Texas, to create one of a kind floor mats for the '64. "I thought that the color of leather would match my paint scheme perfectly, so I asked him if he could make me some floor mats," said Ivan. Tobias works with leather as a hobby, usually making items like belts and wallets, so this project would be a first for him. Needless to say, the result was spectacular and added just the right touch to the Impala's interior.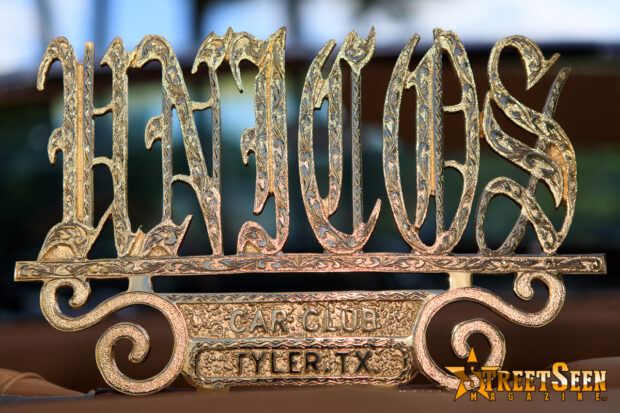 After the body work, it was time to paint the Impala body and the frame. Ivan opted for 'Rich Java Met', a color found in Volvo's line of vehicles. "I was just gonna do it factory," Ivan said, "Just to get it done and roll in a stock car." A conversation with Michael "Sic" Cato, of Sic Studios in Pasadena, Texas, at a local car show would change the direction of this build. "He said he had a chance to come do some patterns on my older brother Edgar's '77 Monte Carlo," Ivan said, "So when he came up here, I asked him to do patterns on my car as well while he was in town." Sik went to work; freestyling the patterns, gold leafing, and pinstripes. He used shades of brown, gold, and tan to match the interior as well.
"After Sic came, my little brother Joel said, 'Man, you're gonna let Sic paint patterns on your ride and gonna leave it stock?'" said Ivan, "I was like, 'Shit, I guess I'll chrome it out.'" This is when Ivan went shopping for chrome parts and began sending some of his own parts out for chrome. This included the front suspension and engine parts. The shops of choice were Rafael Polishing in Garland, Texas, for the chrome plating and Emmanuel Barrera Engraving in Dallas. With the body painted, the chrome shining, and the interior completely finished, the newly dubbed "Pura Canela" was looking alive again.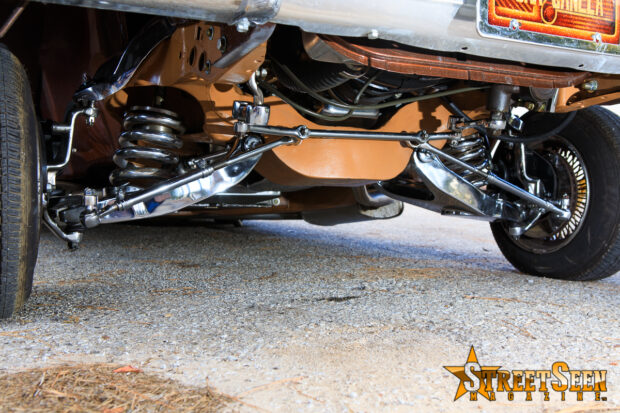 It was time for hydraulics. Ivan went with a system from Hoppos; three hydraulic pumps with 8 inch cylinders in the front, and 14 inch telescopic cylinders in the rear. When it comes to sound in the ride, most guys will opt for the biggest bump in the trunk. Not Ivan. Simple was the word when it came to car audio. Pura Canela has a Pioneer head unit with four 6×5 speakers throughout. That's all there was to it. And when it comes to shoes, Pura Canela rolls on 13×7, 72 spoke gold Daytons. This project took five and a half years to complete and would be a head turner in any city it rolled in, but in Tyler, everyone stops and takes notice. Shout out to Ivan Alvarado and Unicos Car Club for holding it down in East Texas. You'll definitely see more from them in StreetSeen very soon.
Ivan would like to thank, "My dad Daniel for getting me started messing with cars, both my brothers, Joel and Edgar for the help and encouragement and motivation to accomplish this work of art, and the friends and UNICOS club members that helped out to make it all come together."