LB1 – 1976 Chevy Caprice Classic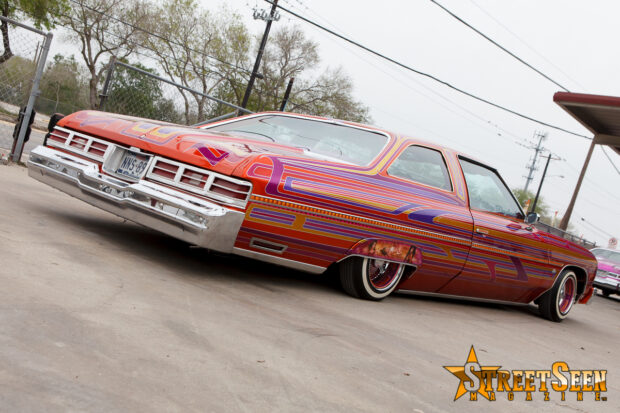 Story by Jeff Ermann • [email protected]
A lot of guys say they've been building lowriders for years. But for Freddy Leal, it's been a way of life for nearly as long as he can recall. Leal's worked for decades at the family business, at first under his father, and then taking the reins at Leal Bros Custom Painting in Corpus Christi, Tex., back in '92.
So it was no surprise that Leal breezed past the competition in the recent "From Stock to Stun" contest, transforming an untouched '76 Caprice Classic into a primo show ride, one that's the first ever lowrider to make the cover of Street Seen. "We had to do everything from start to finish. It was just a plain Caprice Classic," Leal said. "We've been doing car shows for years, so when they asked if I was interested, I said yeah, sure. It was kind of challenging because we also had to do our business and squeeze this in during other hours. A lot of times I probably go two or three hours of sleep and came into the shop."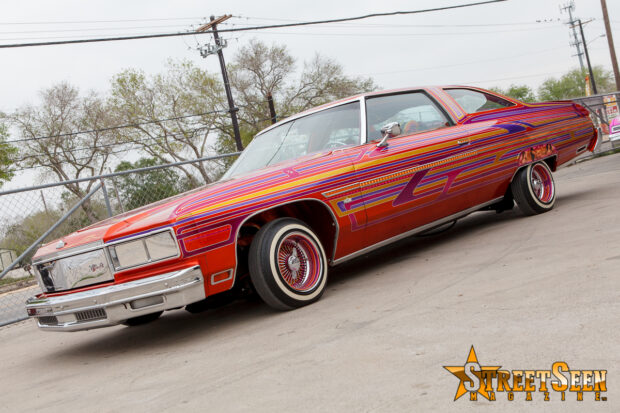 The result: a beautiful lowrider built virtually from the ground up, with virtually everything but the engine custom-built. The dashboard, the seats, the trunk – you name it, and Leal and his family probably removed it and rebuilt it. A photo from Mardi Gras inspired Leal to come up with the multi-colored tangerine scheme, including shades of candy violet and purple and highlighted by immaculate '70s-style etching and striping.
The interior is a throwback as well, covered in plush violet velour and biscuit rolls. The mirrors are all vintage-style, and the car sits on "We went old-school, late '70s lowrider style" he says of the car, temporarily named 'LB1'. "We gutted everything, took out the dash, the floor panels and the headliner."
Leal and his family stepped outside of their comfort zone on the hydraulic system, installing a hard-lined four-pump setup, which they engraved. They dropped in a 350 engine added violet LED lights under the hood and coated virtually everything in chrome and leafing. While the Leals, members of City Style Car Club, did most of the work themselves at the shop, they did have some help from Robert Rios of El Paso, who lent a hand on the upholstery, and Shorty's in Houston assisted with the overall set-up. From start to finish, this was a thoroughly planned, all-encompassing project. "It was a competition, so I wanted to do something wild and crazy. Everything is new," Leal said. "It was a lot of cutting."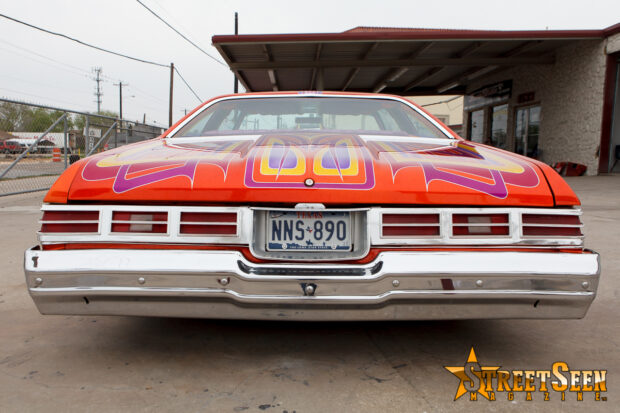 Not everything about LB1, though, is '70s style. It sits on 13×7 rims that are twisted and custom painted to match the color scheme. There are two monitors – one in the center console and another in the trunk – and it's got four Kicker speakers and two Kicker amps.
While Leal oversaw the work on the car, which he continues to work on in preparation for the Lowrider Super Showcase in Vegas this October, he received plenty of help from his father Poncho, brothers Nano, Juan, Jesse and Benny, son Freddy and nephew Paul Anthony.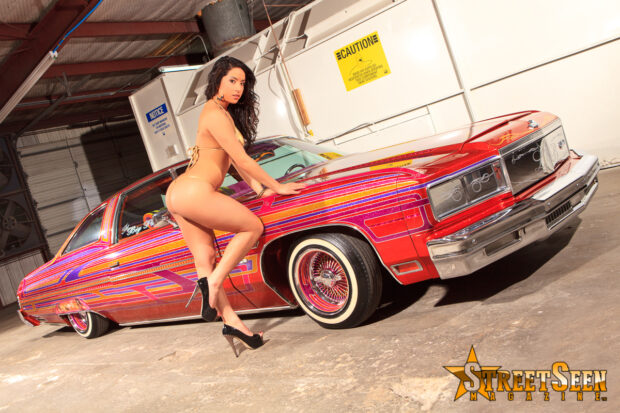 And of course, he couldn't have done it without the blessing of his wife Sharisse. "I want to give a special thanks to everyone who lent a helping hand and everyone in the car club. That's the kind of shop we are, so it's always a family thing," he said.
While the $2,000 prize won't exactly cover the costs involved with such a project, Leal said the finished product and the pride in taking home first place and making the cover of Street Seen were good enough. And now that the contest is done, there's another sweet reward. "I can sleep now," he said.