Step Your Game Up – 1962 Chevy Impala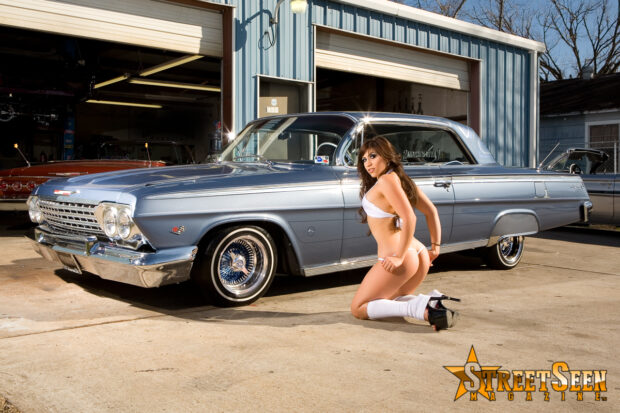 Story by John Urrey
Some credit the Chevrolet Impala as America's first muscle car. Although others argue that honor should go to Pontiac's GTO there is no doubt that the Impala has been one of the best selling cars in the U.S.
The line began in 1958 as an trim package for the famous Chevy Bel Air. The package was so popular that Chevrolet decided to offer the Impala as a stand alone model the following year.
In 1962 Hugo Martinez' Impala, called Step Your Game Up, was born at GM's Arlington, Texas plant. That season over 115,000 Impalas were produced. Three years later the Impala was in such demand that over a million were sold in 1965.
The line was discontinued in 1985 but resurrected for the Detroit Auto Show in 1992 and returned to production in 1994. Today, Impalas are built in Canada.
The subject at hand was built forty-eight years ago. The car has come full-circle, being constructed in Texas, finding its way to California, then brought back to its home state by Martinez who lives in Houston.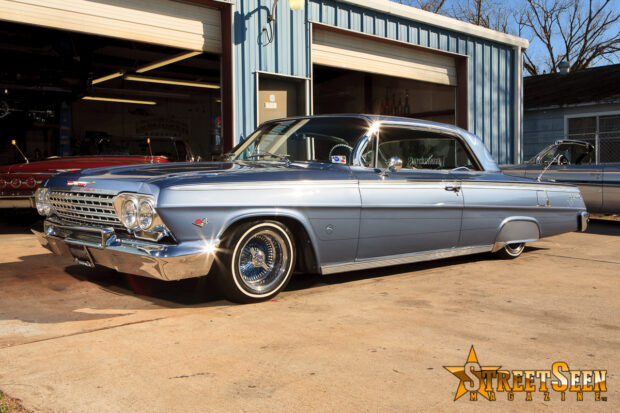 He has owned so many Impalas that he has actually lost count. Martinez began customizing them while still in middle school. At the time he was too young to even drive a car (legally).
"I was driving," he said, "but I had a lot of tickets."
After getting married Martinez didn't customize any cars for a decade. His brother, Curly, is a well known California pin striper. During visits to Houston Hugo would take him to custom shops, some of which were working on Impalas.
Seeing the cars, he said, gave him the "itch" again.
The 39-year old has owned Step Your Game Up for three years. It was already heavily customized when he bought it but he quickly made the car his own.
Under the hood is a new Chevy 283 with chrome, chrome and more chrome. If you need a few specifics here they are; The air breather, Voots valve covers, the many hard lines, and the Edelbrock water pump are all chrome, as well as most everything else. The aluminum radiator and electric fan were manufactured by Matson.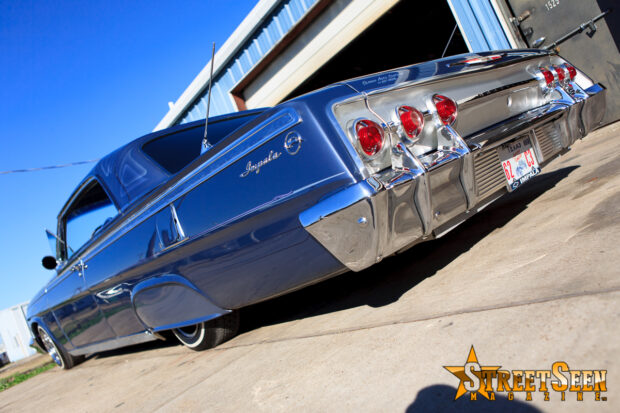 The engine was purchased from Last Minute Customs in Houston, which deals exclusively in Impala parts. Martinez installed the engine himself last Thanksgiving day.
The engine also features a Holley electric fuel pump, a Holley Street Avenger 750 carb and a serpentine pulley system by March. The chromed out engine is bolted to a turbo 350 tranny. The car already featured its awesome paint scheme when he bought it. "It was damn near the paint color I was looking for."
The car's name is not a challenge to others, but to Martinez from himself.
"It's a phrase to me," he said. "I had regrets for those years (when he didn't tinker with cars). Once I got this one that was one of my mottos to me."
The stripe work and the gold leaf was done by Mike Lambertson of Los Angeles. The base color is Toyota Blue with pearl in it. Gold leaf accents the fenders, hood and trunk. Ghost patterns on the roof are done in pearl.
The frame is fully wrapped and powder coated in silver. The undercarriage is chrome as are the front and rear end. A Y Bone keeps the rear end aligned.
The driver and passenger sides each have smoke tint lines on the windows. Martinez installed an updated lighting system with Dakota LED tail lights and HID lights in front. The custom light housings are made by Zeus.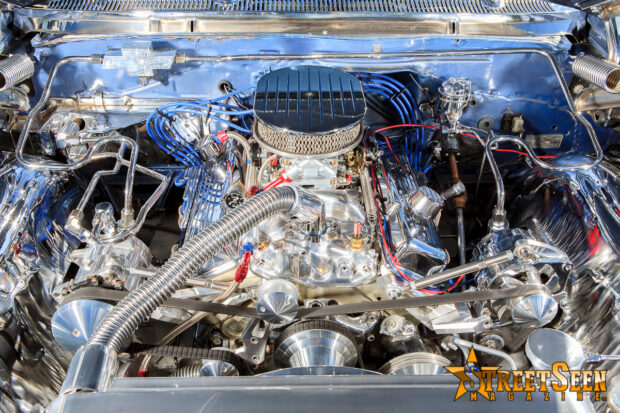 Both the hood and trunk are molded underneath. Martinez redid the layout of the hydraulic system in the trunk with help from his friend Easy, so he could install two twelve-inch thumpers.
The four-switch hydraulic system is a basic two pump configuration. The system features pumps by Homies, an Adex dump to the front and two Italian dumps to the rear. The switches control the front, back and both rear corners.
The twelves in the trunk are not the only additions to the audio system. Martinez installed JBL 6x9s in back seat and two Infinity sixes in the kick panels, all of which are driven by Alpine.
The blue and silver upholstery is part of an interior that is mostly stock and includes sewn on Chevy Impala flags. Hugo did add a chrome tilt steering column by Ididit and a Dakota digital dash purchased from Last Minute Customs.
The thirteen-inch, 100-spoke wheels are powder-coated blue. The wheel chips on the knock off bear the Impala symbol.
Martinez is a member of Latin Kustoms car club based in Pasadena, Texas. Established in 1998, the tight knit club has about 15 members in one chapter. "We're pretty known in Texas and other states as having clean Impalas."
Martinez said the club is very family oriented, a plus for a man who is himself very family oriented and whose family encourage his hobby. His wife, Dianne, and his 12-year old daughter Allisa are supportive of his Impala passion.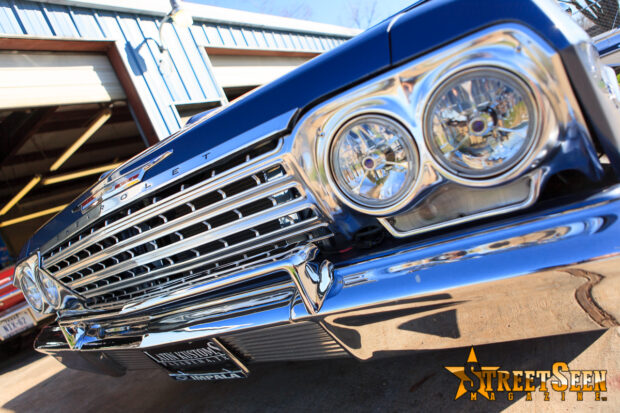 "Wherever I go they ride with me," he said, adding, "If my wife wasn't into it I wouldn't have the support to do these projects."
Hugo said his daughter has shown interest in the same hobby. We pointed out that she will be old enough to drive in a few years and may want to borrow daddy's car.
"She's hinted at it several times already," is the only response we got.
If Martinez' daughter does inherit the love of Impalas from him he may have help with his next project, a '62 Supersport Convertible Impala. He figures it will probably be fully tricked-out in a year to a year and a half and will feature a color very close to that of his current car. He plans to do all the paint and body work himself.