Victor's 1959 Impala Pedal Car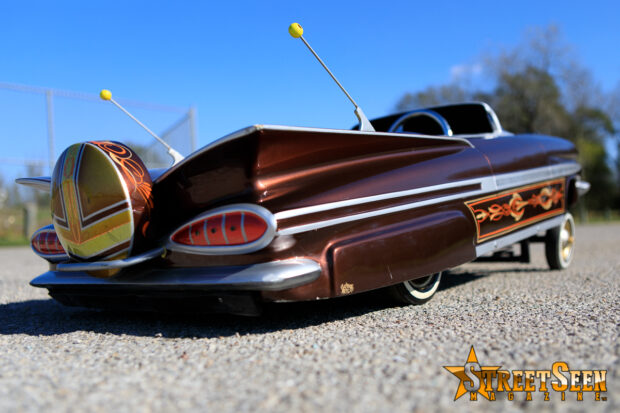 Two months ago, we featured Victor Jimenez' 1964 SS Impala named Greengo Money. Not to be outdone, his son Victor, Jr. also has a ride of his own. Back in 2018, Victor, Sr. ran across this 1959 Impala shell online on eBay. "It was pretty rough," Victor said. The shell is made completely of fiberglass and required some work. This is when the pedal car made the trip to Garage Arte in Houston, Texas. Alex Hernandez of Garage Arte went in and first repaired the fiberglass shell before going in with the paint. Victor, Sr. decided on a solid Matrix root beer color for the car. Alex, then went back on top of the paint with shades of pagan gold and silver patterns across the rear wing; covering gold based flakes.
During this time, Victor, Sr. was wrecking his brain on how to recreate a 5th wheel, since this car didn't originally come with one. He decided to cut a 6 inch pipe but had trouble at figuring out how to get the rounded cap made. In a stroke of genius, he decided to take a steel lid from a pot and cut it down to size; removing the handle and welding the screw holes smooth. After finishing the fabrication, he sent the wheel back to Alex to continue with the patterns on it.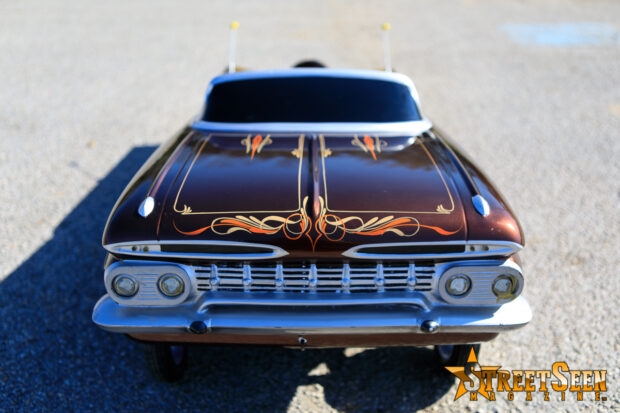 Victor also had the frame at home so that he could install a "hydraulic" system. This pedal car is capable of doing front, back, and three wheel on 12 volt actuators. Victor fabricated the custom system including brackets. When he was done with the hydraulic system, Victor went in to create custom metal headlight caps.
Back at Garage Arte, the paint was completed on the shell. Roger Martinez of Dead Beat Lines in Houston, Texas, was called into the shop to work the pin striping. Roger went with gold and orange striping over the hood, trunk, sides, and cylinder of the 5th wheel; the entire car. Once the car was returned to Victor, one final touch was added before this build was finished. He custom fabricated some antennas for the rear wing out of sheet metal and wire. It takes some out of the box thinking to build a replica on a smaller scale, but because of Victor Sr.'s wit and ingenuity, Victor Jr. now has one of the coolest pedal cars in the city.