Oklahoma Summer Bash 2019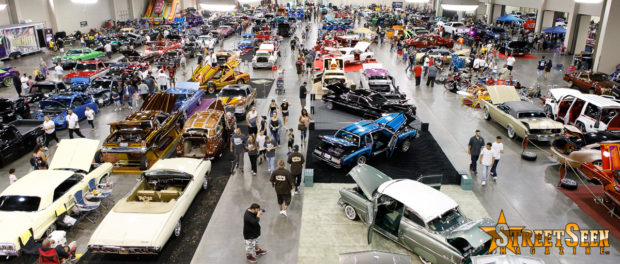 Illegal Toys Car Club shows us how they jump back into the car show game.
Photos by Jose Luis Rodriguez, Jr.
We had to double and triple check to make sure that the information we had was correct. It has been a solid six years to the date since Illegal Toys Car Club hosted a car show in the City of Oklahoma City! That would have been their 9th Annual Illegal Toys Car Show and Concert at the Oklahoma State Fair Park in 2013. That's right. 2013! Back then, Lucky Luciano and Trampia were headlining a show with a solidly built reputation that was growing in size each year. Then it abruptly stopped. Quiet as a mouse for quite some time. But why? With a show as wildly popular as the Illegal Toys Car Show and Concert was on the WEGO Tour, why not keep it going forever? "We [Illegal Toys CC] thought we would take a break for a year or two to focus on our rides," said Caspy Julian of Illegal Toys Car Club, "As you can see it was longer than that."
Well, enter November 2018, when whispers a of holding a show again began. This new show was gonna be bigger and better than anything that they had ever done before. It would be open to not only low lows, but vehicles of every category and genre. The venue would also have to be an upgrade. This is when the Oklahoma Summer Bash was born. A new show, a new name, and a new venue. And that venue? None other than the massive Cox Convention Center in the heart of Oklahoma City. Surely this was a show poised to be legendary.
The date was set – June 30, 2019. Rain or shine, it was going down. In an all indoor event, weather seems to pretty much become a non issue. Nearly 400 of the area's finest custom rides packed the inside of the Cox Convention Center for one of the largest events on the WEGO Tour this year. And yeah, since the weather was nice, several rides outdoors as well. We may be getting ahead of ourselves though.
Let's back up for a bit to the day before. Move in started nice and early on Saturday morning and continued well into the evening with vehicles from many states including Colorado, Louisiana, Illinois, and Michigan. There was an off premises car hop Saturday evening held at one of the local area Twin Peaks restaurants. It was jam packed with spectators and restaurant patrons anxious to see American metal kiss the clouds. The hoppers didn't disappoint. With the sun slowly disappearing off into the distance and giving way to the night sky, hoppers began reaching for the moon and stars. It was a really great start for things to come.
Sunday morning, the last of the entries were rolling in to set up before the show started. The doors opened up and it was show time. Many spectators came out for an afternoon full of chrome, custom paint, and rubber. Lots of vendors were set up not only indoors, but outside as well. Spectators could purchase anything from food to clothing to wire wheels for their rides. We've been told the hotdog truck was a hit with the locals.
On stage, Slim Thugg headlined a group of acts that provided the soundtrack throughout the day for this event. The music was flowing, the rides were shining, and everyone was having a great time. It was definitely a huge risk that the club took to elevate their show after sitting it out for the last six years, but you wouldn't be able to tell from the confidence each and every one of them exuded. They all knew deep down inside what they were capable of pulling together even if the rest of us were not sure. Our hat's off to them. Make note of the next show date. Illegal Toys is already planning the 2020 show. The date for the show is June 28th. See you there!