La Toxica – 2012 Cadillac CTS Coupe
Story by Damon Luckey • [email protected]
Marriages, relationships, and friendships; many of which breed such toxicity to make a grown man cringe, much less any rational minded adult. Here we find a man, Justin McFarlane, and his toxic love, so elegantly named "La Toxica"; a 2012 Cadillac CTS Coupe with a host of upgrades and a high maintenance personality to match. Justin has possessed a love for cars since an early age like many men. Yet, while many were preparing to graduate from high school or join the workforce, he was already building his first whip.
As a member of his previous club, Justin went through a variety of other cars before settling on his 1997 Chevy 1500 single cab to build a true show truck. As he completed several upgrades he began to yearn for a broadened exposure. He began to research other clubs and eventually settled upon Nokturnal Car Club. They were branching out to a San Antonio Chapter and he was one of their founding members for the chapter 5 years ago. He is now one of six councils for the chapter.
With the build for the 1500 stalling out and his desire to be in the show scene mounting, frustration began to set in. Then, a deal fell in his lap. A fellow member told him about this bagged CTS a family member was selling. The interest was immediate. After a view, some paperwork, and a few details, the deal was closed. The following day was a close friend's wedding, but picking up the car was a definite priority. So much so, that he, being a groomsman, left the reception to do so.
Upon purchase, the car was already bagged with an AccuAir suspension by Gilbert Gonzales and his crew at USA Motorsports in San Antonio, Texas. The car also was rolling with Lexani 3-piece staggered wheels; 22×9 up front and 22×10.5 in the rear. But Justin knew as a council in a club such as Nokturnal he needed to bring more to the table. He wanted to put his own spin on things and Nok it out, so to speak. After a minor trunk upgrade and a chance encounter with Frankie Buldo of Mmats Pro Audio, out of Jupiter, Florida, at the King of the Streets Car Show in Austin, he settled on a brand.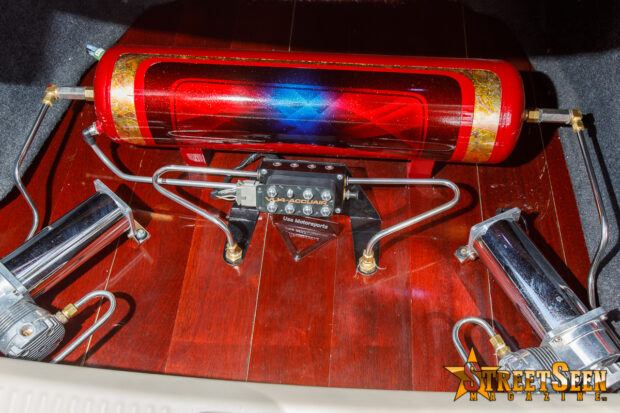 For interior, Justin strayed away from basic designs and opted for a three-tone combination of tan, red, and chocolate leathers combined with red French stitching and an added touch of silver hog rings courtesy of Javier Gonzalez at Javier's Upholstery in San Antonio, Texas.
To add some custom flare, Damon Luckey of DLux Kreationz, Inc. in San Antonio, Texas, took the Door panels to another level by fiberglassing the front doors to house a recessed Mmats Pro Audio 6.5 inch speaker and a plexiglas window. The rear side panels were built to house an 8 inch Mmats Pro Audio mid bass speaker with a Mmats Pro Audio tweeter, covered by stainless steel mesh and accented by illuminated plexi. They were upholstered in tan, red, and chocolate to mirror the seats as well.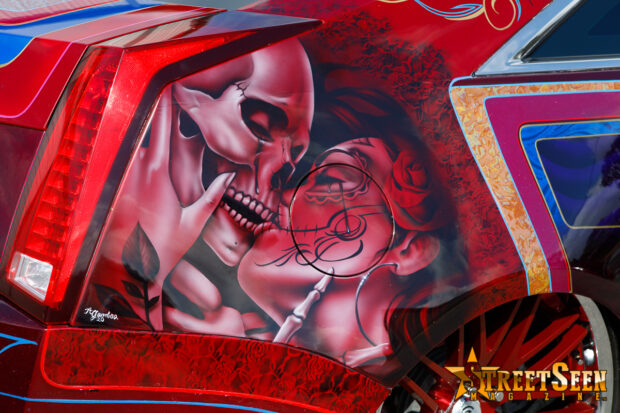 With the interior complete, the final step was choosing the appropriate shop to bring his vision to life. Being in Nokturnal Car Club, it is an expensive hobby. He knew the standards were high, but also remained aware of his vision. After window shopping, price checking, and member testimonials, he was referred to Victor Rivera of Big V Designs in El Paso, Texas. He reached out to Victor and shared his thoughts for a Cadillac CTS-V front end conversion. Then they discussed paint. Those thoughts escalated to ghost patterns and graphics. Thus, led to pinstriping and culminated with a complete custom overhaul of the exterior. A week later, "La Toxica" was loaded on a trailer for an eight hour drive on Interstate 10 Westbound for Victor and his crew.
The first stage consisted of the front end conversion, prep work and body work, and then spraying the metallic red tricoat base coat. Next, a few of the graphics were layed out and sprayed with a variety of House of Kolor kandy coats. After that, it was off to Las Cruces, New Mexico, for independent artist Adrian Gamboa to take care of the airbrush. Once back at Big V Designs, Victor and Marcos Tavizon continued laying graphics and patterns. Lastly, it was off to Pinstriper Raul Ortiz in El Paso, Texas, for pinstriping before back to Victor for the final stages of clear coat. When asked what made him take this build to such an extreme, he stated, "After watching my truck sit untouched at a shop for so long, I knew I wanted to go to reputable shops that could bring my wildest dreams to reality. The rest is history."