The Orange Show – 2008 Dodge Charger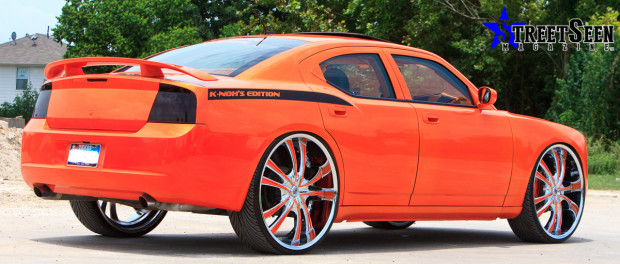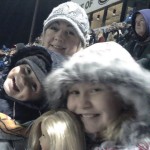 Story by Jeff Ermann [email protected]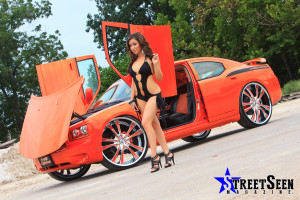 There are Lambo doors, and then there are "What the Fuck?" lambo doors. That's what Julio Cano decided to label his the doors he custom made for his 2008 Dodge Charger, which rotate in various different directions. The reason for their name is simple.
"That's what people say when they see them," he explains. "They twist in the air a bunch of different ways when you open them. I actually came up with it myself. It was just a lot of trial and error."
The wheels are hardly the only things Cano did himself. Virtually all of the work on his award-winning ride was done as his shop, K-Noh's Customs in Houston, where the car sits as a proud example of the caliber of work he and his guys offer. "It's just a showpiece for the shop. I have a little display building just for it," he says.
The biggest challenge for Cano was remodeling the car so that it sits just right on his fat 28-inch Lexani LSS 50 wheels. That required a custom air suspension set-up and a lot of cutting and welding on the frame. "Most Chargers are even with the bumper, so we had to cut into it so it could have that three-inch lift," he says. "We didn't want to just leave it dangling. We had to reinforce it and re-mold everything."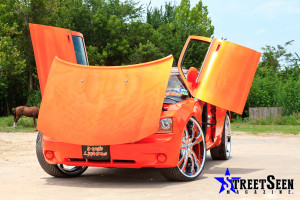 Cano's Charger doesn't have a name, but it does have "K-Noh Editions" emblazoned on the car's side. The vast majority of the car incorporates the vibrant "Orange Show" color theme. That includes everything under the hood, with its original 5.7 hemi and added a cold air intake, as well the black leather and orange suede interior.
Even the pair of JL Audio 1,001 amps in the back window are painted to match the color theme. And the body's got hidden yellow, gold and green flakes that pop when the sun hits. "I just wanted to go with something different. Everybody has red and blue," Cano says.
Those amps feed into an audio-visual system that includes six Optima yellow top batteries, four monitors in the console and three more molded into the dash, two 13.5-inch speakers in the trunk and two 501s for the high notes – virtually all of it from JL Audio. "I just wanted to get the best I could afford," Cano says.
The air suspension was the only part of the project that required outside help, so Cano went to his friends at Lil One's Customs in Houston for that. In-house, he also got plenty of support from Jose Guerra, who was responsible for much of the vast fiberglass work the interior required. "I just want to thank Lil One's Customs and my installer for the audio at my shop, Jose Guerra," Cano says.
Cano's charger has been a hit at shows, taking home first places often, and a best in show award at Magnificos. The reaction of judges and onlookers "is pretty good," he says modestly. "I don't have to do too much talking."