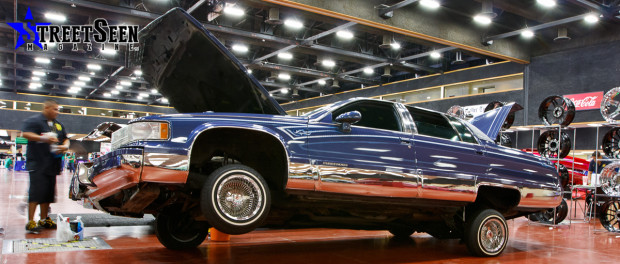 On June 28, 2015, StreetSeen Magazine will be returning to Corpus Christi, Texas for the WEGO Tour's Battle on the Bay Car Show. This is one of the biggest events that hits the South Texas area. Jon Chuck and the WEGO Staff truly know how to host an event that brings out the finest low lows, not only from South Texas, but from out of state as well.
The last time we covered the event was back in Summer of 2013. Many of the rides on hand were just dripping in Kandy paint and chrome. It was like walking into a candy store with the rainbow of colors in the American Bank Center. Many of the best clubs on the tour were in attendance to reach the that goal of becoming the Tour Champion at the end of the year in Houston.
On stage, we saw Baby Bash, the smoking nephew, headline a day full of acts that kept the crowd of spectators entertained. Outdoors, we saw several hoppers trying their hand at reaching the clouds. Tren of The 210 Hardhitterz showed everyone what an experienced switch man is supposed to do.
Lots of Car Show Hotties were in attendance this day as well. The very exotic Kawaii Lani represented StreetSeen Magazine much to the delight of spectators. Hotties Bonnie Ann, and Avangelin Marie added to the eye candy moving around the show.
You can see how good this show gets. We're excited to be returning again in a few weeks. We hope to see you there…