Los Magnificos Dallas 2013
We're happy to be finally bringing you never before seen coverage from Los Magnificos in Dallas. Los Magnificos is a premier name associated with top quality car shows, so we know that when Jon Chuck and the WEGO Crew decided to host an event in Dallas with the Magnificos name, they were expecting a top notch show. As expected, the best of the best rides on the tour came out to show off. Top clubs such as Rollerz Only, Swift, and Nokturnal were in attendance and ready to compete for the top prize.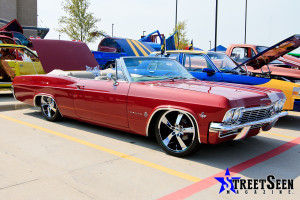 Local clubs and chapters such as Kingz CC, Insanity CC, and Majestics DFW were also ready to keep some of the top trophies in Dallas by showing strong. It all went down on a September Sunday in 2013 at QT Baseball Park in Grand Prairie, Texas; our second time at this gorgeous park that year. Low lows, trucks, classics, and luxury vehicles for as far as the eye could see were in attendance gathering up much needed WEGO points for the tour finale.
It was a bit of a tight squeeze because so many participants showed up. The pros at WEGO didn't sweat it. They had everything covered, accommodating each and every entry. On the baseball field, the DJ had people entertained with his selection of jams. Plenty of eye candy was easily found around the park including the ever so famous Miss Misty. She was on hand representing StreetSeen Magazine, showing what she was working with under the skirt… much to everyone's delight.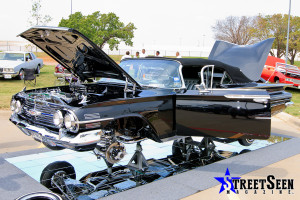 All in all, we really enjoyed the show. We saw so many gorgeous vehicles that choosing photos for this coverage proved to be a difficult task. We want to thank Jon Chuck and the WEGO Crew for having us out. Make sure you follow this year's WEGO Tour, currently heating up. We'll see everyone at the next one…