Boulevard Boss – 1962 Chevy Impala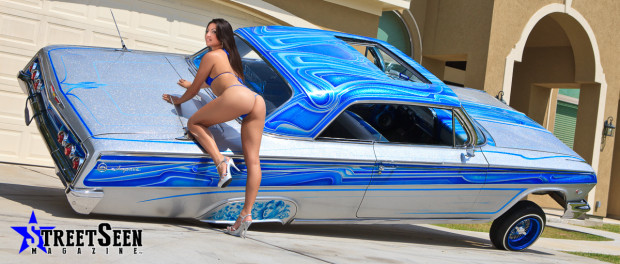 Model: Miss Misty Marie
[Editor's note: This article was originally published in our Volume 29 Magazine in November 2012]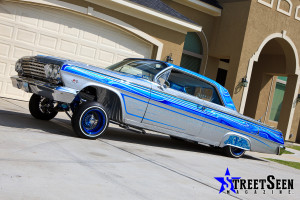 Before the hundreds of hours of work, all the small details and major overhauls and all of the money spent – roughly $50,000, he estimates —  Robert Ramos' Impala was just a car he'd picked up on a whim. "I bought it in June 2011. One of my car club members had it. It was painted, but the engine needed work and the interior needed to be redone. I wanted to just clean up the engine, but next thing you know, we were going all-out," Ramos said. "I love the car, period. I love everything about it.
"But there are a couple of things that seem to stand about the Impala, named "Blvd Boss." The paint job with intricate patterning, and the bounce. Boss' three-pump, one-port piston set-up, has some serious juice behind it, as it's powered by 10 AC Delcos sitting in the trunk. "The car will bounce 60 inches," Ramos said of Boss' hydraulics, which were done by South Side Customs, located in Ramos' native Pasadena, Tex. "The car will hop. We built it with the intentions to hop it."
And then there's the deep blue-and-silver paint emblazoned with old-school pinstriping. Michael Cato, also known as "sic713," did all of the paint work. Virtually every inch of the car was tailored to match the color theme. "I gave him an idea of the colors I wanted and he took off with it. He's been my boy for a long time, so I trusted him. He got it done and he went wild with it," he said. "It gives you something to look at."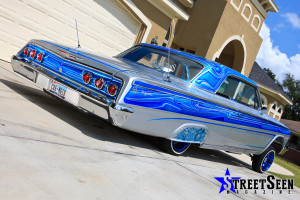 The interior is classic Impala style with a few twists. Four Alpine speakers are powered by 500 and 1,000-Alpine watts and components.
Ramos also removed the original seats and recovered them with silver outlined upholstery with blue inserts, adding matching carpets and headliners, all matching the car's paint theme. "We tried to keep it kind of traditional, with just a little bit different look," he said.
While Ramos tried to keep the car largely in classic Impala style, he did one major alteration to the body, with his Latin Kustoms club member Hugo Martinez helping him install a sunroof from an 89 Mercedes. "As far as a metal roof with a sunroof all patterned out, you don't see that too often," he said.  Ramos also removed the engine, re-hinged it with top of the line Billet hinges, and had it chromed by Superior Chrome in Houston. The suspension, arms and tie rods are also chromed out. He also replaced all of the old trim with new trim, which was re-chromed as well, molded the firewall and bought a wrapped frame from A&M Customs in Forth Worth.
Virtually all of the labor was done at Southside Customs in Pasadena, owned by his friend Robert Robledo. Tim and Bruce from Last Minute Customs came through with most of the parts for the job, while his partners in the Latin Kustoms Car Club – motto,  "One City,One State,One chapter!" – provided help throughout.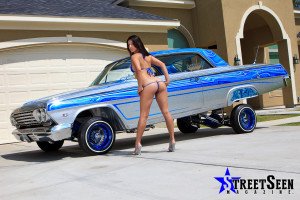 And finally, his wife Vanessa Ramos supported him throughout the job. "I'd like to thank Robert Robledo for letting us use his shop. The car spent almost five months there," Ramos said. "I'd also like to thank my wife. She put up with a lot of stuff with me putting a lot of long hours into the car. And my car club members. They put a lot of time and effort into helping me build it."