50 Shades – 1963 Chevy Impala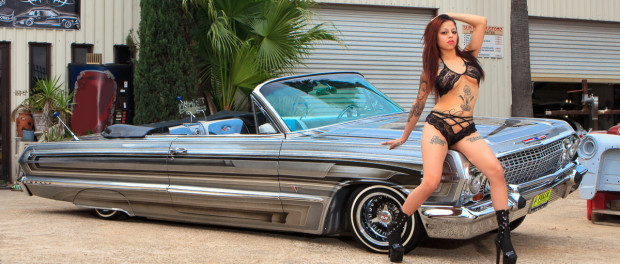 Model Mary Jane Ventura
When Nick Flores says his '63 Impala is the best of all the Impalas he's owned, that's a mouthful. Why? He's had 50 of them. No, that's not a typo. Flores has owned FIFTY Chevy Impalas, beginning at an early age. "When I was around 14, my dad, he moved from California in the late 70s and he brought the lowrider lifestyle with him. I just picked it up," Flores says. "That's what my dad had when I was little and that's where my heart is at. Impalas. It's in the blood."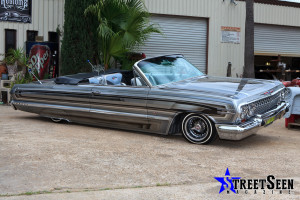 Flores bought the car in 2012 in original condition, painted black, and he planned to leave it that way but figured he'd add some wheels. So we went out and picked up some 13-inch black spoke, cross-laced OG Wire Wheels. That was supposed to be the end of any customization.
If he'd stuck to that plan, of course, you wouldn't be reading about him in these pages right now. And besides, it needed a sound system, so he added a JVC CD player, five 5.5-inch Pioneer speakers and two more 10-inch speakers in the trunk. Then, he said, "boredom kicked in again."
Three years later, the car — named '50 Shades of Gray,' which originally began as a joke when a friend asked what he would call it, but is a perfect fit for his three-tone paint job with silver leaf pinstripes by Sic713 — is a smash hit. "I wasn't sure how I wanted the paint to look, but I knew the color scheme I wanted. So I left the design up to the artist. I knew the car was in good hands," he says. I usually get first place or best paint. I would say the paint is what gets the most attention. It's pretty flashy."
Under the hood, Flores rebuilt the 350 engine and added a chrome intake. He took 50 Shades to Cedric at South Houston Auto Customs, where the suspension was disassembled, chromed from front to back and reassembled. "I was content for a little while," he says, adding that that's rarely lasted long during the course of his many Impala flips (he's still in possession of six of them). "I get bored easily."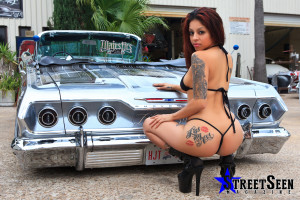 That only lasted so long. Flores, a member of the Majestics car club, next took his ride to Nicks Auto Trim in North Houston to sweeten up the interior and had it reupholstered to match the paint job. Flores has also added bucket seats and chrome CCE hydraulic pumps, done by Robert at South Side Hydraulics. "The trunk is boxed off. All you see is the pumps," he says.
And they get use. This is no show car — Flores regularly gets thumbs up and catches the glare of camera flashes while driving it around town, and on the highway. "I drive the hell out of it," Flores says. "A lot of people are scared to drive theirs. I built it to enjoy it, I didn't build it to be parked in a garage and tell people about it."