Gallo Tinto – 1985 Chevy Monte Carlo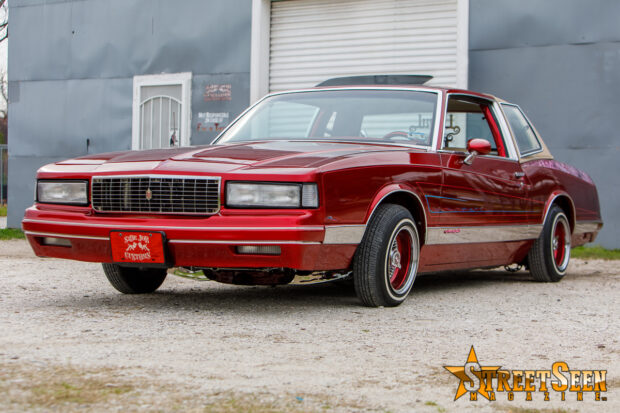 Erik Davila of Loyal Car Club in Baytown, Texas, was just a kid when he first started lowriding. At fifteen years old, the teenage Erik wasn't even old enough to drive when he had his first lowrider. "It was a 1979 Buick Regal on 14 inch Roadsters; black with plastic pinstripe designs that I did myself," said Erik. But that first love would end tragically. "I had it for about five years and it was stolen from the apartment I used to live in," he said, "It was found but it was burned up; no way to restore it."
A situation like that can make anyone rethink doing it all over again, but not Erik. He continued lowriding up 'til the day in March of 2005, when he learned about this 1985 Monte Carlo. "A coworker's friend was selling it and he told me about it," said Erik. This Monte would be a daily driver for now, but Erik had big plans for it. Being a paint and body man by trade, Erik had the necessary skills to take this Monte Carlo to the next level.
It would be about a year or so before work would begin on the Monte. "I started body work to prepare it for paint and started the conversion from a 1985 to a 1986 Luxury Sport Monte Carlo," Erik said, "By the end of 2006, the paint and conversion were complete." The conversion included changing the header panel, both bumpers, back tail lights, and side moldings. The original front fenders were also modified to fit the conversion. "I just did an extension to the original fenders to align with the front bumper," Erik said, "Normally you're supposed to change them, but I extended them to make them fit." Erik went with a Silver House of Kolor base under a House of Kolor Kandy Brandy Wine for paint. He then went in and sprayed not only the car, but his 13×7 wire wheels as well. Because of his color combination, Erik went with a play on words when it came to giving the Monte a name. The newly dubbed "Gallo Tinto" pays homage to Gallo Pinto, a famous fighting rooster from Erik's childhood days.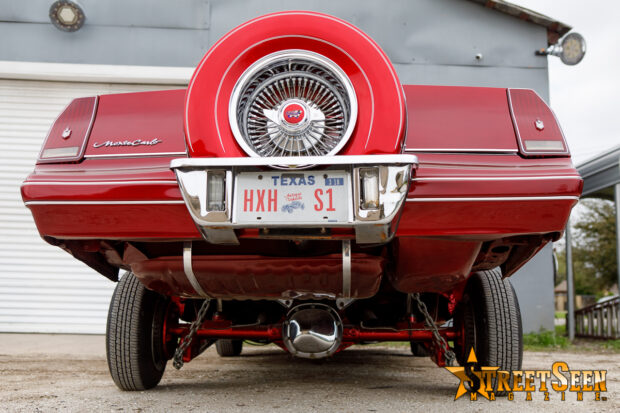 Soon after the paint, body, and conversion were done on the Monte, it was time for Gallo Tinto to get some juice. Erik went with a Pro Hopper two pump set up with six batteries and ten switches. "Front, back, side to side, corner; It doesn't do a standing three wheel but it does in motion," said Erik. With the help of his friends, Chochi and Jeff, he was able to get the work done from his garage at home. Another friend, Hector Hernandez, helped install the stainless steel hard lines running from the pumps.
After Hydraulics were installed, Erik added the fifth wheel he bought from a friend to the back of Gallo Tinto, which he color matched to the car. It holds a 72 spoke, 13 inch, Dayton wire wheel in the center. It was now time to tackle the interior of the Monte. "I smoothed and painted the inside paneling and dash," Eric said, keeping with an original look to the interior. It was at this time that he also opted to swap out the original fabric on the seats for a color dyed fawn vinyl. He wanted to keep a stock look to the interior and went with seats with a stock pattern. James Upholstery in Baytown, Texas, was chosen for this task.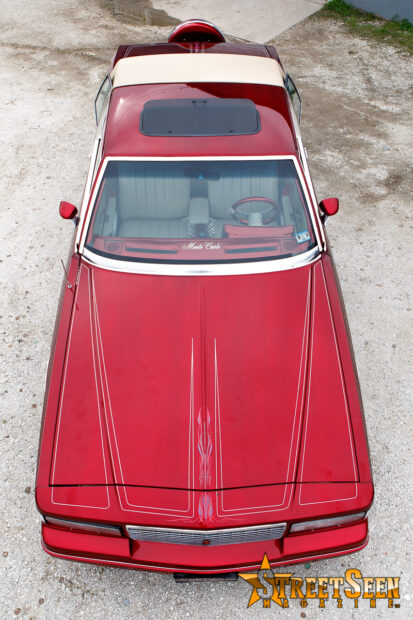 When the interior was finished, Erik wanted to add some important elements to the outside of the Monte. This is when he got with Robert Talton of Lines by Talton in Pasadena, Texas, to stripe up the entire car. Then Gallo Tinto made the trip to Coupland Signs in La Porte, Texas, to get murals done on both quarter panels by Charles "Chuck" Coupland. Chuck airbrushed several sexy ladies to adorn the rear sides of the Monte.
Continuing with work on the exterior of the car, Erik had his buddy Danny install a custom vinyl top to the rear of the roof. While on the roof, Danny also cut out some metal to install a custom pop up sunroof to add some light in the cab. When that work was done, Erik went back into the cab to install the audio. He decided on a Pioneer head unit controlling four 6×9 speakers in the cab and a 10 inch Memphis subwoofer in the rear. The sound is powered by two Planet Audio amps.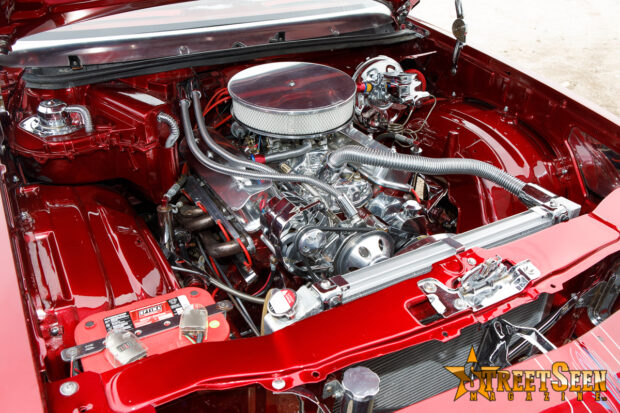 This is how Gallo Tinto would sit for a couple of years. "From 2011 to 2013, my project was at a stand still due to the opening of my shop, Side Job Customs," Erik said. Now he had a shop space of his very own to complete the project. In the beginning of 2013, Erik was able to land a 350 motor and Turbo 400 transmission that came out of a 1994 Chevy truck. Gallo Tinto was going to have huevos! Erik had the engine and transmission overhauled by Armando Hernandez of Mando's Mechanic Shop in Baytown, Texas. While Erik had his original V6 motor out of the engine bay, he went in and shaved the radiator core mount for a clean look before having his freshly rebuilt engine and transmission installed.
Over the next few years, Erik would be adding to the vehicle in his spare time after work. Running a successful business was now priority number one. In that time, he was adding chrome and engraved parts to his Monte. This would include engraved mirrors, engraved door handles, and engraved backing plates on his hydraulic pumps from Krazy Kutting, in Yuma, Arizona, given to him by his friend Jorge Garza. He also had Santiago Ayala, an employee at Erik's Side Job Customs in Baytown, Texas, complete the trunk look with paneling. The paneling, of course would then be smoothed and painted.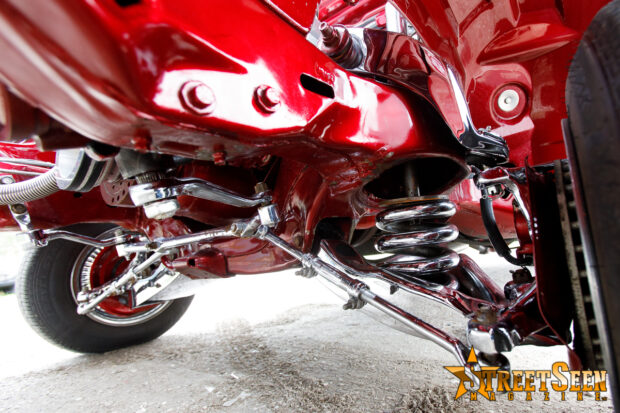 "Around mid 2015, I started the chrome additions to the engine," Erik said. Many of the chrome parts in the engine came from Jegs.com. All told, it would be a three year process to complete the look of the engine. It was time to address the undies. Erik turned to Krazy Kutting in Yuma, Arizona, to order the entire front end suspension in chrome and chrome accent parts to add to the color matched rear end.
The last piece of this build would be a small, but unique modification. Erik went in and modified the quarter glass windows to open. "There's no G-Body that I know of that has pop out quarter glass like that," he said. It may have taken Erik several years to complete his build, but in the face of challenges and adversity during that time, he fought through and came out with a win; much like the famous fighting rooster his car honors.
Erik thanks, "Special thanks to my wife for always supporting me, all the friends that helped with the build, my club members (Tommy Luv, Ruben Vasquez, Armando Hernandez), and also Victor Jimenez who has always been a very supportive friend on my low riding journey."