Redrum – 1984 Buick Regal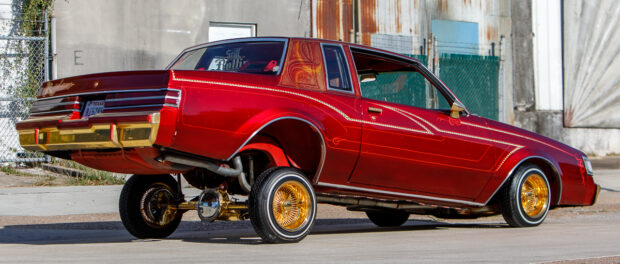 James Hinojosa of Houston, Texas, was introduced to lowriding at a very young age. "My father took me to an indoor lowrider show when I was 5," he said, "I was fascinated by the style, colors, exotic interiors, and the unique paint jobs." You could say from that minute on, he was hooked. The current Vice President of Still Rollin Car Club had the opportunity to finally buy his first custom ride when he was 19. "A Buick Regal on Roadsters was my first lowrider. That was in 1995," James said. He owned that car for three years before it disappeared. "It was stolen and never recovered," he said. It would be twenty years later before James got back into the lowriding game with this 1984 Regal. "I bought the car from my neighbor in 2015," James said, "It was all original with only 28K miles." You now may be thinking that James has a thing for Regals and you'd be right. "Buick Regal has always been my favorite G-body," he said, "Everybody puts Monte Carlos and Cutlasses above Regals. The Buick Regal is the underdog; the forgotten one."
After taking ownership of his new G-body, James wasted no time getting on customizing it. "The day after I bought the car, I bought the wheels from Kandies and Bags" James said of the shop in Houston, Texas. Over the next year, James would be adding gold trim to the Regal. He was able to score a pair of gold engraved door handles from Speedy Metal Finishing in Long Beach, California. James eventually started driving to Austin to get many of the Regal's parts gold plated by Adrian "24K" Garcia. "A gold steering wheel was next, then straight to the big stuff; the front and back bumpers," he said. 'Til this day, James continues to add new gold plated parts to the Regal.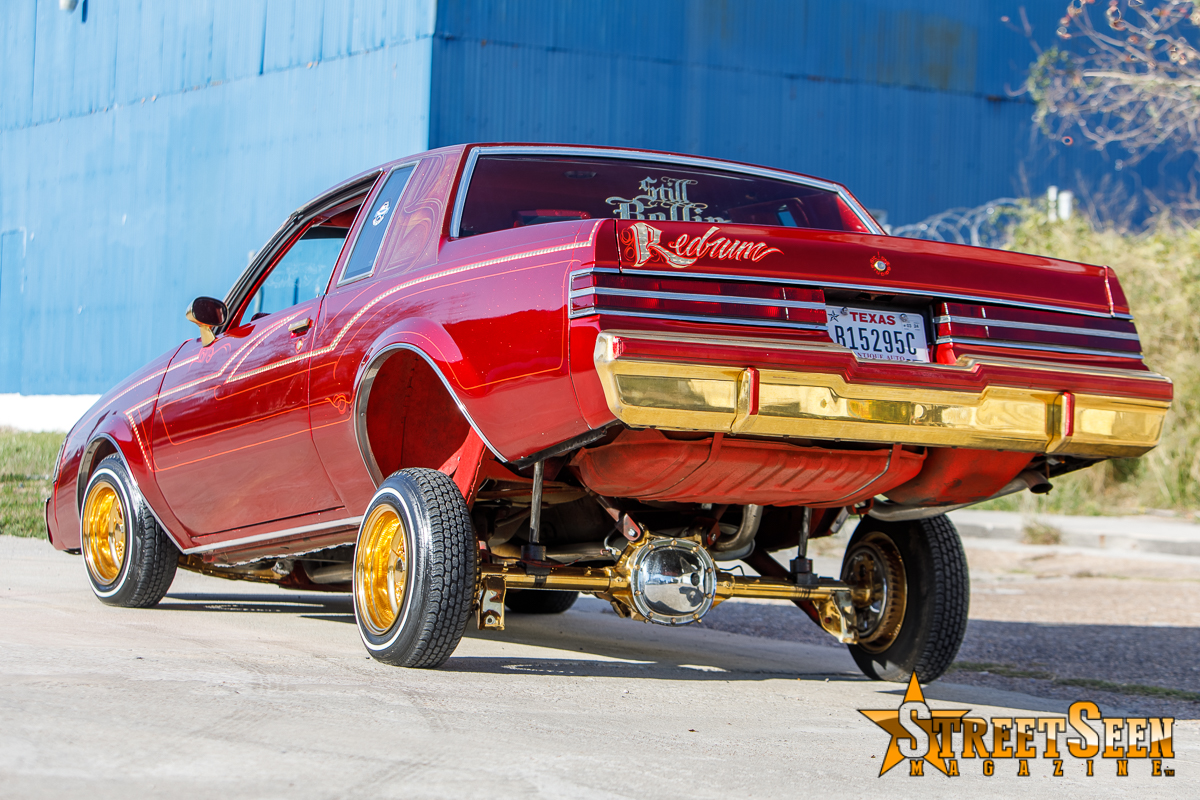 After owning the car for a year, James took it to Shorty Villarreal of Shorty's Hydraulics in Houston, Texas, for some switch therapy. Shorty's installed a Shorty's Heavy Hitter two pump / four dump setup in the Regal. "That team lifted me with front, back, side to side, and with a unique fifth switch for pancake," he said. The hydraulic setup came with #9 gears which James later had swapped out for #11 gears for faster movement and a much quicker response.
After the hydraulics were finished, it was time for paint. James took the '84 to Frank Fernandez at Air Shop in Conroe, Texas. Fernandez painted the Regal with a House of Kolors Kandy Apple Red with fine red flakes over a gold base. The car was dripping in so much red that a name was immediately chosen for it. "That's when Carlos Orellana [President of Still Rollin] helped me name my car 'Redrum'. Carlos said, 'The car was just bloody!'," James said. Fernandez moved on to the interior where he created a custom fiberglass dash that now houses a 19 inch screen in front and a custom rear panel that houses two 8 inch screens. He finished out the interior work with a custom center console which included two cup holders lit up with red LED lights. Red LED lights were also placed inside the console behind clear plexiglass openings. He then painted the new custom fiberglass work in the same bloody red paint as the exterior of the car.
Soon after, the newly dubbed Redrum made a trip to Sik Studios in Pasadena, Texas, to get some gold leafing and pinstriping done. "I was on a two year waiting list to make it happen," James said, "I reached out to Sic back in July of 2015 and he politely explained he had approximately a year to year and a half wait." When the time came, Sik did up the entire car in his signature style, following through with hot red and fire orange pinstriping.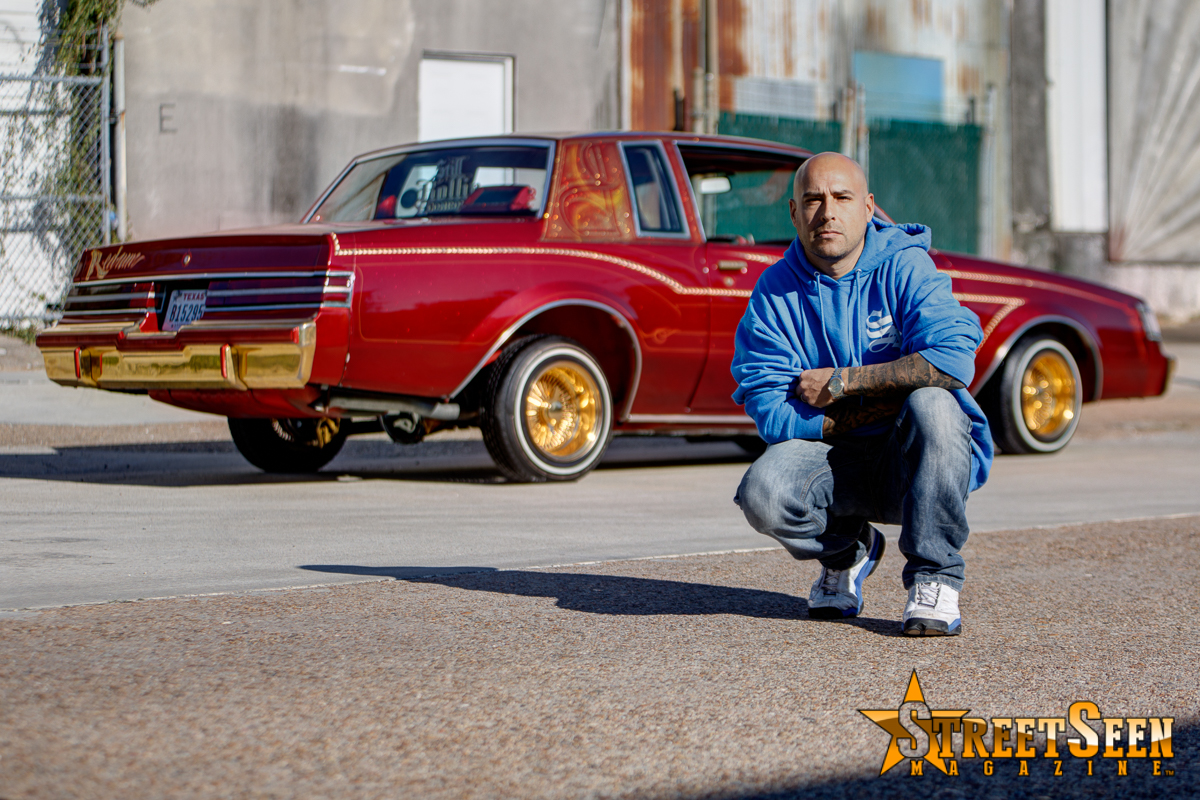 On the outside of Redrum, things were looking great. It was the interior that still needed the most attention at this point. James commissioned Mike Tatum at Tatum's Upholstery in North Houston, Texas, to bring the interior up to par with the exterior. Mike would first swap out the original seats with seats from a Mitsubishi Eclipse. He then would redo all of the interior in red. Red seat belts with gold accessories, red carpet, red headliner, and red leather and suede seats were installed to complete the overall look of Redrum.
Everything was looking up for James and Redrum, but anyone who has ever built a custom ride can tell you that no build is without its setbacks. For James, this would come in the form of a blown head in the engine. James had a discussion with his mechanic Johnathan Cummings of 2Js Performance & Repair in Pasadena, Texas, about how to proceed. They had mutually come to the decision to swap out the original engine with a much beefier LS motor. This proved to be a lucky decision because shortly after removing the engine, James and his mechanic found that there was significant damage to the frame and suspension parts. Apparently James was having way too much fun playing with the hydraulic suspension installed by Shorty's earlier that year. "I was hopping on the freeway and acting like a clown with no reinforcements," James said, "I kept saying to myself, I will get to it, and ripped frames won't happen to me."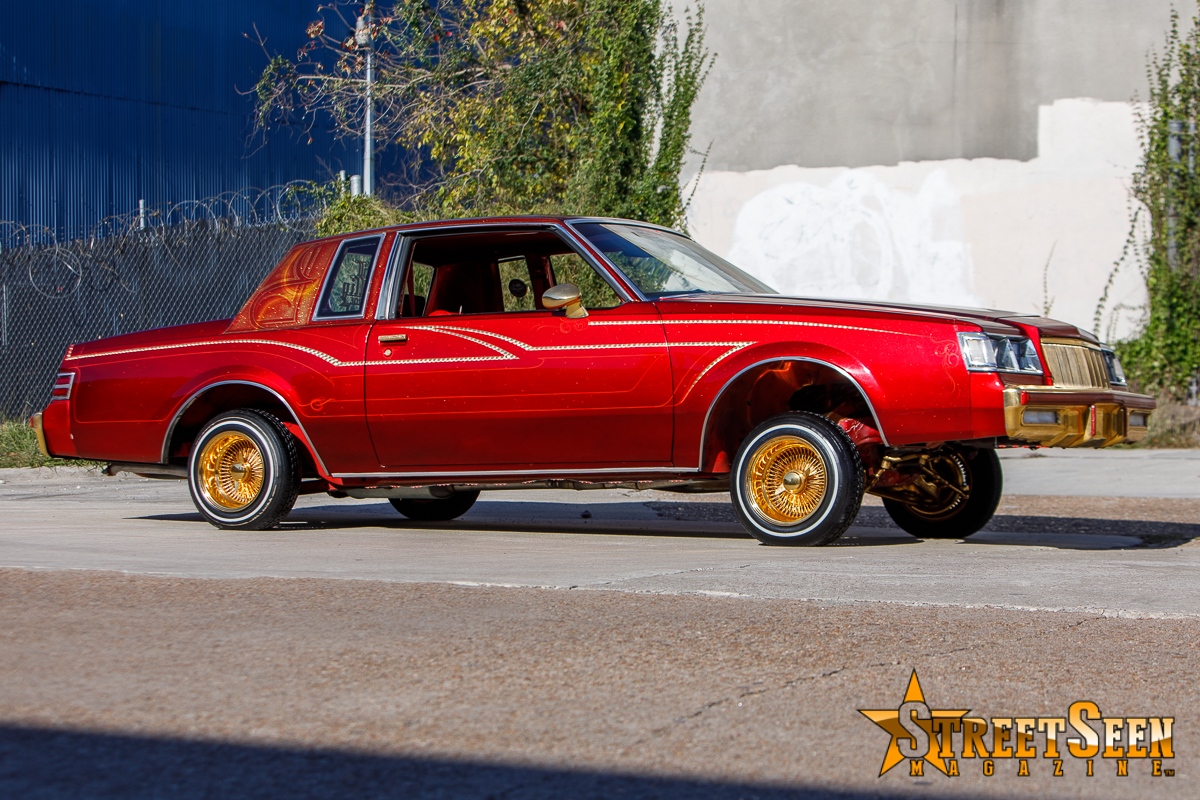 After learning of the problems of Redrum's frame and suspension, James enlisted the help of Mando Garcia of Mando's Hop Shop in South Houston, Texas, to handle the much needed repairs to the frame and suspension while the motor was out of the car. Mando reinforced all of the stress points and belly on the frame, giving Redrum the much needed strength to handle a hydraulic suspension. While Mando had the car, the gold undies were installed including the gold rear end, gold A arms, front end suspension, and gold drive shaft.
Once Mando was done with reinforcements and gold undies, Redrum went back to 2Js Performance & Repair in Pasadena, Texas, to install a rebuilt LS motor and rebuilt transmission. Due to the LS swap, a 4L60 transmission had to be installed to keep up with the power of the LS motor. This was true with the radiator as well. A heavy duty, dual fan, electric radiator was installed to handle the larger engine. Once those were installed, Cummings went through and revamped the entire braking system. Brand new brake booster, master cylinder, brake lines, shoes, pads, and calipers were all installed in Redrum.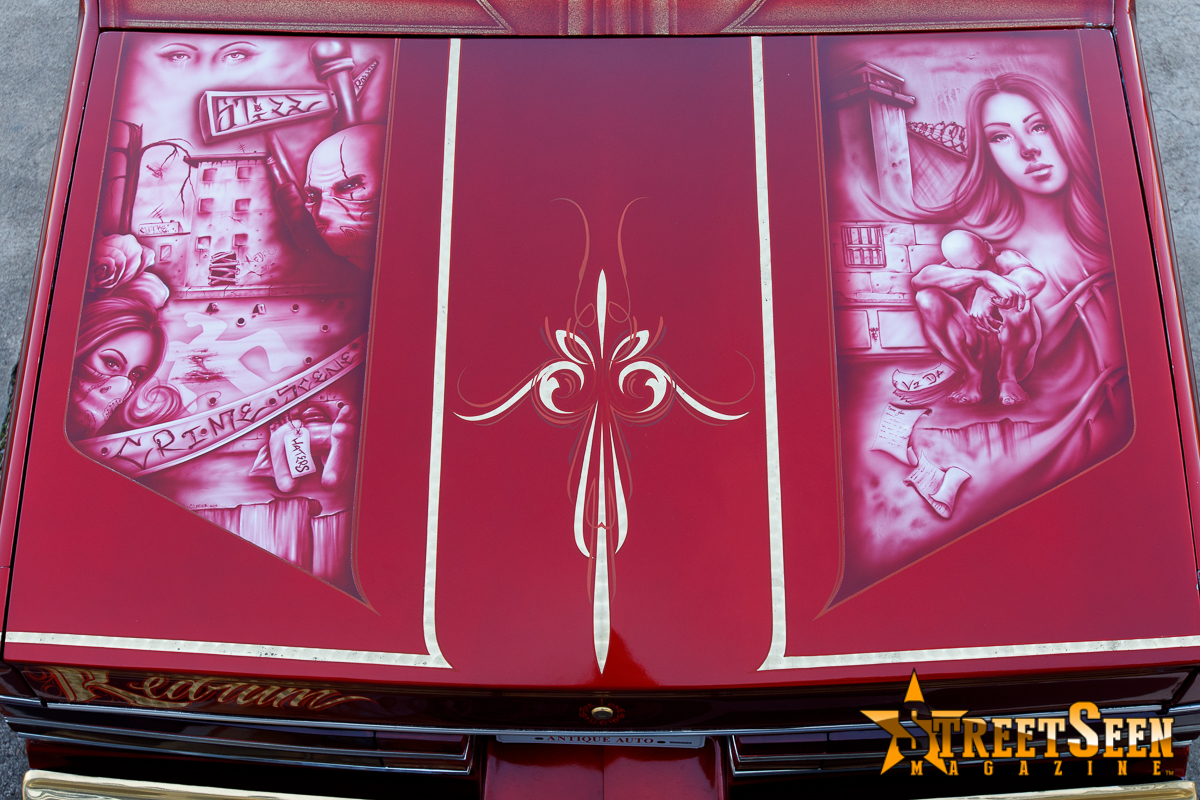 The final touches on Redrum would be handled by Robert Clark of Clark Customs in North Houston, Texas. Clark painted patterns on the roof in shades of fire orange. He would carry this theme inside as well, painting the center console and fire extinguisher to match the roof. The last step in Clark's process would be to paint two mural panels on the trunk lid. The two murals tell a story. On the left is a visual illustration of a couple committing a homicide during a crime. The right mural is the offender in the penitentiary for life, receiving a "Dear John" letter; leaving him all alone in prison.
This Regal may quiet the naysayers in the old battle of traditional versus G-body lowriders. It's one hell of a street ride with a lot of show quality upgrades. Through the ups and downs, highs and lows, progress and setbacks; through it all, James and Redrum are Still Rollin. ✌?
James Hinojosa would like to send a special thanks to Adam Gutierrez, fellow member of Still Rollin Car Club, for always being available to help with maintenance on Redrum. Also to Enrique Collins who helped with a lot of behind the scenes work on the engine. Lastly, James would like to thank his wife Jessica Hinojosa for keeping him focused on the car when he was ready to throw in the towel; keeping him from selling it on several occasions.