La Wawa – 1964 Chevy SS Impala Wagon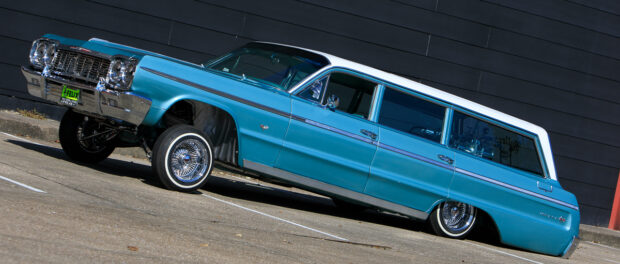 Some of you may have read the title to this article and said to yourselves, "GM never made a 64 Impala super sport wagon," and you'd be 100% correct. That fact, however, didn't stop Joe Meza of Houston, Texas, from making it a reality. The Vice President of the Gulf Coast Chapter of Rollerz Only Car Club wanted to build a wagon in memory of a wagon his mother used to own when he was a child. She often referred to her wagon as "La Wawa". A simple wagon build, however, just wouldn't do. Meza, as he's known to his friends, was going to undertake building a vehicle that didn't exist.
Meza had been building lowriders for years. His first lowrider was a 1964 Chevy Impala SS. "I've been building since the age of 18; everything from Cadillacs to Impalas," he said. This wagon entered Joe's life back in 2013. In just the year before, Meza had completed three builds. "That year I came out really hard," Meza said. In those days, LayitLow was still THE place for lowriders to network. While looking through user profiles on the site one day, he noticed that a friend of his, Short Dog, had a 64 Impala wagon listed as a vehicle he owned. Meza soon contacted Short Dog to make an offer on the wagon, but Short Dog wasn't interested in selling. "He said he didn't want to sell the wagon because he was going to fix it up for his parents," said Meza. It would take about three months of persuasion from Meza before Short Dog conceded to sell the wagon. "He called and said if I was still interested to swing by to look at it," Meza said, "That's when I got to take a glimpse at it, but it was completely covered under boxes and stuff he had in his mom's garage."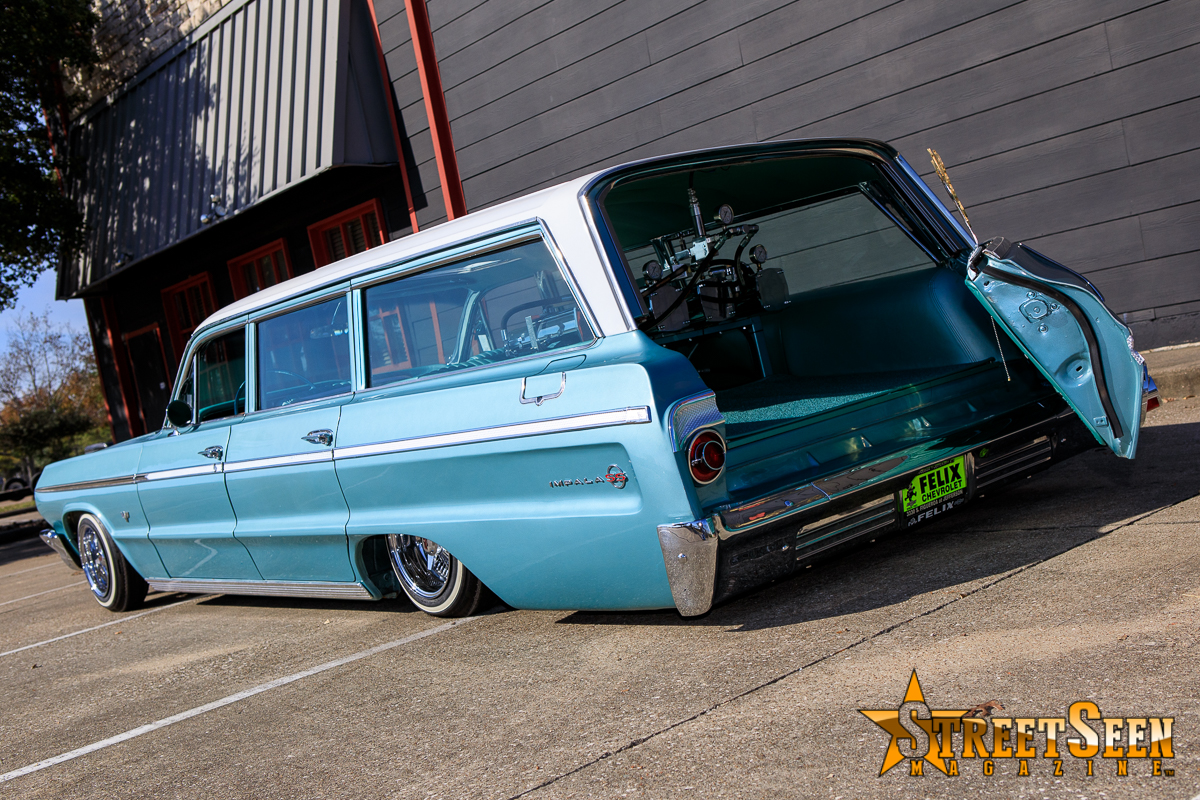 After taking the wagon out of the garage, Meza could see that this build was going to take a lot of work. "I noticed that it was completely taken apart. All the glass was taken apart and you could see it was missing the interior. He had the interior on the side," Meza said. Regardless, Meza knew the scope of the project he was undertaking and decided to move forward. "I already had a vision of what I wanted to build," he said, "My intention was to build it stock. If it was something you could order from GM, then I could envision what it would look like." The first item on the agenda was to rework the rear wagon door. For some reason, GM went with square lights on the rear end of the 1964 Impala wagon instead of the traditional 3 round light set up found in previous wagon years. This was not going to work if Meza had planned on making the wagon a super sport. Antonio Torres at AT1 Motorsports in Houston, Texas, was commissioned with changing out the original look of the rear wagon door. In order to make it work, Torres had to weld three trunk lids from 64 Impala cars precisely so that it would function properly. That wasn't the only change to the rear door. Since Meza's mother's wawa had a rear door that opened sideways, Meza's 64 Super Sport Wawa would have one too. AT1 created a one of a kind suicide rear door for the Wawa.
On top of the excellent work they did on the rear door, AT1 Motorsports would also take the frame off of the wagon to reinforce it for hydraulics. Things were moving fast at this point in the build and La Wawa was off to paint. Meza went with a PPG GM 1964 color – Azura Aqua. While getting the body work done on the wagon and getting it painted, Meza had an ASC 44 inch moon roof installed. He was lucky because ASC had a company representative in the Houston area for a few days who was able to do the job according to spec. While all of these things were getting done, Meza decided to go on a little shopping trip. We're not talking about groceries here. He went to see the boys at Last Minute Customs in Houston, Texas. There, he ordered parts to complete his conversion to a super sport. "I ordered every single thing that was available for the wagon," said Meza, "If it was available to buy, I ended up buying it." But something he saw at Last Minute Customs would change the direction of his build. "They just happened to show me a car that a customer had that had a detailed engine and as soon as I saw that, I knew that my direction was gonna change. That's when I decided that I would go full show. I wanted that same kind of detail in my engine," said Meza.

Things would escalate quickly. "From there, it spread to where I wanted everything polished," he said, "Anything that had shine in it ended up going to get re-polished or re-chromed." Many of these new parts including the outside trim he purchased, found themselves on a trip to Rafa's Polishing and Chrome in Garland, Texas. Other parts that weren't purchased at Last Minute Customs were purchased from Low Life Hydraulics in Inglewood, California. "The whole suspension from bumper to bumper came from Low Life Hydraulics," said Meza, "Everything was shipped out in a pallet. Basically, I just called them up and asked them for a complete chrome undercarriage. The only thing that wasn't provided was the frame."
Once the wagon came back from paint, it went to Mezasbudgetbuilds to finish off the details. The best part is that Mezasbudgetbuilds is really close to where Meza lives; the back yard! Meza himself, got to work on finishing up the remainder of the work before sending it to upholstery. It started with installing the chrome undies from Low Life Hydraulics. Meza then installed a Toyota shortened rear end he ordered from Lowrider Show Chrome in Lake Forest, California. Disc brakes were also installed all the way around. Meza then wired the wagon using an American Wire kit. A Dakota Digital instrument panel was added during the wiring. To finish off the dash area, Meza added a chrome Ididit steering column.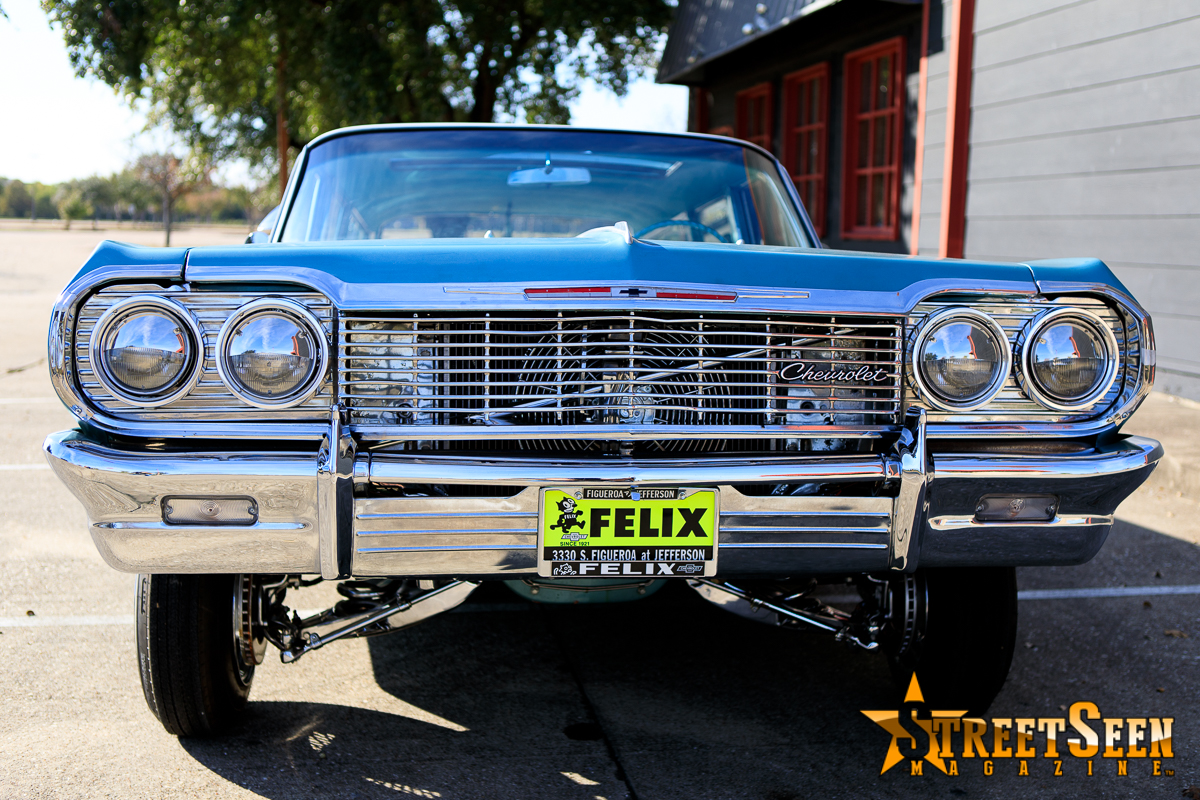 It was time to address the engine. One of the few things that Meza didn't have to spend on was a new engine. That was one of the things Short Dog had done when he owned the wagon. Meza did order a dress up kit from Billet Specialties in La Grange, Illinois, for the rebuilt 283 small block. This gave Meza that gorgeous engine detail he had seen at Last Minute Customs some time before. While in the engine bay, he also upgraded the power steering by going to a 605 gearbox. The last thing Meza would work on in his back yard shop would be the hydraulic setup. Meza went with a four pump Pro Hopper set up with six 31 series batteries and telescopic cylinders which get Wawa's ass up about five feet from the ground. Now it was on to shoes for La Wawa. Meza decided on a set of 72 spoke, 13×7 inch, straight laced Dayton wire wheels hugged by 5-20 Premium Sport Tires.
Now that all of the mechanical work had been completed by Meza, it was off to complete the interior. This would be the very last step in completing La Wawa. Meza called on his good friend Horacio Alonzo at Ordaya's Upholstery in Stafford, Texas, to complete the super sport look. This meant that Alonzo would be upholstering and installing a center console and bucket seats as opposed to the front bench seat the stock wagon came with.
All said and done, this build took Meza around six years to complete with set backs along the way. We'd say that this is one hell of a tribute to his mother's beloved wagon from the 80s. With all of the work that went into building this custom super sport wagon, you'd think Meza would sit back, relax, and just enjoy cruising his bad ass unique creation. Rumor has it though, that he's near completing another mind blowing ride at this very minute. We'll just have to wait and see.
Meza wishes to thank AT1 Motorsports, Last Minute Customs, Prince Classics, Armando Garcia for helping install the windshield, Low Life Hydraulics, and Ordaya's Custom Upholstery for their help with this build.