Blue Oil – 1964 Chevy SS Impala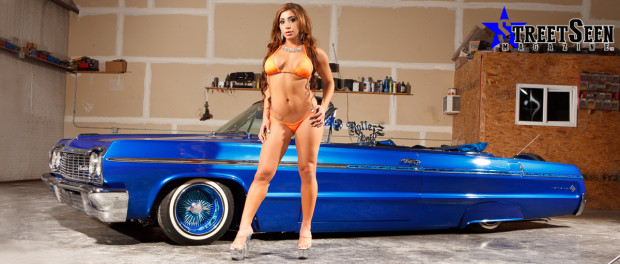 Story by Jeff Ermann / [email protected]
When Doug Strano talks about why he's so proud of his '64 Super Sport Impala – the fact that he did it all himself, how it was once in rough shape, before he painstakingly rebuilt it into something of great value – it seems like he's also talking about himself in a roundabout way.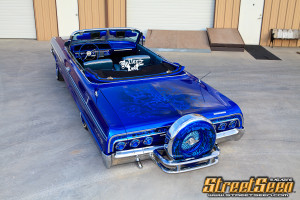 Strano was once living in L.A. and had his own body shop, along with activities related to gangs and the drug scene, he eventually landed himself in prison. "I just told myself, I'm better than this," he recalls. His salvation, it turned out, was the oilfield life, which brought him to Kansas, Louisiana and finally, a small town in Texas 30 minutes outside of Fort Worth called Decatur.
So for Strano, decades removed from those tough times and now a successful independent businessman, it only made sense to give his car an oilfield theme. It's covered in related murals done by his friend J.R. of JR's Airbrushing in Fort Worth, they're a tribute to the line of work that carried him to a new life, one that many other low-rider enthusiasts share with him.
"A lot of guys are in the oilfield. It's not a 9-to-5 job. Sometimes we're gone for weeks or months, so we don't make it to every show, but it supports the wishes and the wants to build our dreams. Blue Oil is dedicated to them." Strano says. "They love it. They've been waiting for it since I bought the car in the summer of 2011. They just think it's bad ass."
From the original 327 engine to the Super Sport interior kit he installed, the car, labeled "Blue Oil," is almost completely in its original style. Strano added a few newfangled touches, like the Dakota Digital Dash, five video monitors in the visors and the trunk and a Kicker audio system. But for the most part, it's all traditional, which is the category he enters at shows.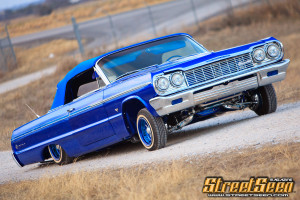 Of course, no Impala would be complete without the bounce, so he added air bags with four compressors.
Strano also added some personal touches to the body, creating a blue glow by covering the taillights in candy blue and building his one off continental kit where he cut a rim in half and welded everything together as one. "This is the first and only one like that," he says. He also lined the inner trunk with quarter panels he cut from another 64 SS Impala to look like the outside of his car and the inner fender wells under the hood are candy marbleized. "Everything on the car is my vision. I haven't copied anything anyone else did."
Blue Oil is the product of a lot of tireless work by Strano, who was in his barn sweating over it day and night, during snow and rainstorms. After buying a junk yard style car, "I could put my feet through the floor. My wife said, 'Your piece of junk is here with a smile on her face,'" he says. "I took the frame down to nothing. From the bolts to the seals, everything on this car is brand new."
But he's most proud that aside from the murals and a few minor aspects, he did all the work himself. No one so much as twisted a bolt without his oversight. He uses his success, both on his car and in life, to show his three kids that anything is possible with hard work and goals.
"If you give all your effort, the sky's the limit. Sometimes I'll just open my trailer and look at it," he says. "I could die today happy that I succeeded. I was that story that turned my life around and beat the odds."
Strano would like to thank Juan and Mike for assisting with body and paint, Texefx for the pinstripping, Joe Bro for upholstery, Jay's Upholstery for installation of the top, Carlos Ortiz for chroming, Dean Peace from 5P Welding in Decatur for custom welding and Easy from Precision Engraving, "And a special thank you to my wonderful wife, Kimmie."