BlaSSé – 1963 Chevy Impala SS
This Impala goes from unimpressive to remarkable.
At 38 years old, Thomas Mechell of Infamous Car Club has seen it all. The Greenspoint neighborhood native in Houston, Texas, has been lowriding since he was 12 years old. "I've been lowriding a while," Mechell said, "I've had pretty much every type of lowrider fixed up, from 60's impalas to G-bodys and Cadillacs. I got burned out." Well, burn out set in back in 2010.

2016 would be when the wheels would begin to turn for him again. This is when his good buddy, Angel Galvan, brought in a 1963 Impala SS to Mechell's restoration shop named ATS Auto Collision in Pinehurst, Texas. "The car was bone stock all original black with red interior," Mechell said. His buddy Galvan had found the one owner car listed on eBay. The original owner had purchased the car for his son back in 1963. His son left for the Army shortly after and never returned. The car sat in storage all of those years until the original owner took the car to a consignment lot to sell in 2016.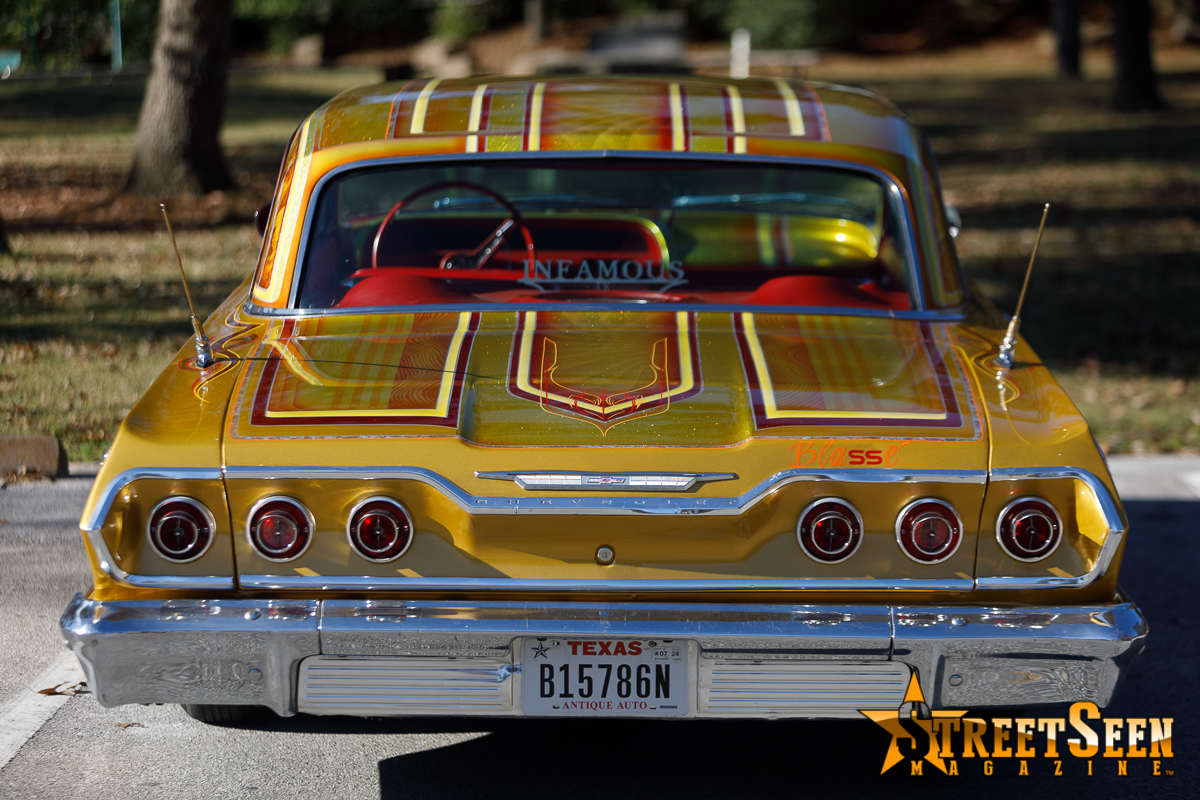 Thomas began the exterior bodywork. The passenger rear quarter panel was replaced along with both doors. Once the bodywork was done, Mechell started on the paint; a cream colored base topped with a gold pearl. Shortly after finishing with paint, Galvan had the patterns on the trunk, roof, hood, and dash done at Garage Arte, in Houston, Texas. Angel owned the car for about 2 years at this point before wanting to move on from the car; offering Thomas a deal he couldn't pass up on.

Once the SS was officially his, Mechell got right to work on a new paint scheme that was more to his liking. This required removing the doors and front end. It was completely gutted. Mechell then taped off the graphics and proceeded to spray a House of Kolor Solar Gold with mini gold flakes. He went over the original graphics with red and orange kandy to spruce up the contrast. His then 13 year old son Roland followed up with the leafing which was then covered with kandy. Sic 713 was commissioned with the pin striping. "He's my little black buddy," Mechell says. The final touches to the paint were the murals painted by Jesse Galvan of Galvan Designs in North Houston. The car now had the look Mechell was going for.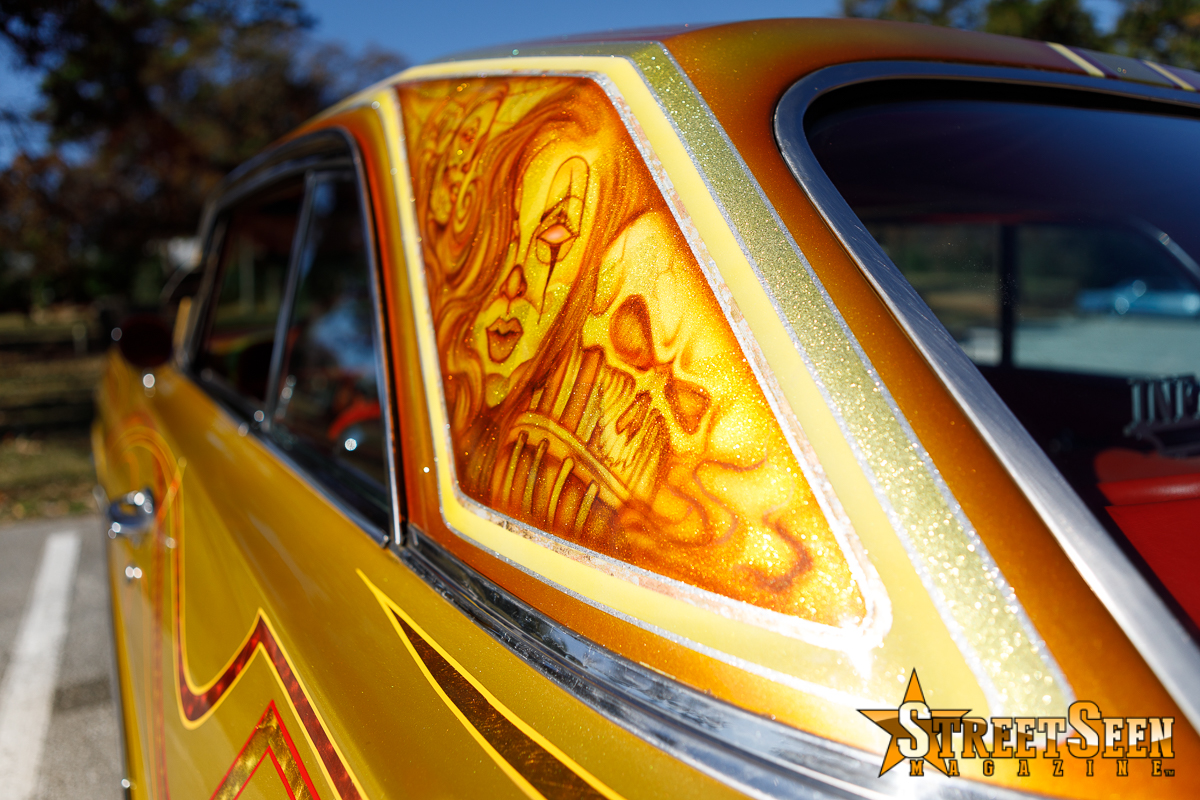 Once the paint was done, the original 283 motor and transmission were pulled out and rebuilt by Lynn Henderson of Dirty Deeds Performance. Henderson installed a 280 comp cam. He also installed a Pete Jackson gear drive. Once Henderson was done, Mechell got to installing the other engine bay components. These components included an Edelbrock performer intake, Edelbrock 650 carburetor, and a 4 core aluminum radiator with electric fans.
It was now time to take on the interior. The seats were in excellent condition so all that was done was freshening them up with red dye. Front and rear door panels were built as well as a center console and rear package tray which were then wrapped in red vinyl by Mechell. He followed up by installing a new carpet to match the color scheme. The headliner and cell panels were the final step in finishing the interior.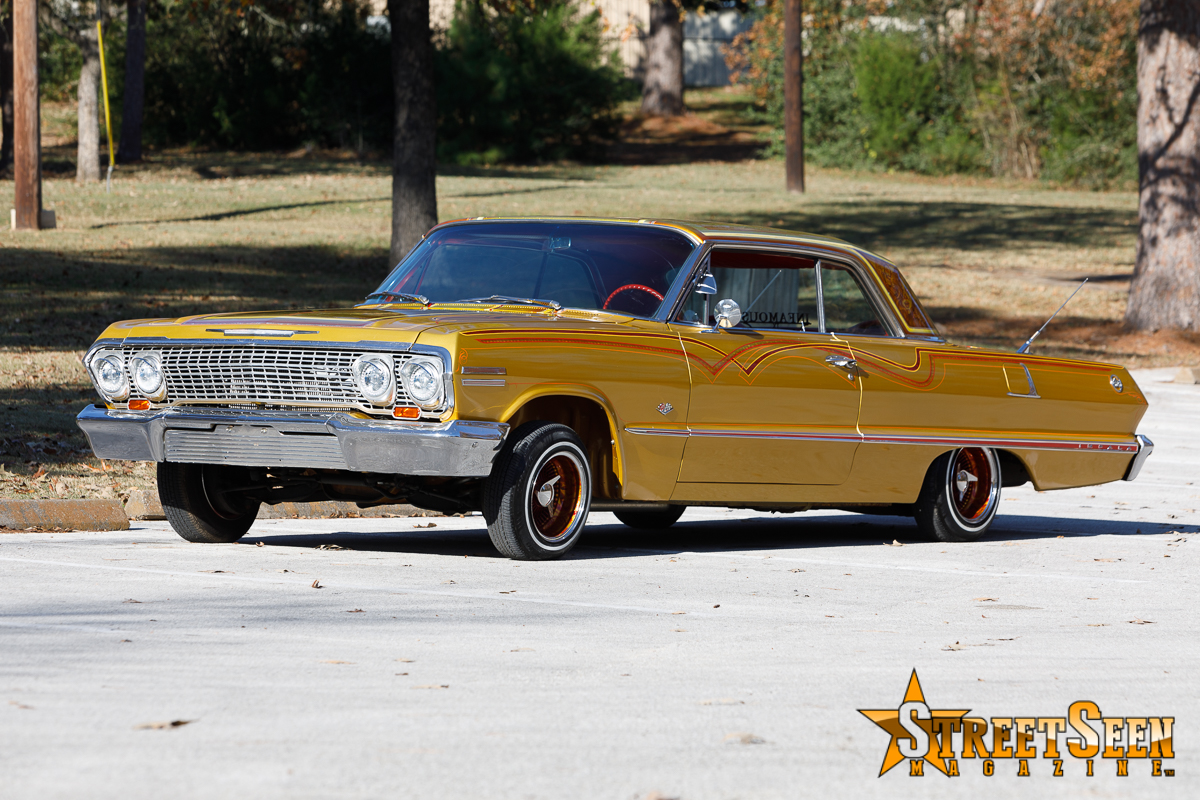 The suspension was next on the list. The front suspension has a full stack of chrome 4 ton springs, 8 inch cylinders, and 1 1/2 inch extended upper A-Arms. The chrome springs, chrome cylinders, and the unbreakable carrier bearing were purchased from Big City of City Dreams. The rear suspension is still a work in progress. The rear axle was shortened by 2 inches by Pyle brothers in Baytown, Texas. The chrome plating on the wishbone and the rear end was already done when Mechell purchased the car. Since the complete hydraulic setup was not finished before we photographed the car, we were unable to get underneath to get those photos.
For sound, Thomas installed a Pioneer 6×9 in the front dash and 2 Pioneer 6 inch speakers in the rear to handle the highs. Two Kicker 15 inch subs can be found in the trunk for that bump in the trunk. A planet audio 1000 watt, 4 channel amp provides the power and it's all controlled by a Pioneer head unit.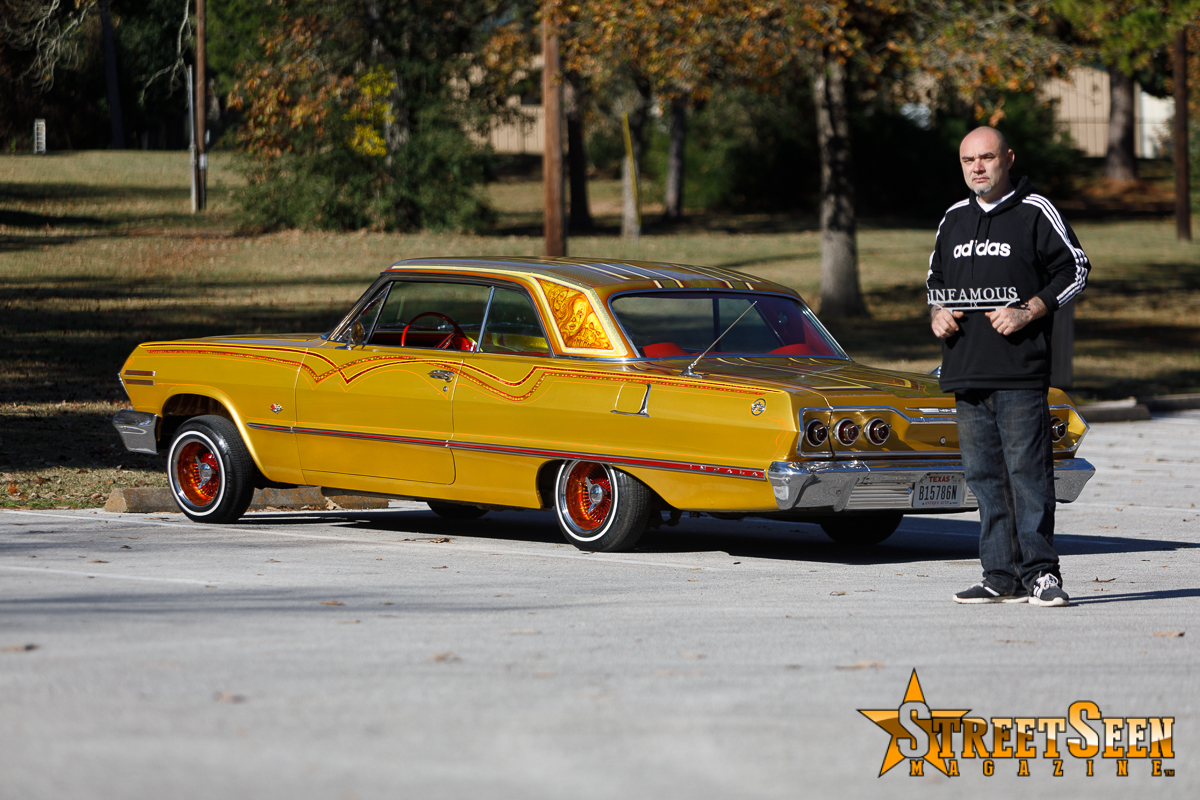 BlaSSé rides on 13×7 OG Wire wheels on 155/80/13 Travelstar Tires. The wheels were painted kandy red by Thomas before handing the wheels off to graffiti artist Ceez Martinez to mural them up. Total build time up til now was about a year and a half for Thomas. We'd like to say that he continues to work on the car, but shortly after we photographed it, Mechell sold BlaSSé to purchase a 1957 Chevy Bel-Air; his dream car since he was a boy after his father owned one. We're sure the new owners in the Fort Worth Area will really appreciate the work that Thomas has put into the 63.
When we asked Thomas why he chose the name BlaSSé, he pointed us to the Google definition of the word blasé, which means unimpressed. He had seen it all before and when this 1963 Impala SS entered his life, there was nothing more special about it than any other Impala that he had ever seen or owned before. After the hard work he put into it, we'd say this car is anything but.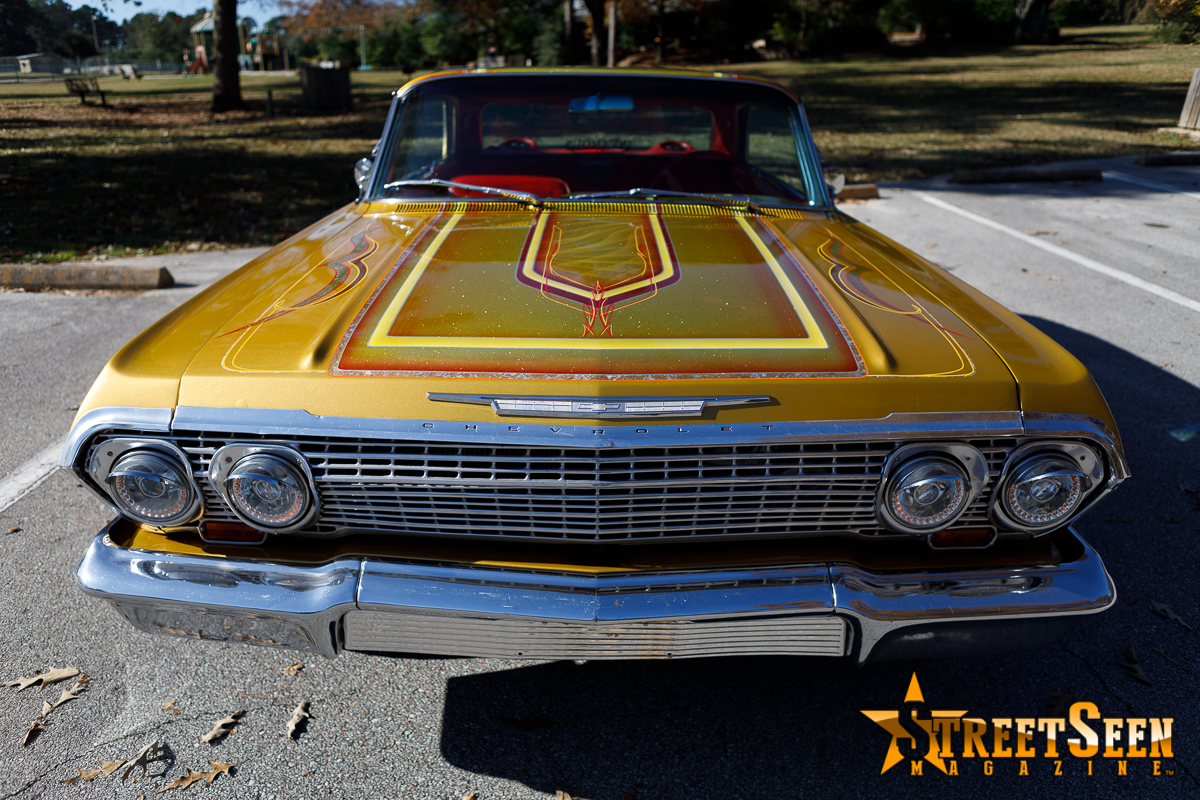 Thomas would like to thank his wife Marcella, his sons, Jacob and Roland, and his daughters, Destini and Serena for being by his side during the entire build.
We can't wait to see what he does once he gets to working on that 57.