Unladylike – 1986 Oldsmobile Cutlass Supreme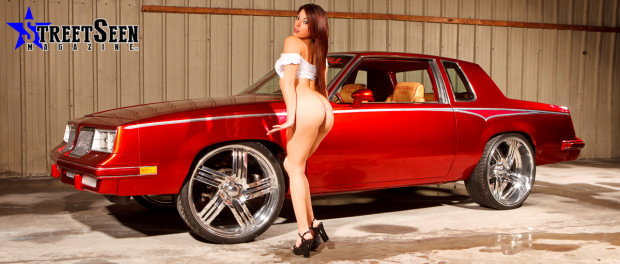 Story by Jeff Ermann / [email protected]
Leslie Argueta didn't want to be like the other women on the custom car show circuit. "All of the other girls have pink, butterflies and roses on their cars," Argueta says. So when she began work on her '86 Cutlass Supreme, she aimed for an original look without the feminine trappings of her contemporaries. Ever the car's name,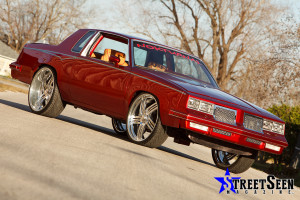 "UnLadylike," was created with the goal of showing she can compete with the fellas. And having placed in five of the six shows she's taken the car to, it appears to have worked. "I think when people look at it, they sometimes think that it's a guy's car because of the style and look," she says. "They always come up to me and start talking about it, so I have to tell them it's her car. I don't think she likes that very much," says her husband and Nokturnal Car Club mate, Luis Argueta.
That muscular theme extends to the engine, a 5.3 LS that originally resided in an '03 Chevy Tahoo. Integrating it with the computer system required a lot of work, but was worth it. "I wanted it to be something that could move," Leslie says.
All of the work on the car was done in the Mendozas' hometown of Houston. The only hint of girly-ness is the almost-pink striping, done by Jose Mendoza of Pistoleto's Paint and Design.
It sits on top of a Candy Red paint job, done by Raul Castillo of Lord of the Candies. The front of the car is accentuated by a custom Tierra luxury grille. "It gives it a nice luxury look in the front," she says. Argueta put a lot of work into streamlining the back end so that the 24-inch Raceline wheels would be aligned with the car's frame. "We had to narrow it four inches so the rims could fit into the fenders. When I first got it, they were popping out," she says.
The interior is a clean mix of tan leather with suede red inserts, done by Ramon of Custom Cars and Upholstery. Argueta's sound is provided by three 12-inch Kicker speakers and a 3,000-watt Planet Audio amp, powered by a Redtop Optima battery. Argueta decided against putting in monitors and other newfangled devices in an effort to keep it clean and original.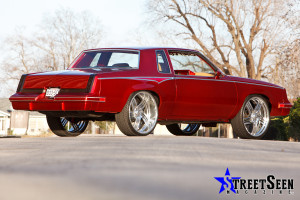 It's fitting that Leslie's has got a ride to match her husband's '87 Cutlass; their first date was at a car show, and the hobby has been a major part of their relationship ever since. "I've been doing this for 10 years and she's been along for the ride. So when the car came up for sale, we had to get it for her," Luis says.
Leslie is the only female in the 18-member Nokturnal club, a fact she shares with pride. But she knows that because she's in the minority at shows, she's got to outdistance the competition in order to gain respect. "I have to step up my game," she says, adding that she couldn't have done with without a lot of help from her friends. "Club members have stayed up with us to the next morning getting my car ready for shows," she says. "So I want to say a big thank you to Nokturnal Car Club Houston for all of their support!"