Twice as Nice – 1977 Chevy Monte Carlo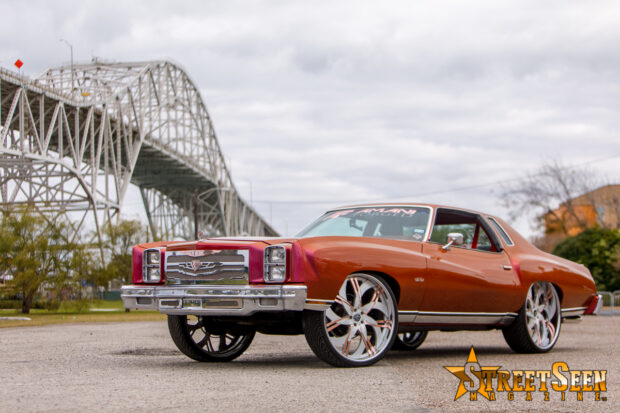 Menace Texas has only had a Corpus Christi chapter for about a year, but one member in this chapter has been repping the Corpus Christi custom car scene for a lot longer than that. Victor Hernandez has been in the game since he was a teen. "I've been working on customizing my own cars since I was 16 years old," he said. This is when his father bought him his very first car. "I had a 1964 Chrysler Imperial my dad bought me. The car had a push button transmission. It was a boat of a car and I had every house speaker I could find in the trunk running off of one amp and a Pioneer deck," Victor said. Years passed and Victor's devotion to customizing his own rides only grew with every year. "The passion had been going so strong that we opened our own shop in 2013 and have been in business for seven years," he said.

By 2008, Victor had a newfound fondness for Monte Carlos. He traded a car he owned for a 1973 Monte Carlo. "The Monte is that car that the average man could afford," he said, "I love the long body lines." But he and that Monte were not meant to be. After two short years, the honeymoon was over. "I was building that car, paid the interior and got nothing. I paid the painter and he ruined it," Victor said, "If I wasn't going to finish it, no one was, so I had the car crushed." It would be several more years before Victor would end up in another Monte Carlo. "I really liked that '73 and had been on the hunt for a couple of years. A good friend of mine brought this 1977 down from El Paso. It was all original and very clean on 13×7 spokes," Victor said, "I got the opportunity to purchase that car through another friend in a trade and I ended up with it. First thing I did was get rid of the 13s."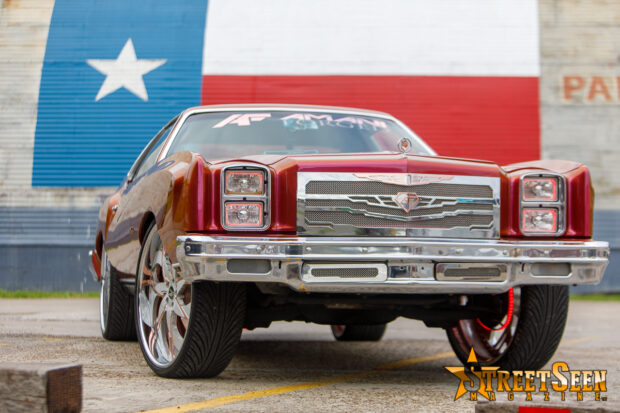 Victor quickly went with a set of 26 inch Iroc wheels, which he would later change out. From there he had the 350 engine rebuilt from the ground up. Victor ordered several chrome pieces to dress up the engine from eBay. Everything underneath the car would then get attention at 501 Kustoms in Corpus Christi, Texas; the shop that he and his partner, Roy "The Installer" Garcia, own. "We went through the entire drivetrain, all the front end suspension, the rear brakes, the rotors, the ball bearings; all the suspension. Everything was replaced," Victor said.
At this time, the Monte was white with red graphic stripes following the side body lines. While the engine was out, Victor decided to have the engine bay painted in a matching red. Israel Montalvo of Big Boyz Auto Works in Corpus Christi, Texas, was chosen for the task. With all of these things going on at one time, Victor still managed to find a set of wheels he liked out of the DFW area. He and his partner Roy made the trip to Big Boy's Customs in Fort Worth, Texas, to pick up the set of 26 inch Amani Forged Wheels 'Twice as Nice' rides on 'til this day. When they got back into town, Victor wasted no time ordering a custom matching Amani Forged grille from Gulf Coast Dzigns in Lutz, Florida, to go along with his new wheels. After the grille was installed, he went with an Angel Eyes LED headlight conversion. This is how he would ride in the 77… for a while.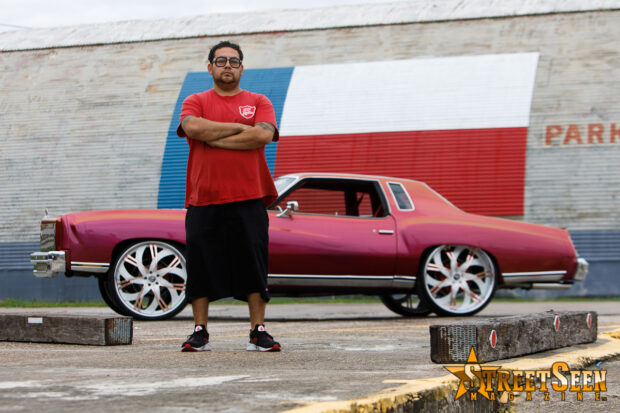 "I rocked the car for a little while, then I did the first paint job," said Victor. Victor went back to Israel Montalvo of Big Boyz Auto Works in Corpus Christi, Texas. Israel went in and painted the entire car in kandy red with silver graphic stripes following the body lines; almost a reverse of what Victor had previously. "He went in and tore the car completely apart. I ordered all new bushings, all new bearings, all new door hinges, pins, all stainless steel bolts, all the new plastic trimming, the weatherstripping, all the chrome moldings; everything's been replaced on that car,' Victor said.
Once that was done, 'Twice as Nice' went back to 501 Kustoms to have audio installed. Victor went with a Pioneer 6900 BT head unit. He and the guys at 501 Kustoms went with Rockford Fosgate six and a half inch and 6×9 speakers on the custom fiberglass rear deck. A Rockford Fosgate T600 4.4 amp powers the highs. Two T2 twelve inch subwoofers in a custom fiberglass box in the trunk give the Monte its earthshaking bass powered by a matching Rockford Fosgate T2500.1 amp. Right after the audio was installed, Victor wanted to lower the Monte. He and his partner added a three inch drop to the Monte so the rear wheels would tuck.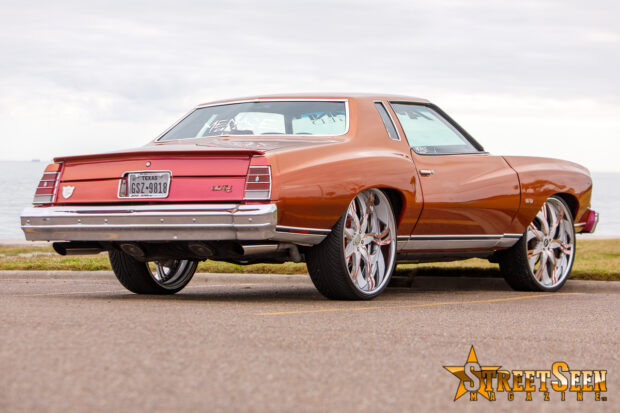 'Twice as Nice' was then taken to Flanagan's Muffler Shop in Corpus Christi, Texas, to get the exhaust done. Flanagan's installed Flowmaster headers running to dual exhaust pipes with stainless steel tips. At this point in the build, the interior was still stock. "In 2017, I took the car to Dub Dallas. At the time, I wasn't with a club so they just kinda put me in the back," Victor said, "I showed my car, I put up a display, but I didn't place. I saw the cars I was competing against, and I saw that they had their interiors done; I saw what I had to do." Feeling somewhat defeated, but also feeling inspired, Victor came back to Corpus Christi with some new ideas. "When I brought it back to Corpus, I sat down with the painter again," he said, "I told him that I was not happy with the color." This would lead to yet another paint job for the 77 Monte. "We decided on a flip flop pearl. I got him to dismantle the car all over again, then he reshot it," Victor said. This time around, Victor would have Israel Montalvo of Big Boyz Auto Works in Corpus Christi, Texas, shoot a Python Pearl with PPG Clear. "It goes from pink to purple to copper," he said.
While the Monte was at Big Boyz Auto Works for yet another paint job, hood louvers from a '69 Camaro were added. Victor also wanted to add a custom spoiler to the trunk lid. "The spoiler came off of an '87 Monte Carlo Super Sport," Victor said, "When I took it to the painter, I told him that I wanted him to cut the spoiler in half and mold it to the body line on the trunk lid. He told me it would look ugly." Doubtful, Israel went ahead with Victor's wishes and added the spoiler. "When it came back he said, 'That shit looks sick bro'," Victor said.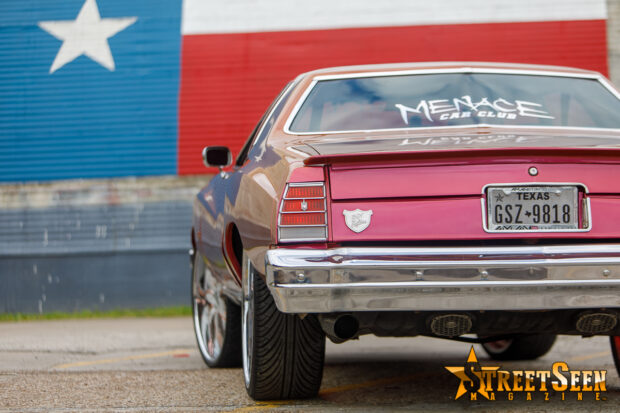 From there it went to Joe Garcia at Garcia's Upholstery in Corpus Christi, Texas, for some much needed interior work. The front bench seat was taken out and bucket seats from a '79 Camaro were used instead. Garcia's covered the seats and interior in fire thorn red vinyl. Victor and his partner came up with a game plan on the interior that included plexiglass on the doors, LED lights throughout the interior, and a custom steering wheel ordered directly from Amani Forged online. A custom center console was also installed. The final touch on 'Twice as Nice' was adding the LED lighting to the wheels. In the dark, this Monte really lights up.
In 2019, Victor and several of his buddies petitioned to join Menace Car Club. "I was really impressed with their presence at Dub Dallas. That's where we got our first taste of Menace," Victor said, "It's about quality over quantity." With the expensive lessons he's learned from his previous Monte Carlo to the many head turning changes he's made to this Monte, and his new club, we're sure nobody will be putting this car in the back of any shows again. And that has to be twice as nice.
Victor Hernandez would like to thank Roy Garcia, Joe Garcia, and Israel Montalvo for their help with this build.