Old School – 1967 Chevy Nova SS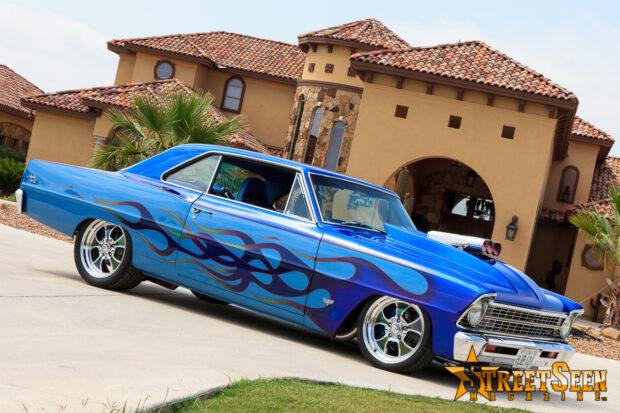 Story by Jeff Ermann • [email protected]
Mario Garza's '67 Chevy Nova Super Sport wasn't always an award-winning show ride. But it has been competing for decades. "I used to race it all the time on the street, and sometimes at Alamo Dragway," said Garza, 57, of San Antonio.
Garza began customizing the car in 2003 and didn't stop until 2007. First, he mini-tubbed it to make room for bigger tires and had Ignacio Aragon of Ike's Garage add front and rear disc brakes, along with help from Frank Felan. All of the body work on the car's been done by Joseph Aragon, while most of the paint and frame work is credited to Robert Escobedo, who added the murals in 2010.
"We were gonna set it up as something simple for a show. But you know how it goes – one thing leads to another," said Randy Garza, Mario's son and partner on the car. "Little by little, we kept doing stuff to it." What they're doing seems to be working; the S.S., which the elder Garza's owned since '71, has a Wego Tour championship to its credit. What stands out about the car?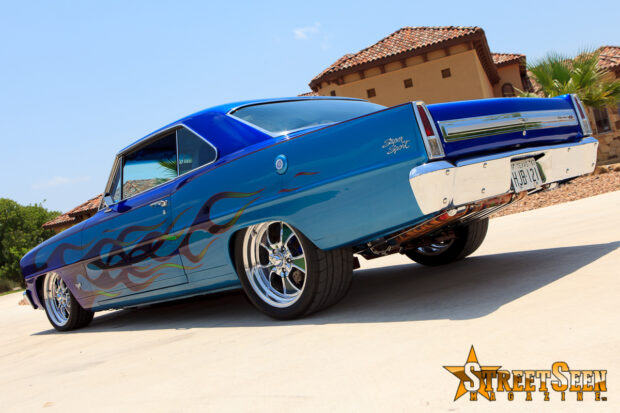 "A lot of people, the first thing they notice is the paint, but once they look under the hood, they freak out," Randy Garza said of the 335, V8 engine with accompanying GV 71 blower, built by Roger Hernandez, owner of Shepherd's Racing in San Antonio. "They don't think an engine like that would fit under the hood."
The car's remained the same shade of blue since Garza bought it four decades ago, but he's added the flames and various other artistic touches, such as the cigarette-smoking blue skull on the gas tank. The phrase "Bad" S.S. is stenciled below it, but don't get it twisted: this car remains nameless. Both the elder Garza and his ride come from an era during which cars didn't get names. "My car does not have a name," he said, "but everybody says, "Uh-oh, here comes that Nova again."
Despite his traditional leanings, Mario did let his son Richard Zamora put in an Audiobahn sound system along with two video monitors in the truck. "The only reason I did that was to get points at the shows. But it works for me," he said, laughing.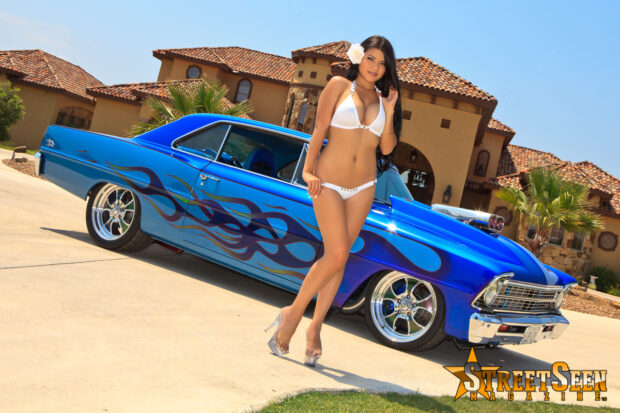 In 2011, Gilbert of USA Motorsports added custom-made air tanks in the trunk, installed by Zamora. Zamora also built the fiberglassed dash, center console, gauge pod and door panels. Another big hit is the undercarriage, chromed and painted to match the car's exterior. The interior's got racing seats clad in marine vinyl, the work of Seats by Rodriguez in San Antonio. "The paint, the undercarriage and the interior, just everything adds up on the vehicle," Randy said.
Sticking by his old-fashioned ways, Mario has avoided spending inordinate amounts of money on his S.S., and he belongs to no car club, instead using the car as a way to bond with his sons.
"My car's built with a lot of swap meet parts," he said proudly. "I want to give a special thanks to my family and to my friends for their support, and to my main sponsors Daniel and Brooke Hack for helping me start working on the car when I didn't have the money, and lending us their home for the Street Seen photo shoot. I really couldn't do it without their help," he said.
While much of his competition continues to tweak and overhaul, Mario's considers his ride a near-finished product. "I can't modify the car anymore," he said. "I want to leave it old-school".