Tyme Bomb – 1946 Chevy Stylemaster
"I've wanted a bombita ever since I was a teenager," says Larry Harrison, better known to his friends as O.G. Larry, "I would buy Lowrider magazines, take out the bomb pics, and hang them on my wall." How many of us can relate? How many of us now own the very rides we had dreamt about as children? The 43 year old Baytown, Texas, electrical project manager and member of Rollerz Only Galveston County was obsessed with bombs. "I used to draw them during school, I was so fascinated with them," says Larry.
As a teenager, Larry found a way to satisfy his lowrider cravings. "When I was 14, I started building lowrider bikes with my friend Erin Martinez," the O.G. said, "We would fix them up, sell them, find another frame, and do it all over again." Eventually this hustle would pay off when Larry had finally saved enough to get him into his very first lowrider. "My first car with hydros was a white '84 Cutlass Supreme; one pump, two batteries, installed by Wizard Aceves of Baytown 281 Car Club," he said.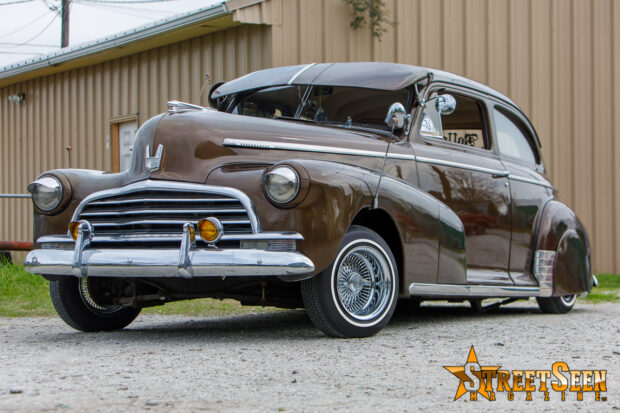 Many years later, O.G. Larry would have the opportunity he had been waiting for his whole life. This is when his friend, DJ Latin, found a bomb in the San Antonio area that was up for grabs. At the time, Larry was driving a 1970 convertible Impala. "I completely redid that car; paint and hydros," said Larry. He would end up trading his completed Impala for the 1946 Chevy Stylemaster project, title for title.
The Stylemaster was in desperate need of some TLC. The paint was fading away and there was no interior other than the seats. Fortunately, the car started and ran. The very next weekend, Larry would begin making the Stylemaster his own by adding some small accessories and details to it. "I started trying to put a little bit of chrome here and there; eyelids on it; then I put on some fog lights; tried to rewire stuff," Larry said, "Then I took the rims off of it because it came with some 13 inch crossbars and I wanted to go with the old school gangster white wall look." He would then replace the wheels with some white walls and new hubcaps. He would add some fender skirts and a Thermador cooler before it was all said and done.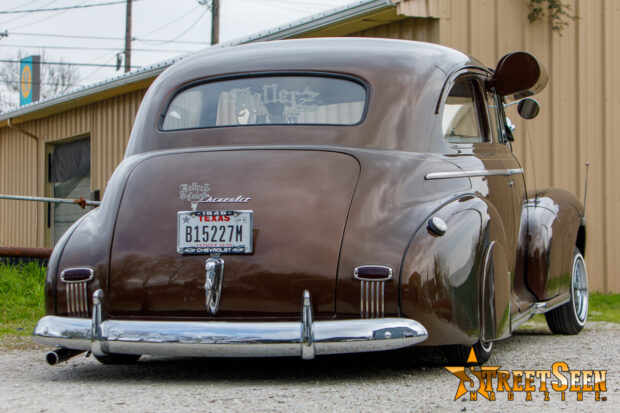 This is how O.G. Larry would ride for a year and a half. Then, he figured it was time to address that missing interior. For this, he would turn to fellow Rollerz Only Galveston County member Gary Billiot, owner of The G Spot in Texas City, Texas. Gary had to go through and hand stitch and custom make the door panels since aftermarket interior parts were unavailable. The seats were upholstered brown vinyl with lighter brown fabric inserts. To finish off the interior, Gary went on to build custom inserts for the trunk as well. The car audio would also be installed at this time. Larry installed two Clarion 6x9s in the rear deck and two Clarion 6.5 inch speakers in the kick panels. In the trunk, The G Spot installed two infinity 8 inch woofers in a custom box. The sound is powered by a 1500 watt Quantum amp and controlled by a Soundstream Logic head unit.
About a year later, Larry was ready to get the suspension addressed. For this he turned to Fineline in Houston, Texas. They installed a four link, airbag suspension on the bomb. Larry would then take the Stylemaster to Los Magnificos Car Show in Houston, Texas, for its first show ever with his improvements and upgrades. "Coming home from Los Magnificos in 2017, I lost the brakes completely over the Baytown Bridge into Baytown," Larry said, "I hit a bump and blew a brake line exiting the bridge." His quick thinking in the emergency situation would help him make it home safely. "I just dropped it," he said, "I creeped it home. Every time I came to a stop, I just dropped it."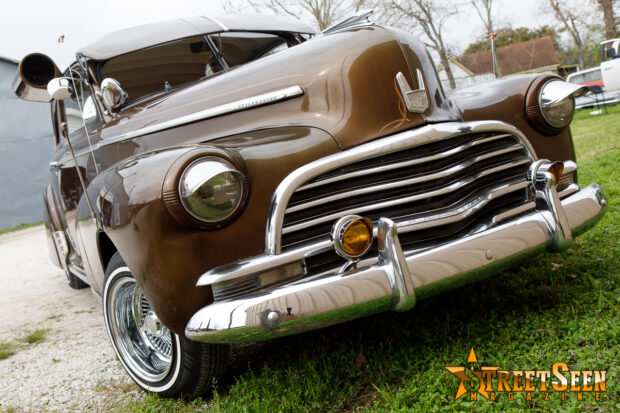 The brake emergency had Larry thinking he needed to make more upgrades to the Stylemaster before it would be street worthy again. La bombita would sit parked for a year before it saw some more changes. "I saved up some money and bought parts for it," he said, "I took it to The G Spot again to install a disc brake conversion kit and to modify the suspension to improve the bag work on it."
While back at The G Spot, Larry moved forward with painting the Stylemaster. He chose a 2016 Tundra Brown covered in three coats of clear then topped off with a gold pearl before adding one final clear coat on it. Gary of The G Spot also went in to make some improvements on the interior which included reworking the carpet and installing some new interior door handles that Larry was able to luckily score on eBay.
Larry wanted to go to a lowrider look at this time for the car so he swapped out the wheels again. He went with 13×7 wire wheels up front and 13×6 wire wheels in the rear, riding on Tornel tires so the skirts would fit. These wheels would also be compatible with the disc conversion's modern bolt pattern since the old wheels had a rare and outdated bolt pattern.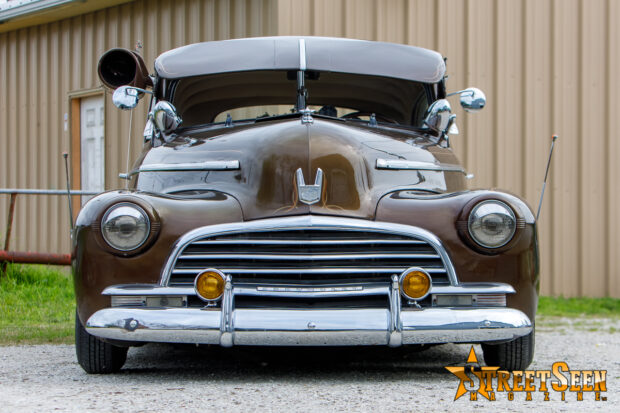 There were a couple of upgrades that Larry didn't make. When he purchased the car, the engine had already been swapped to a 305 that came out of an 1987 Caprice. He has since added a few touch ups including new Edelbrock carburetor and chrome valve covers, but he said he's pondering making more changes to the engine in the future. The rear end was also an upgrade that came with the car. It came from a 1979 El Camino.
When asked what other improvements he was planning in the near future for the bomb, Larry said that he was planning on swapping out the airbag suspension for a hydraulic suspension. He recently took the Stylemaster to Los Magnificos Car Show (now The LMP Car Show) in 2019, where he took first place in his class and best bomb. It's been a long journey. One that isn't quite finished yet and one that has taken a very long "tyme", but O.G. Larry is very content now that he has his "Tyme Bomb".
O.G. Larry thanks, "James Taylor, Gary Billiot and all his crew from The G Spot, my son, Larry Junior, that helped me countless hours in the garage keeping it running, and Gabriel "DJ Latin" Martinez for finding the car for me in the first place."