Clownin on U Hoes – 2002 Mercury Mountaineer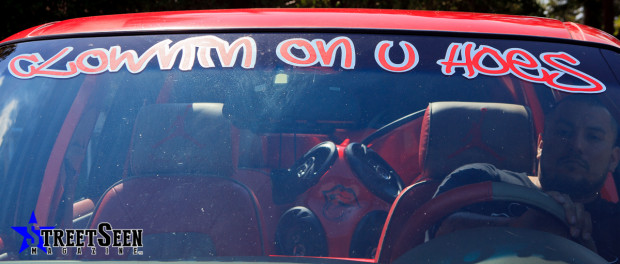 Story by Jeff Ermann / [email protected]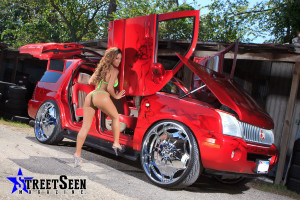 When Rob Villafranco originally bought his 2002 Mercury Mountaineer, it was supposed to be a family truck. Who, after all, would turn a Mercury Mountaineer into a show ride? As it turns out, Rob Villafranco would. At the time, Rob and his brother Mochi were operating a shop, Southside Customs in their native Houston. When Mochi learned how to install lambo doors, he asked his brother if he'd like to be the first recipient. "I said yes," Rob says, "and it went on from there."
Just like that, the transformation from family wagon to dazzling show truck was on. He removed the third row of seats he'd just installed and commissioned Street Candy Customs to begin spraying the truck in candy red with a silver base. He then brought in Air Brush Teqniques to add murals – and a lot of murals at that.
Inside and out, Rob's truck – labeled "Clownin on U Hoes" because of its clown theme – is swathed in murals. There are homages to Houston and Texas, like Texans logos, a Star on the hood and the "713" on the back headrests, a litany of clowns to match his tattoos, various Air Jordan logos and gravestones of friends he's lost.
His nickname, 'Blk Rob,' is printed on the bumper. Big Red added two larges clowns to the truck's backside for effect. "It's just like, whoever's in back of me, I'm laughing at them," he says. "The Jordan logos, basically, I have over 200 pairs of Jordans, so that's why I did that. There are pictures of some of my friends who've passed away, and when I ride it I feel like they're riding with me … I wouldn't sell it even if someone offered me money for it. I've got too much of me in it."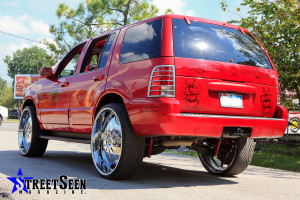 'Clownin' is a sprawled-out sight to see when opened up at shows, with its lambo doors in the front, wing doors in the back and motorized hood and hatch – the latter of which, when opened, reveals a 32-inch flatscreen in fiberglass casing. It's the biggest of numerous monitors in the truck, including a 15-inch screen in the custom fiberglass console, which stretches from front to back and is covered by a Rolling Stones-style tongue graphic. "I was the first one with the doors on this kind of car. People were like, 'You're pimping out a Mercury Mountaineer?' And I said yeah, I'm looking for something new. It wasn't easy, though. Most cars, you can just get parts. I had to do almost everything custom," Rob says of his truck, which also has custom made arms to support his airbags.
Abel X handled all of the fiberglass work, while much of the interior work was done by Ramon's Upholstery, which installed all-leather, red and peanut butter seats and floors along with custom stitched headrests. The interior gets plenty of sun, as Rob hand-cut two four-foot sunroofs.
The final touches: 12-color neon lights under the truck, which are remote-controlled. Much of the customization was done by his brother and fellow Houtex Ryders Club member Mochi, who repaid his older brother for letting him learn the tricks of the trade on cars he owned in the past. "He messed up so many of my cars with alarms," Rob says, laughing. "But he just got better and better. He put a lot of work into it."