Edge of Darkness – 1977 Chevy Monte Carlo Landau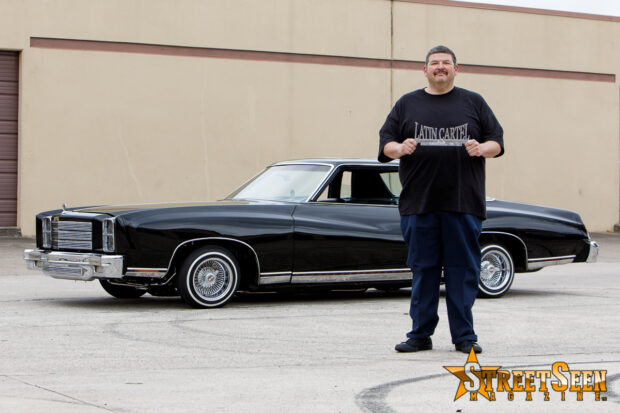 In covering rides in our area over the last few months, it has quickly become apparent that Baytown, Texas, is a hotbed of lowriding action. Let's add Jorge Garza and his fully customized 1977 Chevy Monte Carlo Landau to the growing list. The Baytown native and member of Latin Cartel Car Club spends his weekdays as a mild mannered supervisor at a natural gas plant and his weekends cruising the Monte.
His obsession with lowriders began in 1991 at the young and tender age of 18. At that time, mini trucks were a rising trend in the custom show scene and Jorge's older brothers Ramiro and Julio were hittin' events with their trucks. This is where Jorge was exposed to lowriders for the first time. "My brothers were into trucks but I liked the lowriders with the hydraulic systems and flashy interiors," said Jorge. It would be a very short wait before Jorge got into his first lowrider; a 1964 Chevy Impala. The poster car for the lowrider scene; a distant goal for many; a car that would take some people years to attain; and Jorge wasn't feeling it. "I wasn't ready for the Impala life at that time," said Jorge.
1990 through 1992 was the very peak of popularity for the lowriding movement. There were many varied styles of lowriders that would eventually spin off their own cultures and scenes. In addition to mini trucking, there was also a brief period of time when euros were big in the scene. "I really wanted a Euro, specifically a 1989 Mercury Cougar," Jorge said. He sold the 64 to one of his club brothers in order to buy the Cougar. "That was my first opportunity to show off my customizing vision," he said, "First I put hydraulics, then chopped the top, suicided the doors, and added ground effects." Jorge owned the Cougar for close to five years before selling it to his brother in law in Mexico. "I took a break from lowriding for several years to work on a family and get my career in order," said Jorge, "I knew that lowriding itch would never go away."
Several years passed as well as a new millennium before that "itch" would become unbearable. Jorge started searching online for a new ride. This time he was in the market for a Monte Carlo, but not just any Monte would do. "It had to be a 1976 or 1977," he said, "I love the long body lines." His search would take a while because of the specificity of what he was looking for. "I wanted a vin number black on black car," he said. He would finally find the car he was searching for. "When I found the 1977 Monte Carlo in Washington state, I knew what I wanted to build; Edge of Darkness," Jorge said.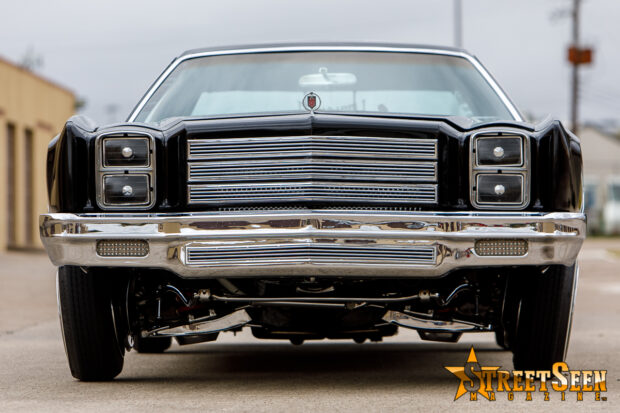 It would be a short amount of time before Jorge would do any work on the Monte. "Within a couple months, I bought a used setup and I had a set of Zeniths," he said. He would cruise the car like this and show it with his club for a couple of years. "I was placing seconds and thirds and it was always like, 'I need to get the car up to the standards; I need to bring it up. It was time.'," he said. This is when the decision was made to completely dismantle the car, which would begin several individual projects for it, running concurrently.
"I told everybody that if we're doing this, we're doing it right, so that's when we took the frame off," Jorge said. Jorge would begin grinding on the frame and smoothing it out in preparation for a trip to B&C Coating in Tomball, Texas, to have the frame powder coated. While the frame was off of the car, many things would eventually take place. Jorge and his car club worked on cleaning up the undercarriage before sending the body to Side Job Customs in Baytown, Texas, to get paint and body work done by Erik Davila. "Nobody likes painting black cars, especially a really long one like mine, so he definitely was up for the challenge," said Jorge. Erik worked his magic as a body man and went in with a PPG jet black with no toner to give it a very rich, deep black.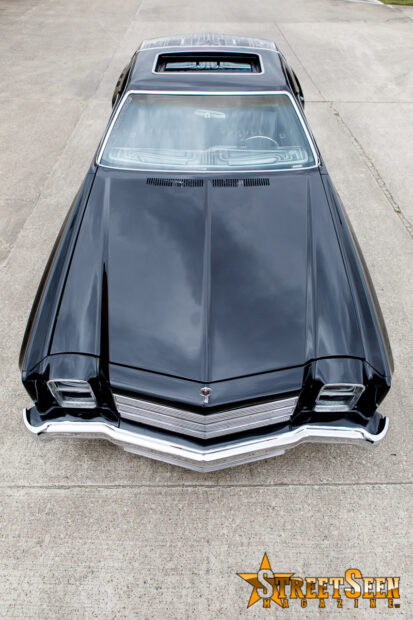 While Erik worked the body, the trunk and hood were taken to Bambi Customs in Highlands, Texas, to mold the undersides; giving them a flat surface. The front suspension parts were also getting attention. The A-arms were being custom fabricated at Shorty's Hydraulics in Houston, Texas. The rear suspension was being addressed by Jorge and his club, including filling in and smoothing the rear differential.
Many parts were being sent off to get chrome plated and engraved during the entire build. Parts that weren't engraved were sent to Airline Plating in Houston, Texas. Parts that needed to be engraved went to Castañeda Custom Engraving in Banning, California, before making a trip to Long Beach, California, to be plated by Speedy's Metal Finishing. Looking at the photos, the Monte is engraved from front to back; top to bottom.
Another item on Jorge's to do list included ordering a new crate Chevy 350 engine with a mild cam from Jegs.com. Jorge worked on installing it along with his car club. Jorge then went back to Shorty's Hydraulics to discuss a new custom hydraulic setup with John Vega. They decided that a Shorty's Veterano, two pump, gravity fed setup with four Black Magic Mini Monster dumps would be the way to go. This system would be fabricated while the build was continuing then installed towards the end of the build.
The interior was also being addressed simultaneously. Jorge called on Upholstery Campos in Pasadena, Texas. Jorge wanted an original look, so Campos went with a black vinyl on the seats with a stock stitch pattern as well as a stock look on the remainder of the interior. Sik 713 of Sik Studios in Pasadena, Texas, was brought out to custom mold the dashboard and rear deck, before painting them in his signature patterns.
Jorge got to working on the car audio as well. He installed a Custom Audio Sound head unit with a vintage look controlling two Pioneer 5 1/2 inch highs up front and two Pioneer 6×9 speakers in the rear. The sound is being powered by two Rockford Fosgate amps. It was almost time for the car to be reassembled. The rolling chassis was ready, the custom hood and trunk were completed, and Erik had already finished with the paint work on the body. Before the front clip was put back on, Jorge added a custom bent stainless steel exhaust with electronic cut outs fabricated by Justin Williams of Baytown, Texas, known as tt347gt on Instagram.
With the car reassembled, there was even more customizing ahead. The front and rear bumpers were modified and smoothed after removing the rubber trim from the center of them. The two vents in the front bumper were modified to be a single piece to resemble the front grille. The front grille itself was also custom fabricated by Greg DeAlba in Upland, California.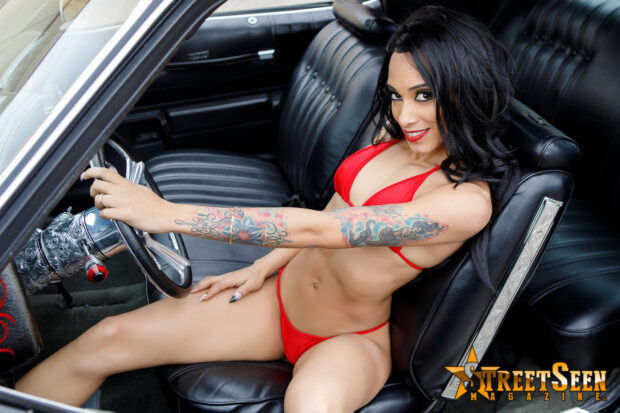 The license plate delete was then performed. It was just a matter of removing panels on the rear then relocating the gas tank access. Kindig-It door handles were installed while the doors were off to give the body a cleaner look. In addressing the trunk, Jorge had some custom panels fabricated before installing the hydraulic system. Along with LED lighting, he also had Sik 713 paint around the panels. Then Danny Pechal of JustDeez in Houston, Texas, came in to custom fabricate the staggered panels that offset from the larger panels behind them.
Jorge then put the wheels on. He opted for a set of Dayton Wire Wheels. "They only made these type of Daytons for two years; 1988 and 1989," Jorge said, "They're called the short nipple Daytons." Of course you know the knock offs had to be engraved by Castañeda.
It was time to take the car to Enrique's Sunroof & Custom Interior in Houston, Texas, to custom install the sunroof-moonroof. "Those new sunroofs are made of plastic. The lowriders like the metal ones," Jorge said, "So I went with JustDeez again and he custom cut a metal trim to cover up the plastic." That trim would eventually see the hands of Shorty's Hydraulics to shape it to fit the curve of the roof before sending it to Castañeda to engrave it.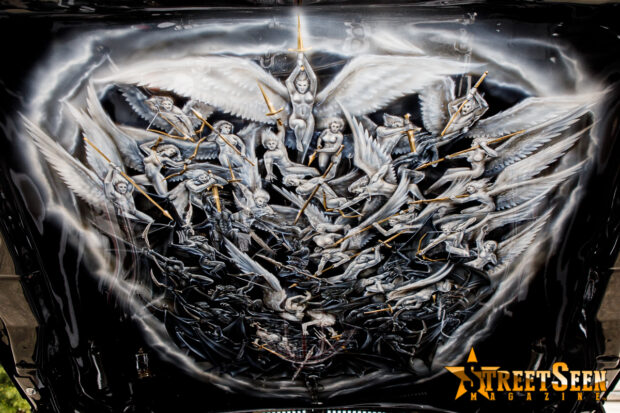 The Monte then went back to Sik 713 to custom pattern the landau section of the roof. After the car was pretty much complete, Jorge was introduced to TJ, the owner of Avenue Convertibles in Las Vegas, by a friend. "TJ told me he was coming on vacation to Houston and we arranged for him to do custom opera windows," Jorge said. This mod would allow the standard rear windows to lower on the Monte.
The final touch on this very intricate and detailed build would be the massive mural under the hood of the car. This work was done by Verrick Falcón of Enhanced Air in Pasadena, Texas. In the mural, you can see angels fighting demons in the eternal battle of good versus evil. "I'm always asked why I name the lowrider 'Edge of Darkness'. I was inspired to build the car from an art work named 'Angels Fighting Demons' by Todd Lockwood. To me it's the eternal fight between good and evil. Most of the world fights that fight on a daily basis. I envisioned the car black as possible and smooth. I didn't want something flashy. I wanted something understated with a lot of details. Someone has to spend time looking for the subtle changes. That's the part of the build that I love, when someone comes up to me and says, 'I found it.'," said Jorge. We believe that in the battle of building a show worthy ride, you have triumphed.
Jorge says, "I would like to thank my wife Perla and my sons Angel, Jorge Jr., Christian, and Eligio, Miguel Rodriguez and all my club brothers. Without their support this build wouldn't be possible."