Plan B – 1962 Chevy SS Impala
This Impala is proof that dreams do come true.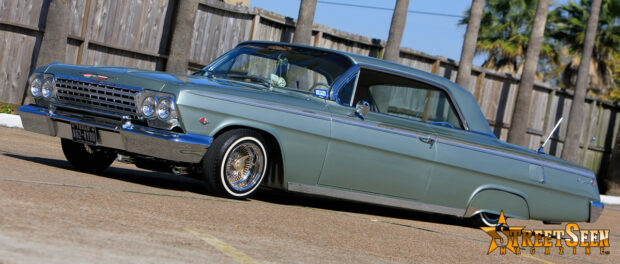 Christopher Huff of League City, Texas, has always wanted to own an Impala. "I've been into lowriders since I was in junior high," Huff said, "I grew up going to Los Magnificos shows back when they were big." So when the oil and gas industry machinist finally started making good money, he made his dream a reality. He purchased a 1963 Impala that was pretty much completed. "It went to Shorty's for a 4 pump, 8 battery set up. That's all I did," Huff said.
Shortly after purchasing the '63, he found this 1962 Impala Super Sport. "I bought the car for $12,000. From there it went to Car Craft in Pasadena, Texas," said Huff, "Paul Rodriguez has been a family friend and mechanic for my family and company for many years, so I elected to let him wrench on it." Rodriguez took care of all the paint and body work the '62 needed. Luckily, there wasn't a lot of body work needed. The Impala was in great condition when Chris purchased the car. For the paint, Huff elected for a PPG Laurel Green to cover the entire car.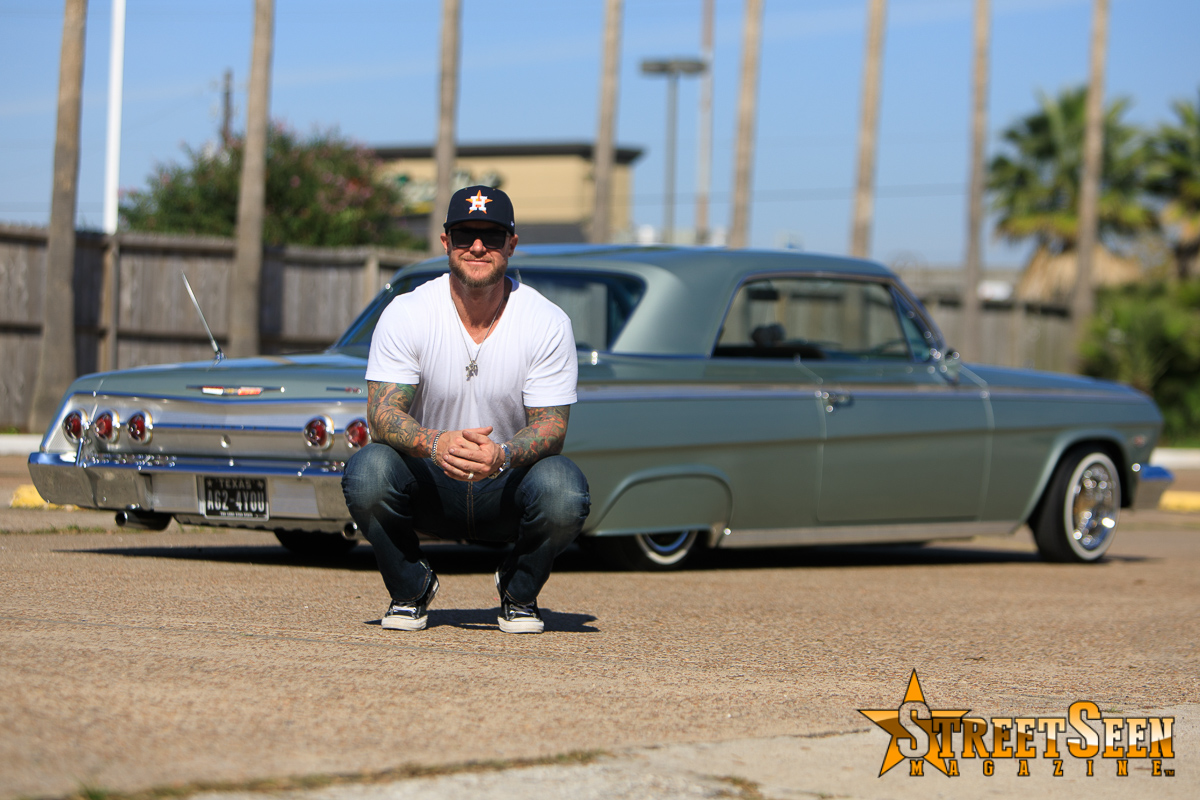 From Car Craft, the Impala was towed to Last Minute Customs in Houston, Texas. "They did the build," Huff said. Last Minute started work on the inside of the Impala. First on the agenda was replacing the rear floor pan that had rusted out. Then Last Minute installed Dyna Mat on the interior of the '62 from top to bottom. "They restored the entire inside of the car," Huff said, "Every knob, handle, and trim piece was either replaced or re-chromed." Then it was onto the dash which was painted in the same laurel green and restored. New weatherstripping all the way around made way for new glass over the entire car. Most of the exterior trim is all brand new with the exception of both bumpers which Last Minute had sent out to Fidel Bonilla at Custom Polish Chrome Plating in Houston, Texas, to be re-chromed.
Then it was onto the interior. Huff commissioned Ciadella Interiors in Tempe, Arizona, to create his upholstery. Huff decided on fawn colored 1964 Impala seats for his 1962 Super Sport. Gina Ciadella of Ciadella Interiors then sent off the interior to Last Minute Customs, who then installed the upholstery and headliner. The final step in the process was installing the audio. A Retro Sound bluetooth head unit was installed along with JL Audio interior speakers.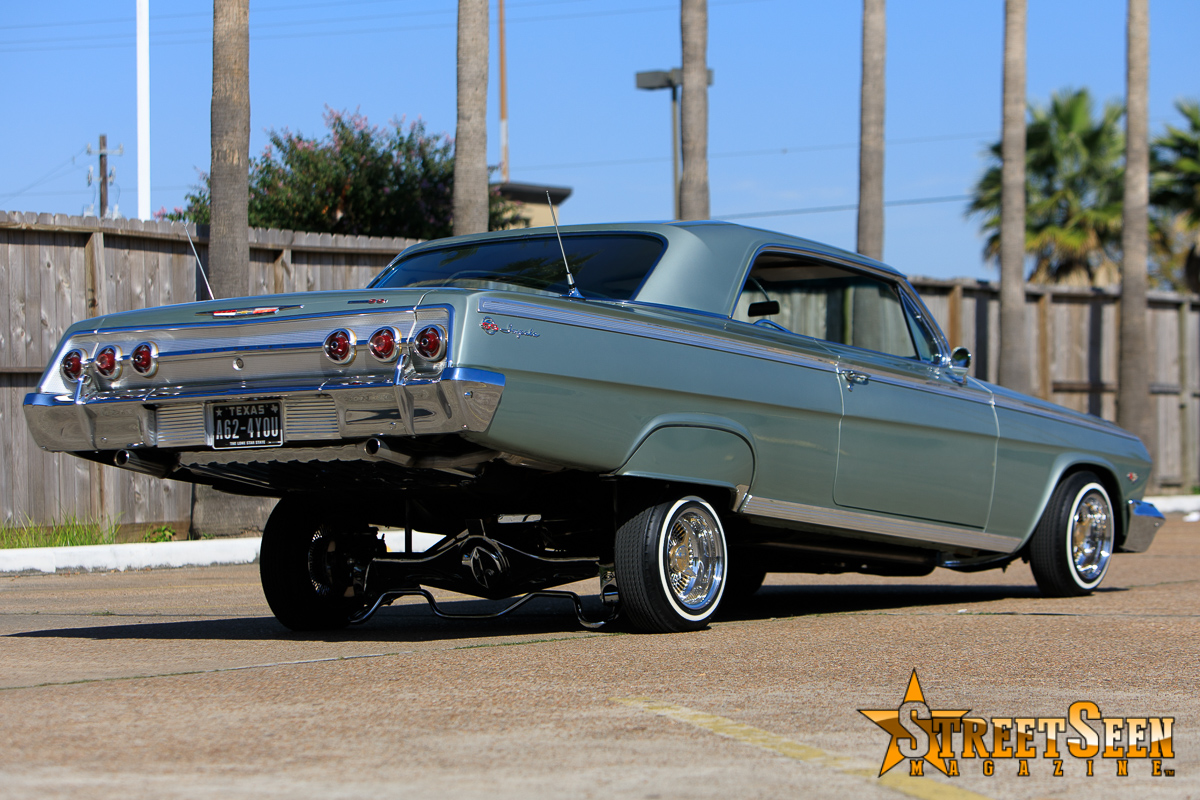 After the boys at Last Minute were done with the massive amount of work they put into the '62, it was back to Paul Rodriguez at Car Craft in Pasadena to work on the mechanics. Rodriguez got straight to work rebuilding the 350 engine that came with the car when Huff purchased it. While on the engine, Rodriguez painted the block to color match the Impala. The Powerglide transmission that the '62 came with was swapped out for a much beefier 700R4 transmission. The Texas heat would prove to make cruising quite uncomfortable so Rodriguez then went on to install a Vintage Air air conditioning kit inside the '62 ensuring that Chris could cruise without breaking a sweat during those hot summer months. The '62 was now a running vehicle.
It was time for some shoes. Chris was able to pick up a set of engraved 13×7 Zenith Wheels from the late "Freaky Tales" in California. "Everyone on IG knew of him," said Huff. The wheels were then dressed in 5.20 Coker Tires and it was time to roll. And the first place he rolled? Shorty's Hydraulics in Houston, Texas, to install an airbag set up. Wait, what? Airbags? "I never had airbags before so I wanted to see what they were all about," said Huff, "I kept getting clowned because of them though. It got to a point where I would be stopped at a light and the people in the cars next to me would make hand signals to make my Impala go up and down, and I just wanted to shoot my fucken brains out." So back to Shorty's he went to have the air bag set up removed and have a hydraulic setup built for him.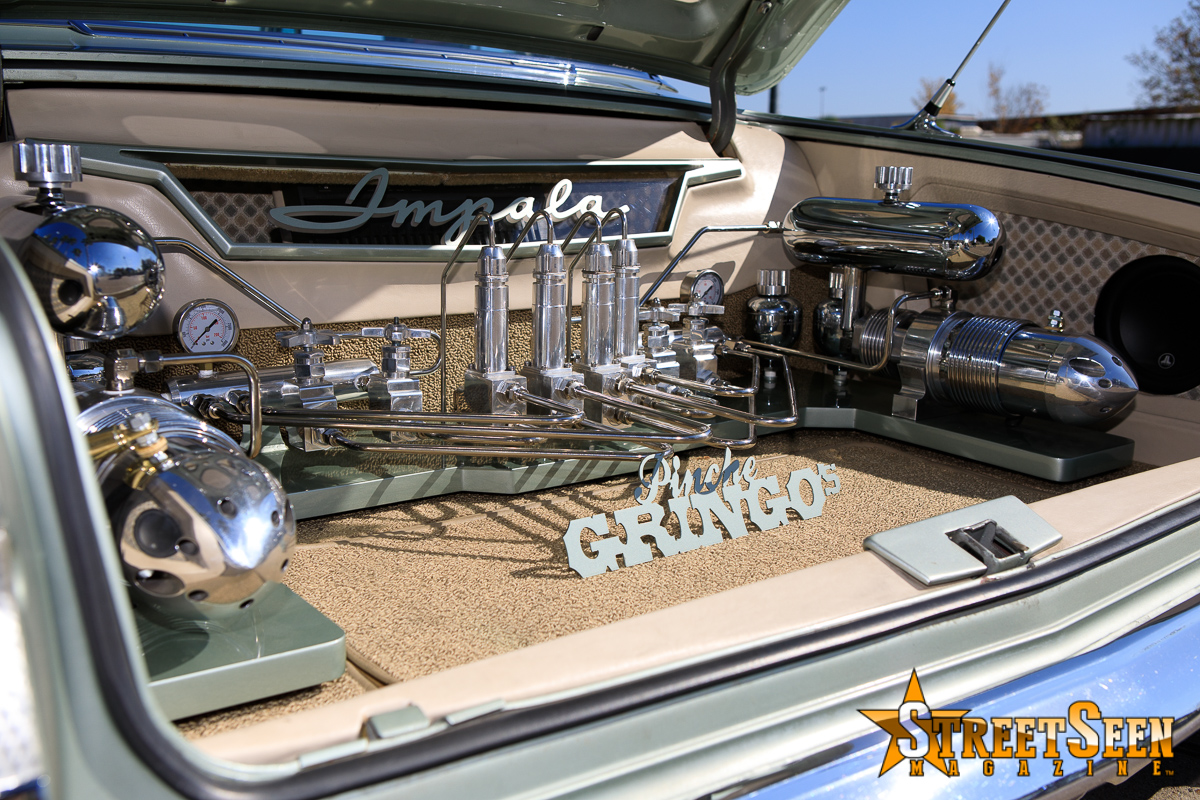 While Shorty was working on the hydraulic setup, Chris took the Super Sport to Jason Kohen at Legend Marine Audio in League City, Texas, to work on the trunk. Kohen installed two 8 inch JL Audio subs to complete the audio setup. He finished out the trunk with some custom paneling. Huff had to call on Ciadella Interiors in Tempe, Arizona, once again for more fawn upholstery to cover the paneling. During the process of waiting on his hydraulic setup to be built and trunk work, Huff was busy purchasing the chrome parts he would need for his undies. Krazy Kutting in Yuma, Arizona, was the source of his chrome upper and lower A-arms with various people on Instagram sourcing the rest. This included a chrome Toyota rear axle and Cadillac sway bars.
It was all ready to finally come together. The Impala made one final trip back to Shorty's Hydraulics to install the freshly built hydraulic setup. Shorty built a gravity fed, two pump, four battery setup for Huff. All Swagelok fittings were used in the setup and polished by Shorty's along with the stainless hard lines. "We elected to do a simple 'lay and play' set up to keep me from beating the car up by hopping and 3 wheeling it," Huff joked. During the installation, Huff had Shorty install all of the chrome pieces he had purchased for the undercarriage. What you see in these photos is the culmination of all of the work put into this beautiful and flawless '62 Super Sport.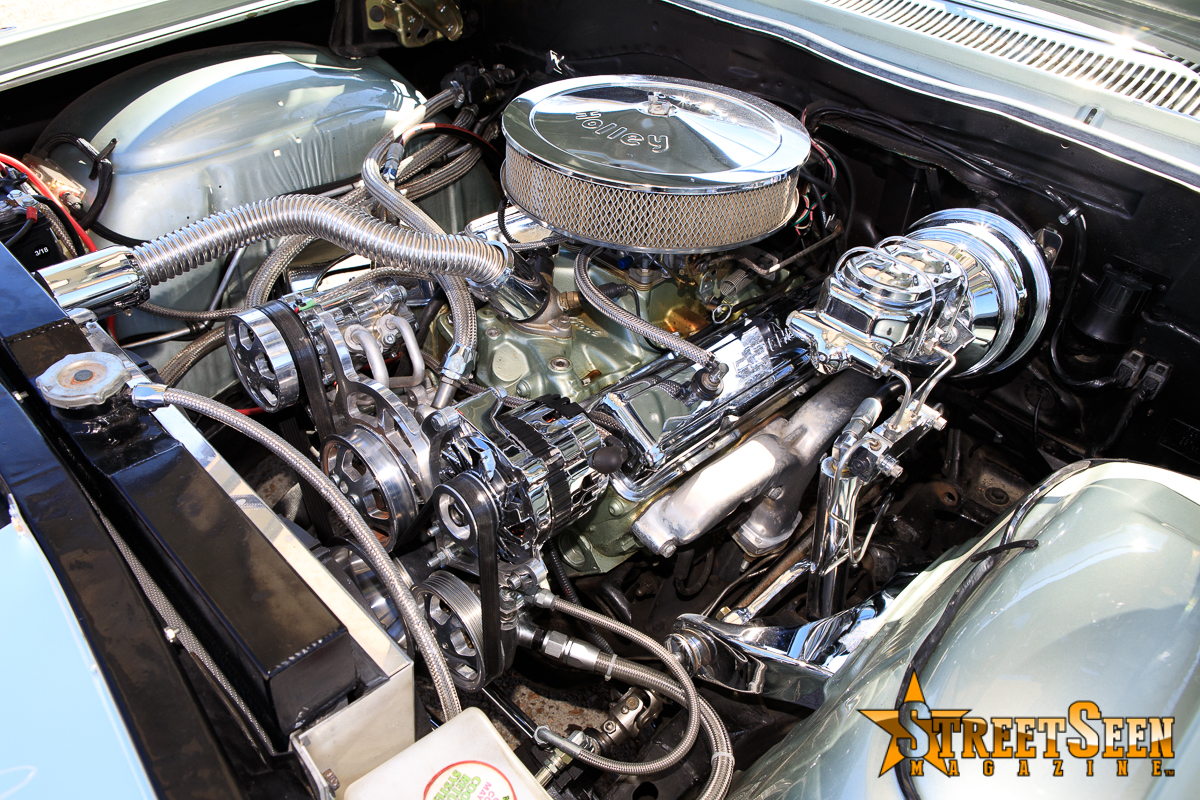 And now that the '62 was in its pristine state, he would be sticking to Plan B. He didn't have a need to keep the '63 he already owned. "I just couldn't justify having them both, so I sold the '63," Huff said. And the buyer of his '63? None other than then Texas Rangers pitcher Keone Kela. "He caught it on fire from trying to hop it on the day he got it. True story," Huff chuckled. Laughs aside, one young boy's dream and hard work finally paid off in a big way proving to everyone that dreams do indeed come true.
Chris said, "I would like to thank my wife Tracy for putting up with me and all my car shit. I'd also like to thank everyone else that had a piece in this build."