Grape Crush – 1978 Oldsmobile Cutlass Supreme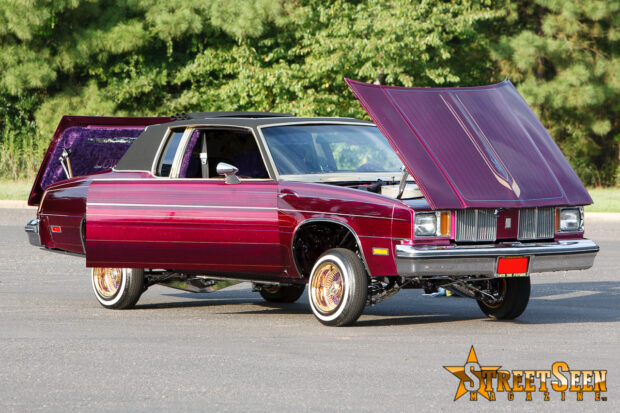 Alberto "Pido" Garcia bought this 1978 Olds Cutlass Supreme in high school. He did most of the work on Grape Crush with the help of his club, Low 4 Life. Though he is originally from Michigan and built the car there, he got to Texas as soon as he could… now residing in the Arlington area.
Let's start with the body mods. Alberto suicided the hood & trunk, shaved the door handles, shaved the trunk & hood, shaved moldings, and emblems. He installed a 40×40 sliding rag top, molded the wheel wells, firewall, frame, floors, and under the hood.
The engine was done by fellow members Lee Perez Sr, Lee Perez Jr, & Alberto. Together they custom rebuilt a 1984 229 V6 and molded the engine compartment. The 350 turbo transmission was also custom rebuilt.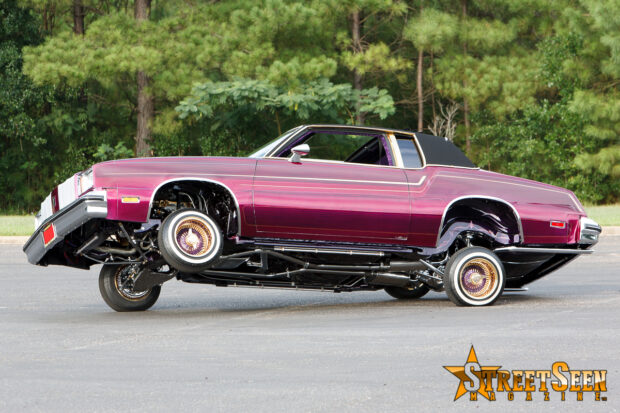 The interior was done by General Top & Trim in Saginaw, MI. The colors they chose were crushed purple & black and they installed it on the custom dash, floors, consoles, doors and seats (front & back), as well as the headliner. Then mirrors were added for that extra touch. Limo rope lights and neon lights illuminate the interior.
The suspension was done by Alberto.The frame work was done by Doug Ganshow of Pro Fabricating in Saginaw, MI. Doug custom reinforced the frame using 2×4 center tubing and 5/16" plated frame. He also installed a chain bridge set-up for standing 3-wheel. The rear end was reinforced and a purple neon kit was installed.
This ride sports full custom paint by Manny Barajas, Lee Perez Jr, and Kevin Linsea. 5 pounds of silver flake were sprayed as a base, then burple airbrushed ghost patterns were layed on top. Kandy Purple House of Kolor paint was used and 10 coats clear topped with fine line pinstriping and 24k gold leaf were added.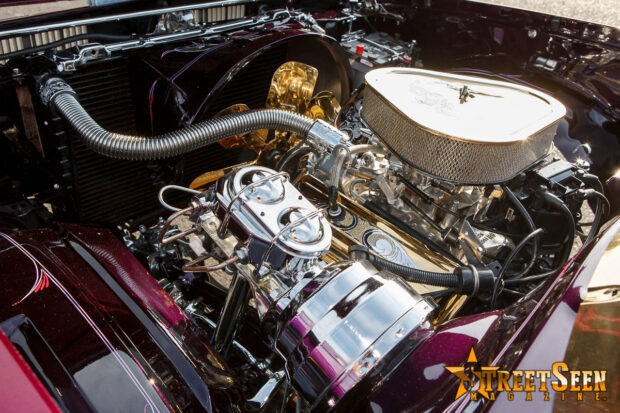 Alberto got to working on the hydraulic system immediately after paint. He installed 4 Custom Engraved Competition Showtime Pumps, 4 dumps, 8 group 31 batteries, and 12 solenoids. 16 switches control the hydraulics… 8's in the front and 16's in the rear.
Alberto also handled the audio and video in the ride. For sound he installed a Clarion deck and Alpine 11 band EQ. The speakers are all Pioneers. 12" free air subs, Four 10", 6", and 3 ½". The 3 Clarion TV's, Sony PlayStation 2 game & DVD, and surround sound help round out this nice system and it sounds great!
This Olds has more bling than some rappers. Saginaw Custom Plating in Michigan, Mario AutoWorks in Cali, and Pulidos in Texas all contributed. Custom chrome & gold can be found throughout the body, undercarriage, trunk, engine, and trim (just look at the pics!)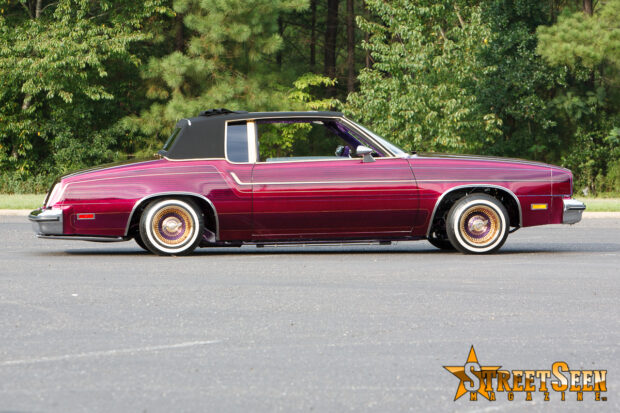 The precision engraving was done by (EZ) & Hernans Custom Engraving. Their work includes 4 Custom Engraved Chrome & Gold Hydro Pumps, The rack hold down, the valve covers and air cleaner… and if engraved parts weren't enough, Alberto engraved the rear window and side door windows.
The Cutlass rolls on all gold Supreme Wire Wheels with Kandy Purple spoke knockoff wires hugged by 155/80/r13 Goodyear white walls.
As President/CEO of LOW 4 LIFE CC, Pido likes to keep the standards high and leads by example. Look for Grape Crush in 2009 when the show season begins again!
Alberto would like to thank his wife Victoria, his family, and LOW 4 LIFE CC.