El Poderoso – 1994 Cadillac Fleetwood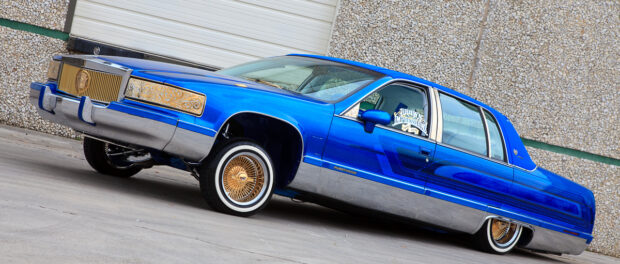 Story by Jeff Ermann • [email protected]
Michael Sifuentes' '94 Cadillac Fleetwood got plenty of positive feedback in its previous incarnation as a clown and prison gang-themed ride, but he couldn't help but rethink the car's theme when people at shows continued to ask him the same question. "People were always asking me, 'Were you locked up, man?' I was never locked up, it was just the look of the car," he says
A year ago, Sifuentes had Fabian of Kandy Kustomz change the color theme to a softer Oriental blue with old-school rainbow flakes. Gone are the aforementioned images, which have been replaced by murals of Jesus. "I'm a Christian." "We're a religious family," said Sifuentes, part of the family-run Sifuentes Body Shop in Eagle Pass, Tex. "So I totally changed it to a different subject."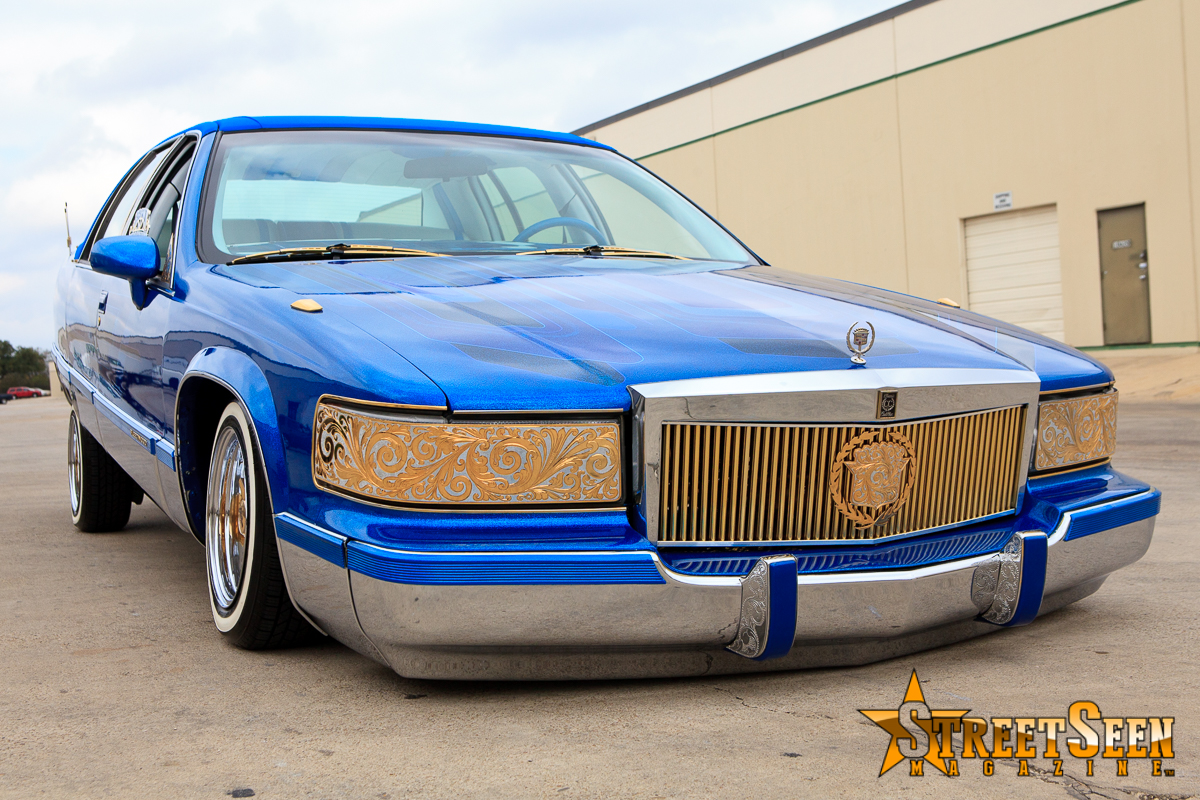 Sifuentes' father, four brothers and sister have always been into cars, and he'd previously built a '78 T-bird and '87 Sundance. But this time he wanted to do something with a bit more heft to it. "I decided to get a big body. All of my family is into this stuff. They say, 'Oh, here comes the Sifuentes family," he says.
Naturally, his family helped him perfect the Caddy, which now goes by the name "El Poderoso," which he says is a reference to the power of God. One brother, Tony Sifuentes, shaved the back door handles, and another, Juan Sifuentes, built a fiberglass center console which houses two TVs and required Sifuentes to cut and separate what was originally a one-piece front seat.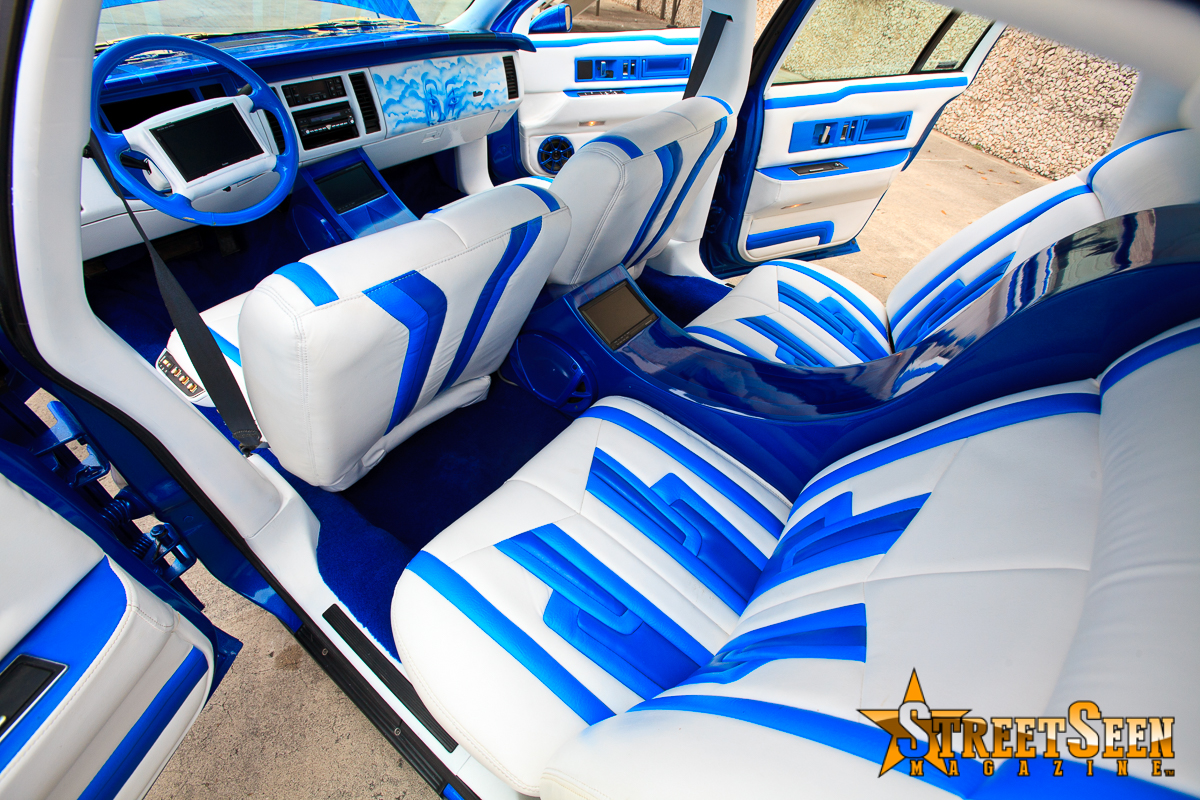 There are four more TV monitors, powered by a blue-top Optima battery in the trunk – two in the back, one in the dash and of course, one in the steering wheel. "I really just wanted to do something crazy," Sifuentes says.
Much of the under-the-trunk hardware remains original, including the LT 1 motor, though Sifeuntes had murals painted onto the carburetor, and added chrome, gold-plating and engraved Caddy emblems courtesy of Miguel Chavez of California and Benny Paviya of Oregon. Also under the hood sits a three-pump CCE hydraulic kit, installed by Sifientues and Pablo Gonzalez, one of his fellow Brown Impressions Car Club members.
Sifuentes special-ordered a baby blue ragtop to give the car a unique look. "It was the first [Fleetwood] to have one that color," he says. That's hardly the only unique touch on the exterior. Krazy Kutting (Yuma, Ariz.) created steel light covers with engraved swirls. The front grill is custom made and emblazoned with a Caddy logo, as is the large Caddy wreath on the back bumper – also done by Krazy Kutting. Sifuentes also added French antennas.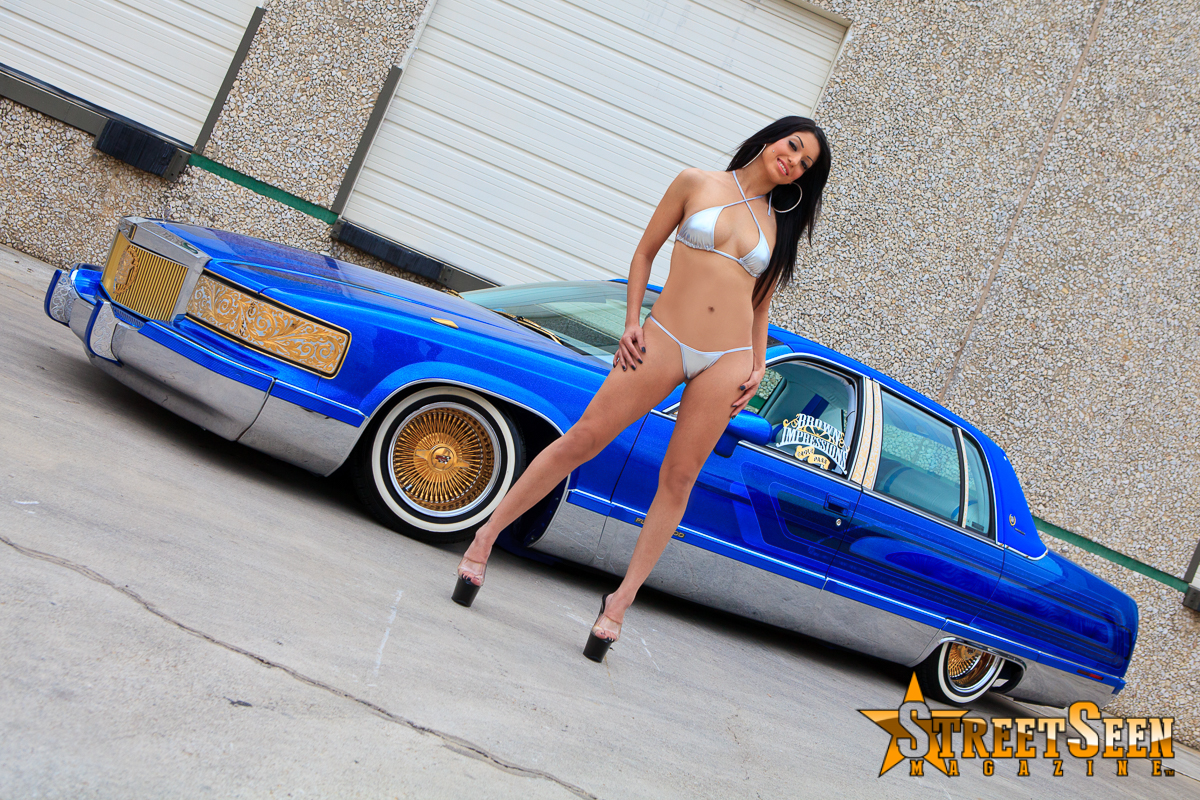 On the interior, Sifeuntes replaced the original upholstery with three tones of blue and white vinyl and installed four 6×9 Kickers and Piledriver 12-inch subs for sound. "I like to put on oldie low-rider music," he says. The car's suspension was chromed by Southwest Chrome in San Antonio, and it sits on 14×7 center gold Dayton Wire Wheels.
While Sifuentes only occasionally takes the car cruising, it's safe to say that its new, faith-driven theme means it would be welcome anywhere – even church. "It gets a lot more thumbs-ups now," he says.