Car Show Radio Vol. 2: Helen Carmona and Dani Cancino Interview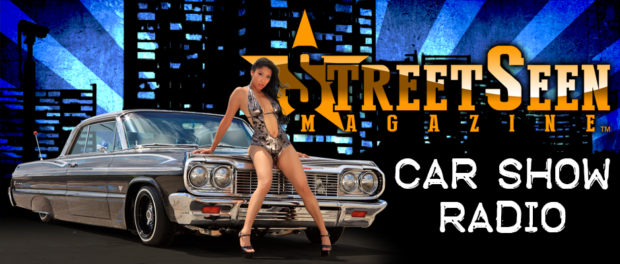 In this issue, Jay and Eden review the feedback they received from friends, family, and business associates about issue 1. They also discuss crutches, a boobietrap that radio hosts can fall into. Helen Carmona and Dani Cancino of the historic Los Magnificos Car Show stop in to talk with us. It's a very compelling interview which covers over 34 years of history. It forced us to extend the podcast by half an hour because we didn't want to edit anything out.
We debut a new segment called 'Bump it or Dump it' where we feature a car show jam and let our listeners and facebook fans vote on whether they dig it or not. This issue, we showcase a jam from Juan Diego featuring Kozme and D. Salas – Under the Sun.
Chuy the Cholo stops in again to harass Eden. He was looking buff. He's been doing Cholofit. In our shout out segment, StreetSeen Magazine photographer Big Rick trolls our facebook live video then calls in to help announce a couple of shoutouts. We got more heat from the street and more car shows in our updated Event Calendar. It's a really great episode! See the photos at www.StreetSeen.com
Upcoming Car Shows:
Podcast: Play in new window | Download
Subscribe: Apple Podcasts | RSS