The Price is Right – 1963 Chevy Impala Convertible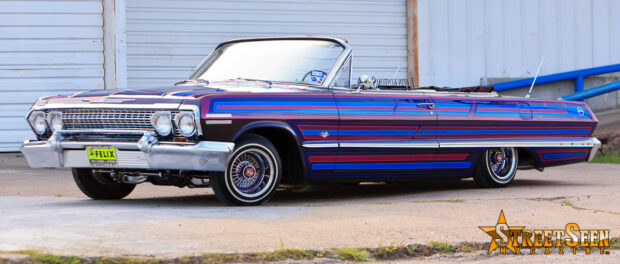 Joe Rivera of Latin Kustoms CC in Pasadena, TX owns one of the finest rides around. His 1963 Chevy Impala convertible is used to being in the limelight. It gets attention everywhere he drives it and at every show where it is on display. The impala also has an interesting story to tell. In 2002 Joe bought the impala from the original owner who, believe it or not, won it on The Price Is Right… which is where it gets its name. By 2004, Joe had finished the transformation of this prize ride.
The transformation began with new paint and body. Freddy and the boys of Leal Bros Custom Painting in Corpus Christi, TX sprayed the vehicle black. They then topped it off with violet pearl before applying the multicolored graphics that you see racing from one end to the other.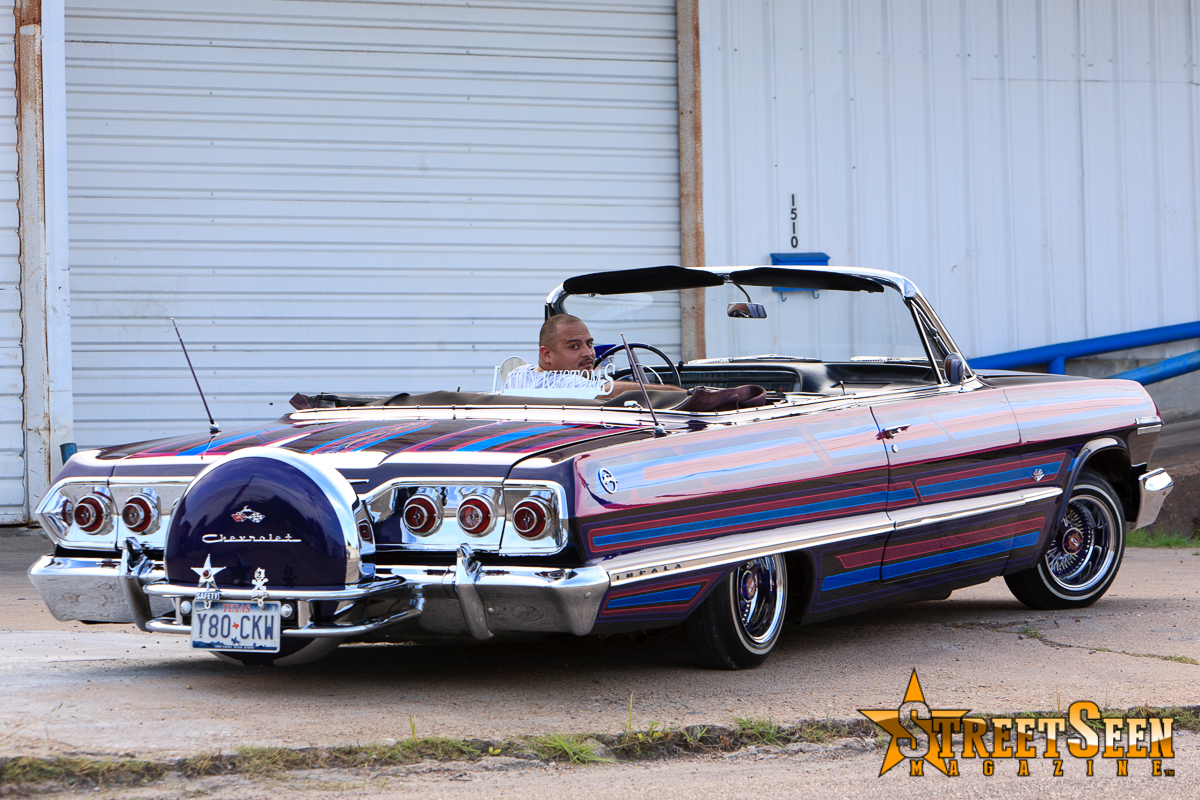 Then the Latin Kustoms guys went to work on the interior. They went with a stock black vinyl and tweed finish with a raised "63" on each seat.
The hydraulics were installed by Shorty's Hydraulics in Houston, TX. It's a 2 pump, 3 square dump Shorty's Veterano Series setup with 4 batteries.
All the chrome you see on this 63; from the engine to the bumper was done by Fidel Chrome Shop in Houston.
Joe's 63 has a lot of additional accessories. The continental kit, power windows, power driver's seat, and color sonic color bar were purchased at Last Minute Customs in Houston, TX.
Under the hood you'll find a chromed out rebuilt 283 original matching motor .30 over with a mild cam. Latin Kustoms CC did the engine work.
The audio system, also installed by Latin Kustoms breaks down like this: a Pioneer 6" DVD / CD head unit, 2 10" Kicker Solo Baric L7 Subwoofers, Polk Audio mids and highs, and 2 1200 watt Rockford Fosgate Punch Amps.
When Joe cruises, he rolls on 13X7 72 spoke Zenith Wire Wheels with powder coated hub, nipple, and spinner from the factory.
Catch Joe and the Latin Kustoms crew cruising in Pasadena or at one of the local lowrider car shows!