Greengo Money – 1964 Chevy SS Impala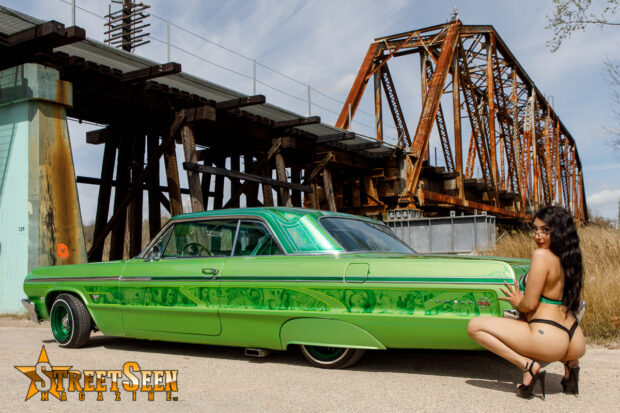 There are many project vehicles sitting in garages across the country right now, just waiting for the day to be completed. Many sit for years before being finished and some never get finished at all. This is a story of one such vehicle. Mike "Droopy" Lopez of Latin Kustoms Car Club in Pasadena, Texas, came into this 1964 Chevy Impala Super Sport back in 2011. He had done a lot of work to it in the time that he owned it, but all of that work came in the first two years. The brand new PPG Sour Apple Pearl paint job is the one the car still has to this day. Droopy had roof patterns painted by Michael "Sic" Cato of Sic Studios in Pasadena, Texas. The exterior paint was completed with murals wrapping around the sides by Verrick Falcón of Enhanced Air in Pasadena, Texas, which included the Impala's new name – Greengo Money. In 2013, Droopy stopped work on the '64 and put it in storage. And there it would sit, untouched, for four long years before the project was given another chance.
Enter fellow Latin Kustoms member Victor Jimenez of Houston, Texas. Victor was no newcomer to lowriding. The 42 year old welder has been in the game since he was still a teen. "I went to a car wash where I saw a Chevy Malibu with candy paint on gold center wheels and a Cutlass lowrider and I was hooked from there," Victor said, "I was 18 years old." It wouldn't be long before Victor was working on a lowrider of his own. "I already had a cutlass with mag wheels. I sold them right away and bought me some 14 inch Daytons," he said.
Fast forward a few years and several lowriders later to 2017, when Greengo Money and he would eventually cross paths. "It was hard to watch the car not getting any attention, so in 2017, Droopy and I came to an agreement and made a deal," Victor said, "Once I had it in my hands, I started working on it right away."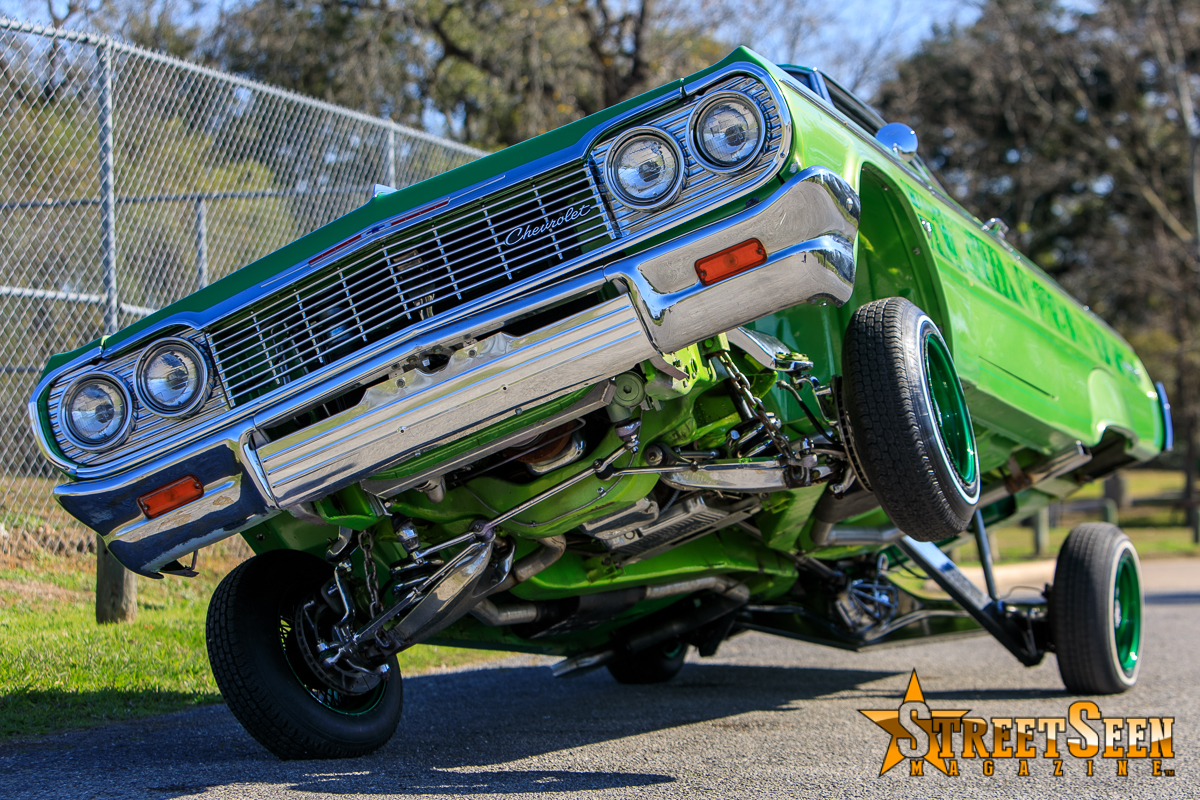 The first thing new owner Victor would do to Greengo Money is remove the original frame. "When I realized that I wanted to do three wheel motion and all the hopping and hydraulic stuff, I decided to change lanes and get a reinforced frame," he said. Victor would do some custom modifications to his reinforced frame before sending it to Superior Shot Peening in Houston, Texas, for sandblasting and powder coating. During this time, Victor was acquiring chrome parts for the undies. Most of these parts came from Big City Customs in Houston, Texas. "Other parts came from OGChopp in Riverside, California. They sent me the rear end; the differential – chrome," said Victor. Chrome parts that weren't purchased were rechromed at Auto Chrome Plating Company in Houston, Texas. "Droopy put a lot of new chrome on the car, but when I took it out of storage, all the moisture ate the chrome," he said, "So I had to rechrome the trim, all the moldings, the bumpers, everything." This would also include chroming the trailing arms that Victor extended eight inches for a high three wheel.
When the frame came back from powder coating, it was straight to work on assembling the rolling chassis. "The frame with the rear end, all the suspension components; I did it all myself," he said. This also included installing CPP disc brakes from Jegs before installing the frame back on the car.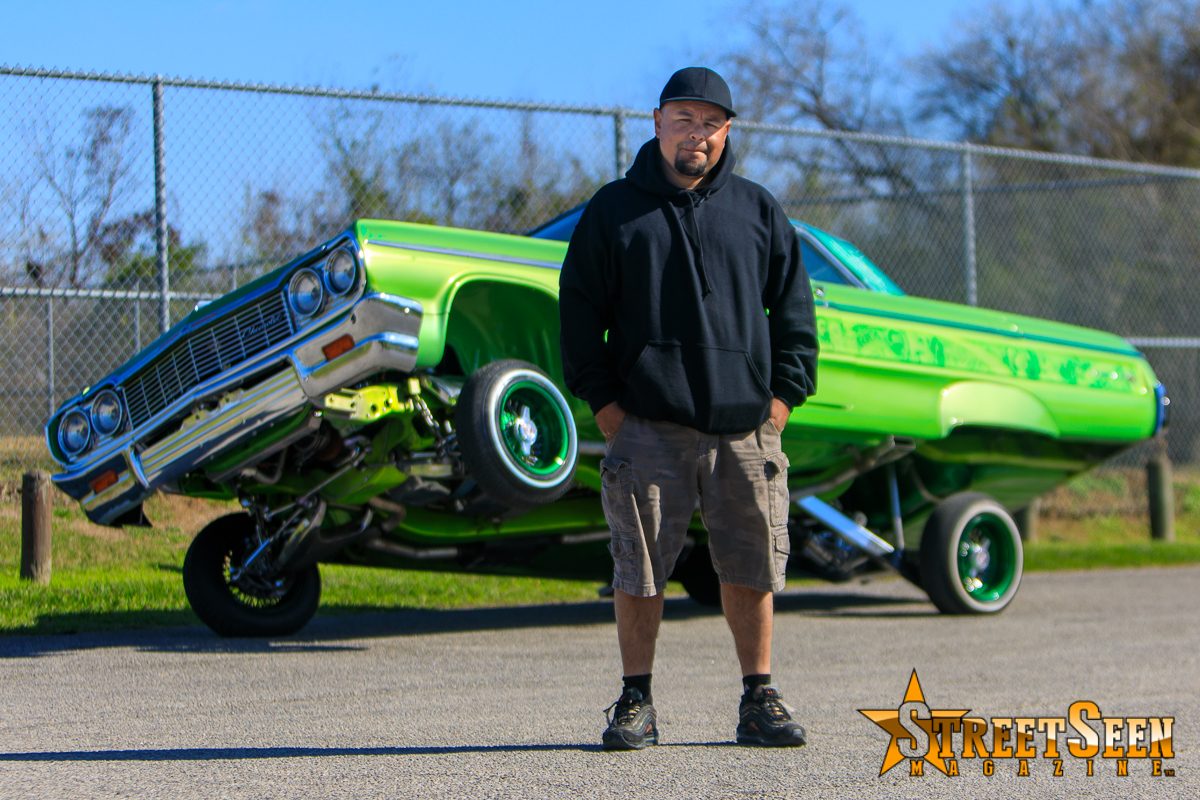 The next thing Victor would tackle would be to install the electrical wiring along with a Dakota Digital dash panel. "I bought the American Wire kit from Last Minute Customs in Houston, Texas," Victor said, "I have to give credit to Last Minute Customs because they answered a lot of questions when I was doing the wiring." Straight after wiring up Greengo Money, Victor moved on to installing the Crate 350 motor and transmission. This was yet another perk that came with the '64 Super Sport when Victor purchased it from Droopy. "It was a brand new motor but it needed to be tuned," he said. Once Victor had the motor in place and tuned, it was time to dress it up. He opted for Billet Specialties parts purchased from Last Minute Customs. Some of these parts included the power steering pump, power steering oil tank, ac and alternator pulleys, and air cleaner case.
When Victor purchased the car it was in many pieces and stayed that way until this point in the build. "The front fenders, the hood, the front clip; At that point I started putting the car back together," he said. After that, all the glass went back in. "I called Armando Garcia at Certified Auto Glass in Houston, Texas, to install the windows," Victor said, "I bought all the windows, frames, and glass at Last Minute."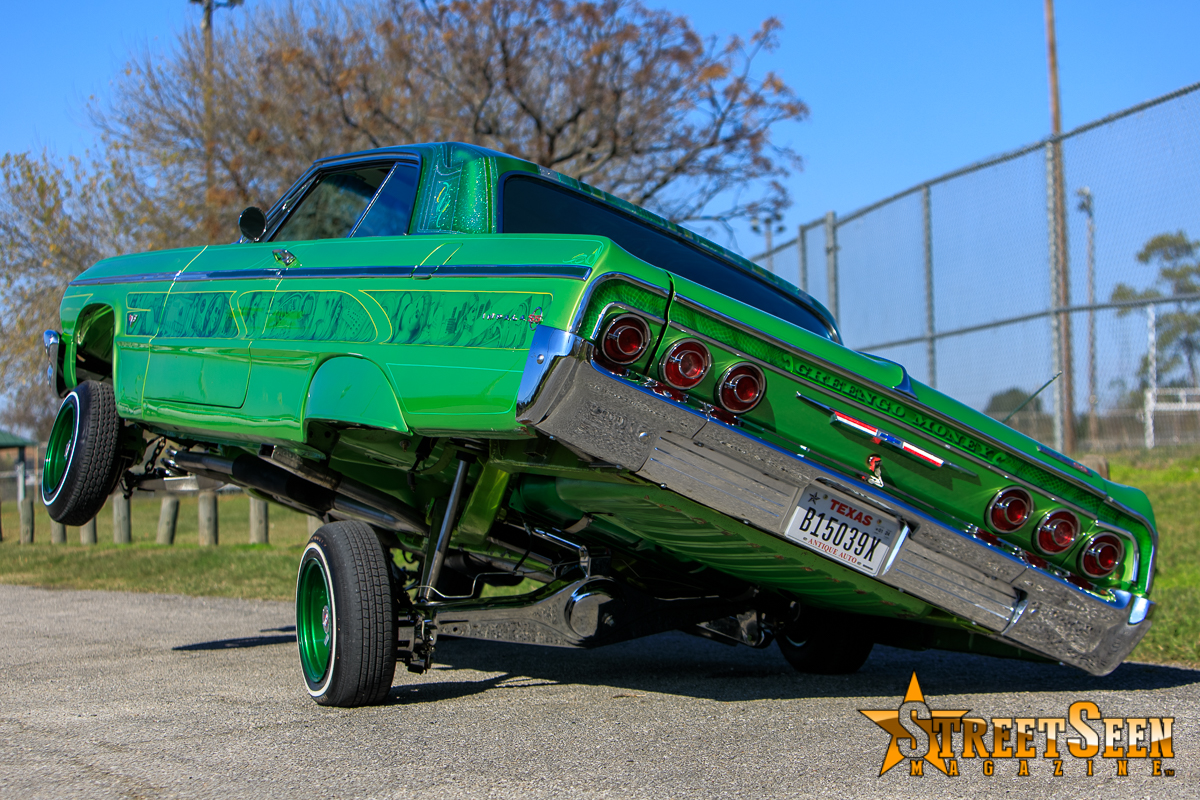 It was time in the build to install the interior. Victor ordered a bone colored Ciadella Interior Kit from Last Minute Customs. He first needed to get some work done on the seats before he was ready to install the interior kit. "All of the cushion inside the seats was done by Ordaya's Custom Upholstery in Stafford, Texas," Victor said. Horacio Alonso at Ordaya's would also take care of the headliner in the super sport. Once interior was done, Victor got on installing the hydraulics. He went with a three pump Showtime Hydraulics setup; One single pump to the front, and two to the rear. "I installed twenty inch cylinders in the rear to get the high three wheel," Victor said.
When it came to Audio, Victor wanted to keep it simple – nothing too gaudy. He simply installed a Retro Sound replica head unit with Kenwood brand speakers all around. When it came to wheels, Victor installed 13×7 green powder coated Zeniths, and Greengo Money was ready to roll. The final step in this entire build would be a drive to Rudy's G-Body Shop in Houston, Texas, to install a Vintage Air brand air conditioning unit that Victor purchased at Last Minute Customs. This was a much needed install for the unrelenting Texas heat.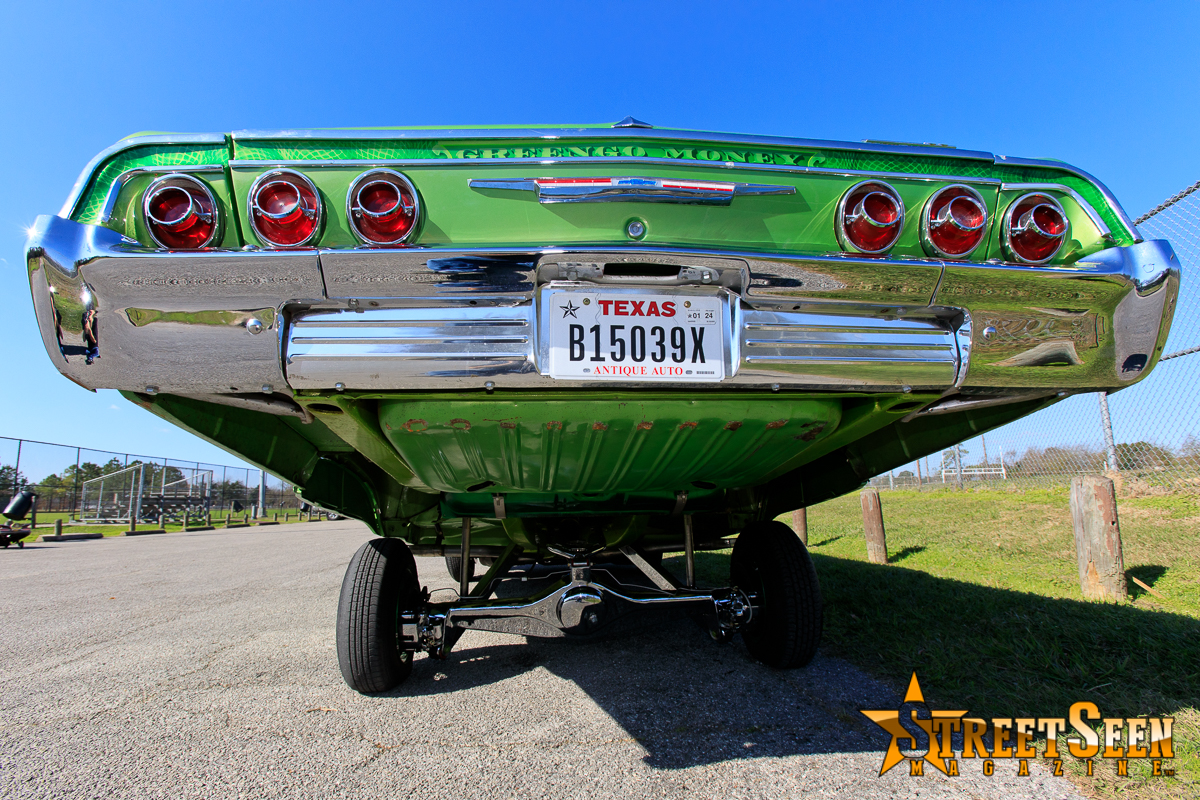 After years of uncertainty sitting in a storage unit, Greengo Money was finally completed in a way that it deserved – by people who have love for the lowrider scene and the vehicles that the scene is centered around. Upon completing Greengo Money, Victor finally revealed the finished 1964 Super Sport Impala to the world at the 2018 Houston Autorama; much to Droopy's delight. Victor said, "When I took the car and revealed it at Autorama for the first time, he was proud of me; he was proud of me finishing the car."
Victor would like to thank, "Mike Lopez, who sold me the car, Tim and Mark at Last Minute Customs, Tony Ruiz, Jesse Partida, Jose Rodriguez aka Big City, Armando Garcia, my wife for putting up with me while a was in the garage most of the time, and my car club fellas from Latin Kustoms."