Goldilocks – 1969 Chevy Impala
Story by Damon Luckey • [email protected]
One thing that's always been a part of custom car culture is rolling dedications to loved ones. These tributes at times serve as reminders of who and what we have lost, but at other times serve as inspiration to keep pushing forward with life because the fallen would have wanted it no other way.
As well as family losses, other family members also serve as inspiration. Many of the people in the car game developed a fondness of cars and a general enthusiasm for the lifestyle from their fathers. Such was the case for Clemente Resendez aka "Big C".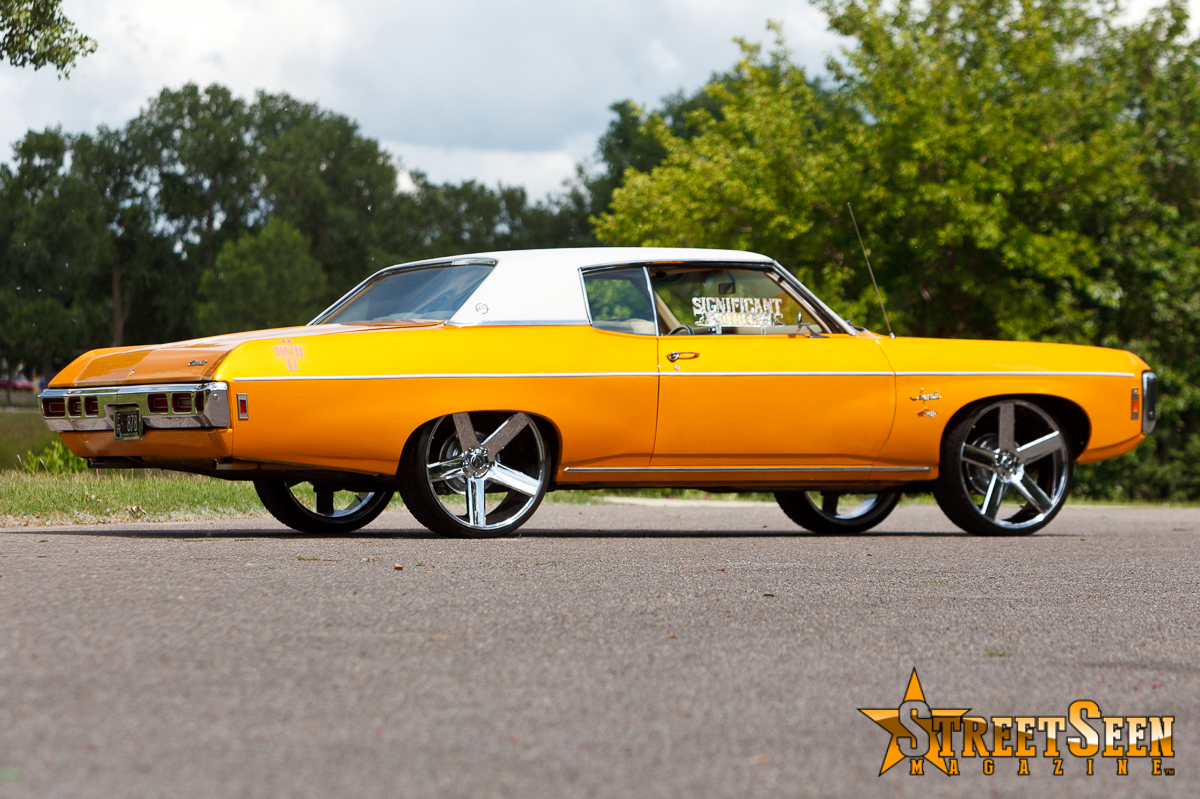 One of 8 siblings in a tight knit Resendez household in Texas, Big C grew up with a mini-mafia of sorts as he called it. The bond shared amongst his household kept them united as a family all the way through adulthood.
After 15 custom builds and thriving off his father's love for custom cars, Big C finally stumbled upon a 1969 Chevy Impala in Independence, Missouri in March of 2013. He drove 4 hours from Wichita, Kansas to acquire it and felt so confident about his purchase that he cruised it 4 hours back home at 90 miles an hour as time just coasted by.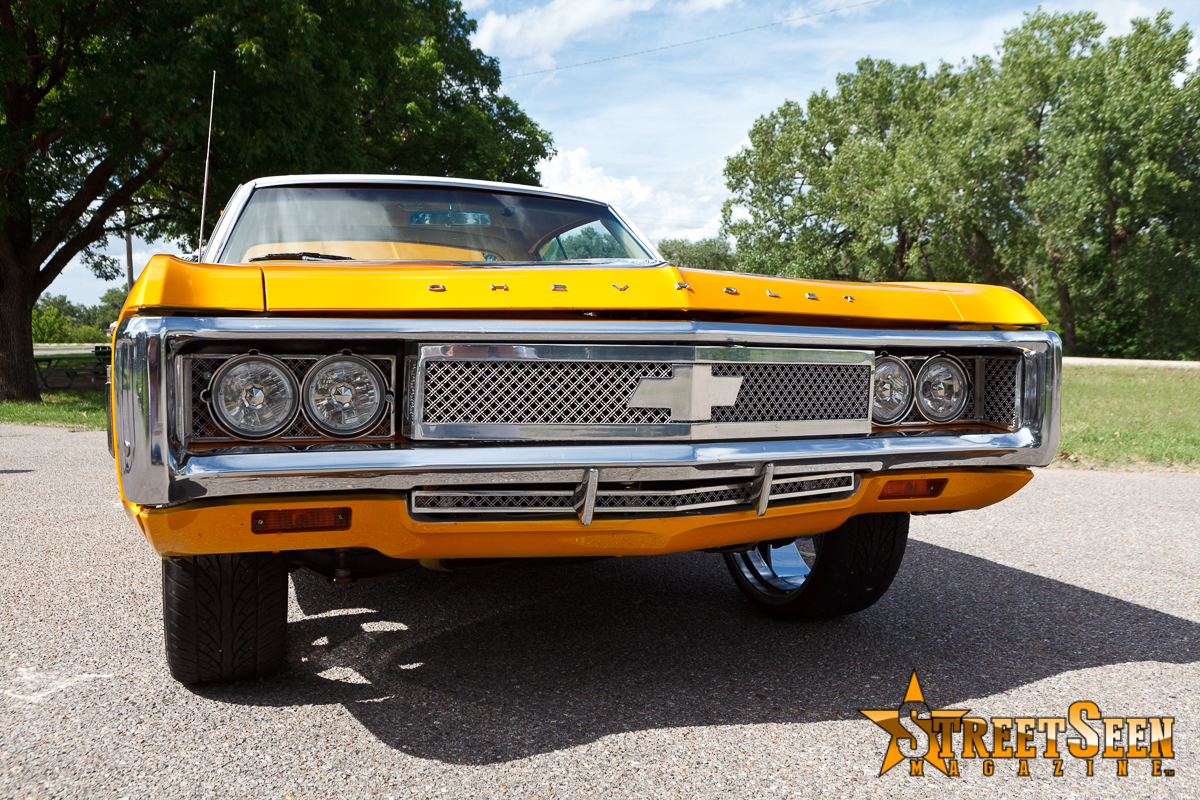 When acquired, the car was blue with blue interior. With a vision already in mind, he knew he wanted to give Wichita the business. He wanted to come with something they'd remember.
He decided to hit up Joel's Custom Interiors and incorporate two tone leather on electric seats out of a 2008 Chevy Impala. He finished off the interior with leather floormats, door panels, interior quarters, and a suede headliner. He also added embroidered Impala logos to all four seatbacks and the floor mats.
Next, he teamed up with Mitch Zuniga, owner of Colormatch, to tackle the paint. Big C decided on a House of Color Kandy Sunrise Pearl with a Chanel White base. Later he added a hood mural of an Aztec warrior with Mayan temples and Dub logos courtesy of Kansas City Phil at Colormatch.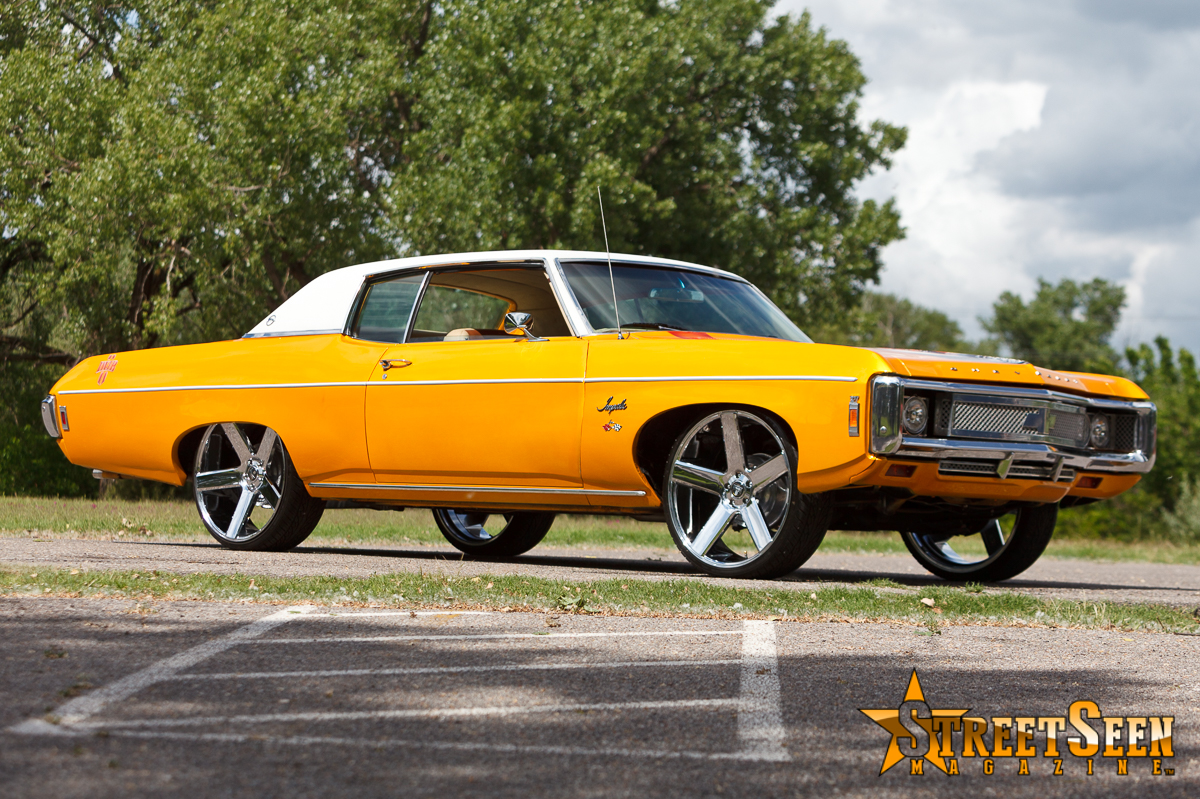 The drivetrain consists of the original 327sbc with 63,000 miles, a 350 turbo transmission, an assortment of Edelbrock goodies, as well as, chrome hood hinges, chrome heater hoses, and chrome alternator. Dressing it up a little more, he added a color matched fan shroud and wheel wells.
The wheel game consists of 24" Dub Ballers wrapped in 265/35/24 Lexani Tires courtesy of Josh Blicke of Wichita Tire Store.
To feed the need for custom sound while retaining the original look of the dash, Big C stashed a hidden bluetooth receiver behind the dash, incorporated with Hertz speakers under the dash and rear deck.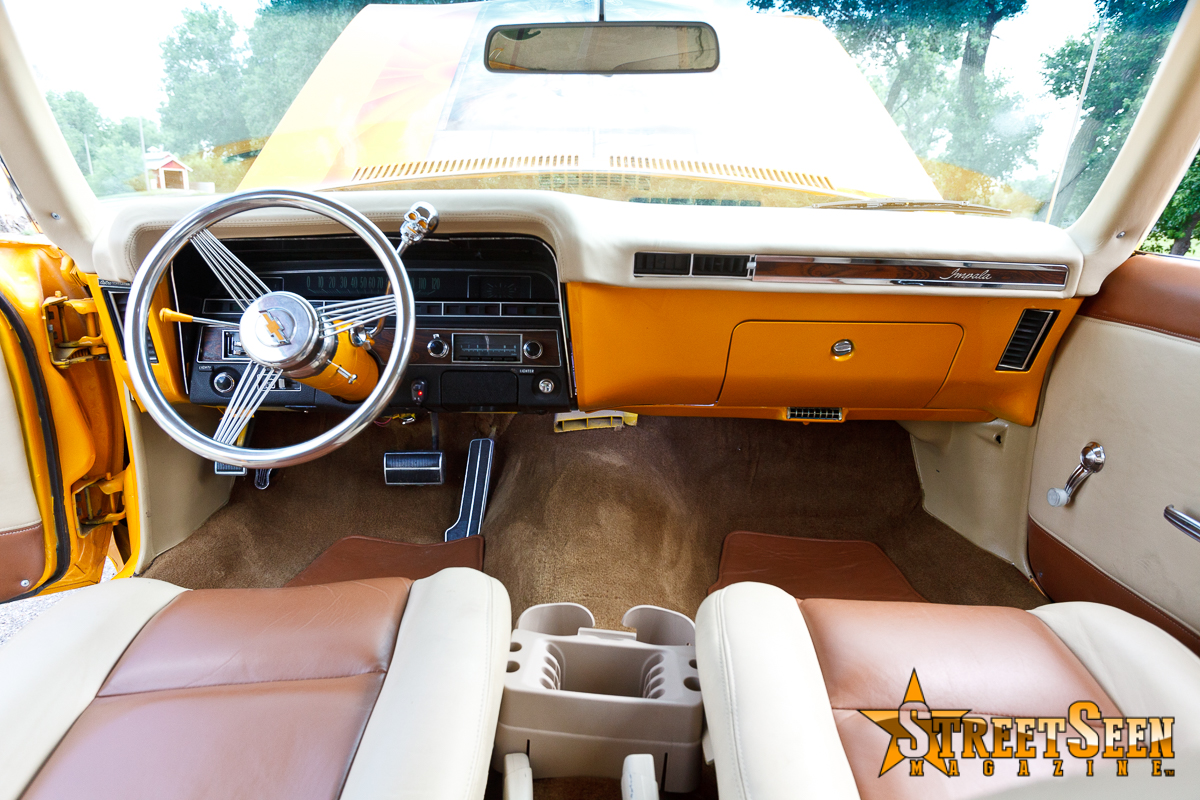 To complete the build, Big C also had Allen of Allen's Metal Customs build him a 4-piece grille, consisting of the main grille, grille valance, and two headlight bezels. Roy at Metal Finishes finished the process by chroming the 4-piece grille, hood hinges, and hood lock and pin set.
The recent passing of Clemente's older brother, Samuel, on October 26, 2016, left many of them shaken, especially him. The bond shared with his brother rivaled what he shares with his father. His brother was his best friend among several other titles and is greatly missed. Clemente's drive to push forward and continue to pursue his passion derives from the loss of such a beloved family member. Rest in Peace.
Shoutout to the Resendez family for the nonstop support of his passion and Significant Others Car Club.