Still Rollin 2nd Annual Car Show
Still Rollin Car Club was formed in February of 2018. In the two years that Still Rollin has been a club, they have gained a lot of respect among their peers in the custom car scene in both Texas and Colorado. This was evident at their 2nd Annual Still Rollin Car Show in Houston, Texas. On a very overcast Sunday morning at the Zum Barrel Resturant in Late February, 2020, the club set up to receive entries. It wouldn't be long before the entries started rolling in. Because of the dark skies throughout the day, we weren't quite sure what to expect in terms of attendance. Turns out that the event had over 100 entries; a very respectable amount of participants supporting the Houston custom car scene.
James Hinojosa, President of the club said, "Still Rollin Car Club wanted to create a family oriented, fun, enjoyable event, with prize winning, and lots of entertainment for all ages." The entertainment included musical performers from all over the state, a Twinkie eating contest, kids jump house, and a break dance show down hosted by Hip Hop Vintage Flea Market. The musical performances were put on by Dylan Leija, Lazy K, Lossi, Prolifek, Mr. Neva Die, and Salmex; all doing their thing on the mic. There was even a marriage proposal when Still Rollin member Adam Gutierrez asked his girlfriend Margret Ponce to be his forever. The SR boys (and girls) also did it all while keeping a secured environment. It was a fun time to be had by all. When the awards were handed out, solo rider Joe Valdez took home best of show with his 1962 convertible Impala.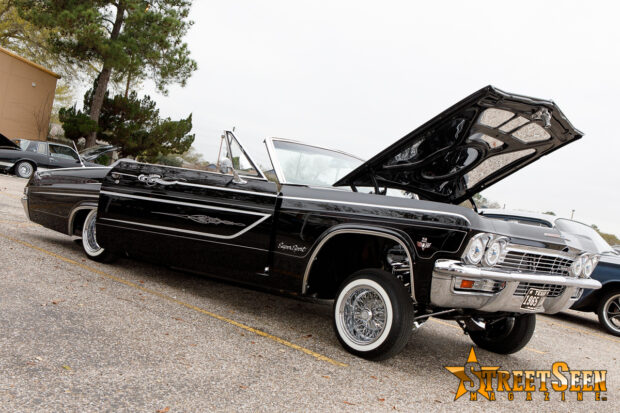 We want to thank James and the Still Rollin crew for allowing us to crash their event to bring you this coverage. Make a note on your calendar. Their next event will be on July 19, 2020 at the International Flea Market in Houston, Texas. See you all there.