Game Warden – 2008 Ford F150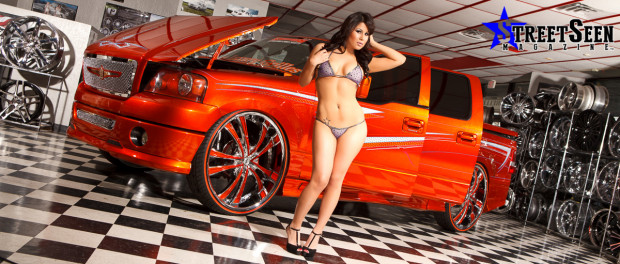 Story by Jeff Ermann / [email protected]
After spending 18 years in the racing game, Cisco Estrada decided to shift his attention toward custom car shows. "The racing scene started getting too expensive," he says. He'd worked on side projects before, but never gone all out, so that's exactly what he proceeded to do with his 2008 Ford F-150. Four years later, he's got a fully-loaded custom ride that's taken the prize-show scene by storm. "Every show I've taken it to, it's taken first. Since 2011, it hasn't lost any," Cisco says.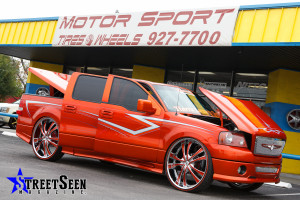 The name of Cisco's truck, The Game Warden, typically draws confused reactions from friends who figured he'd name it "Orange Kush" or some other cliché name due to its kandy tangerine color scheme. Until he explains it, that is. The game warden, he says, is who makes sure the local hunting game – or in his case, as he says, the whip game — is good and controls the scene. And its colors are close to those worn by hunters.
But his Ford is more than just a clever nickname. It's loaded with a total of 14 TVs: two flip-down visors, four 12-inch headrest monitors, 22-inch screens in the front doors, 11-inch sets in the rear doors, two nine-inchers in the center console and two 32″ LEDs in the bed. Aside from mounting them, they required significant streamlining work – and extra amplifiers — to ensure they maintain their feed. "I've seen that many in other cars, but they usually don't work," he says. "It's pretty complicated."
The truck's interior is mostly dressed in black stingray leather, with black suede inserts and orange Bentley stitching in the seats. He removed the dash and repainted it to match the exterior's tangerine theme – painted by Daniel's Paint and Body in Eagle Pass — and did the same to his large custom console and door panels, which was built by DLux Kreationz, Inc. in his native San Antonio. It stretches from the front to the back and up to the ceiling, and houses a Nitrous bottle, which adds an extra 150 horsepower, and two amplifiers for the video system.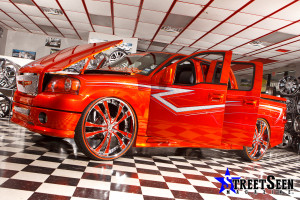 But most importantly, it's home to a 12-inch solo baric sub woofer, which was ejected from the car his brother Daniel was driving when he got into a fatal accident in 2010. Also on the console is a memorial piece with his brother's name on it.
In total, Warden's got two 15-inch solo baric kickers, two 10-inch subs, the 12-incher in the console and five sets of 6.5″ Infinity Kappa components. It all feeds into four Rockford Fosgate amps and a Kenwood head unit with navigation, IPOD and DVD control.
But perhaps the most painstaking part of the process came when Cisco decided to add a sunroof stretching from front to back and side to side. "It's pretty difficult and really risky," he says, "especially because the car had already been painted."
Warden sits on 30×8.5-inch Lexani LSS-55 wheels and an air ride suspension, which was installed by USA Motorsports so that Cisco could use it for more than just wowing onlookers at shows; he drives it daily. "I wanted to make sure it could drive every day and it was safe/dependable," he explains. "People are always like, 'Are you crazy, driving a car like that?' I get a lot of head turns."
The color-matched tangerine headlights surround a Tiarra Luxury Grille, both the Ford emblems and the tailgate handle have been shaved, and the bed's tonneau cover is motorized and operated by remote control.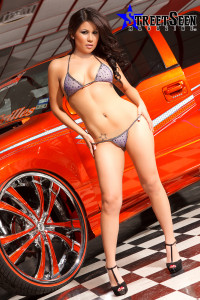 Under the hood, Cisco added a K&N cold air intake and an Edge programmer, which supports the engine's computer, creates different transmission shift points and adds horsepower. Along those lines, it's also got a complete custom dual exhaust system.
An Air Force staff sergeant with 14 years under his belt, Cisco knows nothing can be accomplished without teamwork, so he also pointed out the contributions of Gilbert Gonzalez from USA Motorsports, Robert Daniel from Daniel's Paint and Body, Jay Parker from Motorsport tires & wheels and Damon Luckey of DLux Kreationz, inc which did the fiberglass work.
For a guy who left the racing game because of cost, Cisco hasn't spared many in building this prize-winning truck. "I guess I'm a bigger, better type," he said, adding that he thanks wife Viviana and sons Isaiah and Daiden for being patient while he spent so much time and money on Warden.